Turkey's gastronomy capital scrambles to bolster tourism sector amid pandemic
GastroAntep's opening ceremony featured a sparse number of chairs that were separated in accordance with social distancing measures, and the wearing of masks was enforced. That didn't stop a feast featuring some of the most beloved regional delicacies from being served. Amid the festivities, the elephant in the room was the country's increasingly-dire coronavirus epidemic that has spread to all major cities.
Paul Benjamin Osterlund / Duvar English
Despite the coronavirus pandemic that has taken a turn for the worse in Turkey in recent weeks, the southeastern city of Gaziantep held the 3rd annual GastroAntep festival between September 10-13. A prestigious roster of Turkish and foreign chefs conducted panels and workshops that were broadcasted live on Youtube and attended by members of the press.
The fanfare was limited compared to last year's festival, a bombastic event reportedly attended by one million people, which included live performances from some of the country's biggest pop stars.
This time around, Gaziantep was coming off a 15-day ban imposed in mid-August on all events in the city in an effort to combat the spread of the virus, leaving some residents surprised that GastroAntep was going ahead as planned.
"I wasn't expecting that they would organize this festival during the pandemic and I was really shocked when I saw the posters in the city as cases were increasing rapidly in Antep. I was a bit scared to attend this festival as a 'foodie' this year despite the measures that were taken by the government and organizers," said Nazlı Avşaroğlu, who works for the UN's International Organization for Migration.
Just 64 kilometers from the Syrian border, Gaziantep (known more commonly as Antep) is a vast city of 2 million, Turkey's sixth-largest. Though it boasts a bustling industrial sector and an expansive, impressive historic center that includes a beautiful collection of sandy-hued, centuries-old mosques that have been finely preserved, Gaziantep is most famous for its cuisine, carrying the prestigious title of Turkey's culinary capital.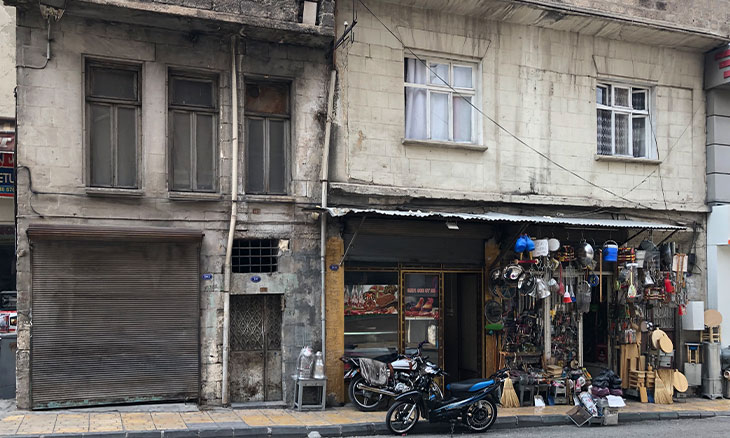 GastroAntep's opening ceremony featured a sparse number of chairs that were separated in accordance with social distancing measures, and the wearing of masks was enforced. That didn't stop a feast featuring some of the most beloved regional delicacies from being served.
These included beyran (a fiery soup with strips of succulent lamb and rice enflamed by a dollop of red pepper flakes), nohut dürümü (chickpeas soft-boiled in bone broth and served on top of fresh, oven-baked flatbread) ciğer kavurması (slow-roasted lamb liver) and katmer (a rich, flaky dessert filled with pistachios and clotted cream).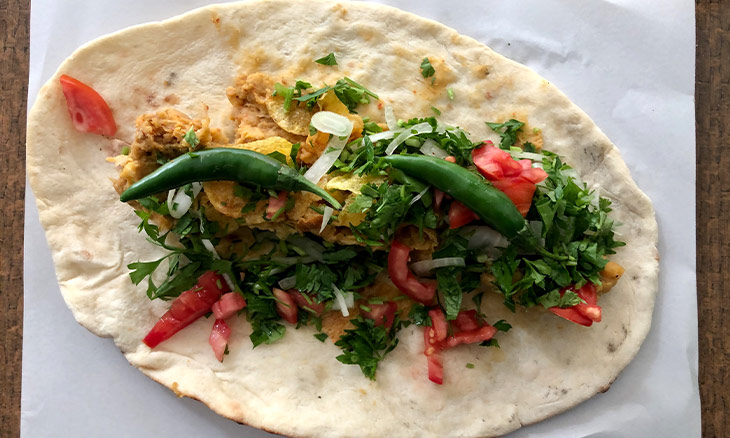 Participants harvested pistachios, perhaps the city's most iconic foodstuff (the Turkish word for pistachio is literally 'Antep nut') directly from the branch in a lush field of trees near the festival venue.
In an impassioned speech, Mayor Fatma Şahin boldly placed the city in the same league as Mecca, Medina and Istanbul, adding that Gaziantep had increased its exports by 10 percent during the pandemic, and that the city was currently hosting half a million refugees.
Şahin, an influential politician, co-founder of the ruling Justice and Development Party (AKP) and an engineer by trade, served as a parliamentarian and as Minister of Family and Social Policies before being elected as Gaziantep's mayor in 2014, and followed by a second term last year.
"We established our new rules according to the new restricted social life. We determined our new normal. In the world to be established after the pandemic, localism will become much more important. Food security and self-sufficiency, it all starts with seeds, it all starts with agriculture," Şahin said.
Amid the festivities, the elephant in the room was the country's increasingly-dire coronavirus epidemic that has spread to all major cities. Official figures have climbed back into more than 1000 a day since early August, reaching 1427 new cases nationwide on September 29. Meanwhile, doctors in cities across the country have contradicted the government's figures, claiming that the number of new daily cases drastically surpasses what is being reported.
The Ankara Medical Chamber announced earlier in September that 4000 daily cases were coming from the capital alone, while the Diyarbakır Medical Chamber said in August that the daily number of cases in the southeastern city had eclipsed 500. Reports from other cities have added to the perception that the Ministry of Health is drastically downplaying the true scale of the country's epidemic.
For their part, the medical chambers and its central organization, the Turkish Medical Association (TTB) have raised the ire of key government figures, including Nationalist Movement Party (MHP) leader Devlet Bahçeli, who in a Twitter tirade demanded the immediate closure of the TTB and for legal action to be brought against its administrators.
Erdoğan ally calls for closure of top medial association for protesting increasing COVID-19 infections
On one day during the week of the festival, a map of Gaziantep on the government's Hayat Eve Sığar (Life At Home) app, which tracks the coronavirus, was almost entirely blanketed in a blotch of red, an indicator that practically the whole city was a high-risk area for contracting the virus. The next day, much of the red was gone and replaced with blobs of green and yellow, suggesting that the risk had substantially decreased overnight, another sign that the government's information concerning the pandemic is unreliable.
"As a person who [normally] uses public transportation in Antep, I have been walking everywhere or taking a taxi if the destination is far. I don't know whether the private sector enables people to work from home, but I am sure that all the blue-collar workers are still working in the factories with very limited social distancing and precautionary measures during the pandemic," Avşaroğlu said.
In the second week of September, Gaziantep reached temperatures of 38 degrees, and the relentless sun cast a fierce glow across the city. Unlike in humid, sticky Istanbul however, the weather was dry, which made wandering the winding streets of the old center bearable despite the heat. Loaded with history, monuments and beauty, Gaziantep is a worthy destination even for those uninterested in serious culinary exploits.
Residents didn't seem to be taking the pandemic as seriously as those in Istanbul, Turkey's epicenter of the virus. Many people were wearing masks ineffectively or simply not at all. Though things move at a brisk pace during the day, in conservative Antep the streets empty out after dark. However, the enticing smell of grill smoke remained thick in the air as people crowded around tables and tucked into grilled liver and other kebabs at the numerous outdoor restaurants located just below the city's historic fortress.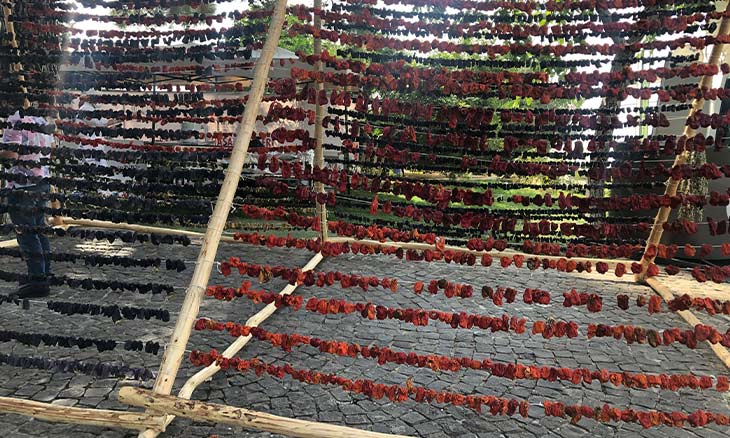 Gaziantep has been lauded as a success story for taking in a number refugees equal to around a quarter of city's official population, and the western end of İnönü Avenue, just below the center, is lined with mostly-Syrian-run shops, cafes and restaurants. In multiple ways, it bears an odd resemblance to Berlin's Sonnenallee Strasse and its stretch of businesses run by Lebanese and Palestine refugees.
Mayor Şahin said that the city was planning for next year's tourism season, and that she was expecting a rise in digitally-oriented events and cultural tourism.
"The digital realm doesn't separate us, it brings us together. Culture is what heals, enables us to socialize and unites us. The world needs these values. The world needs Gaziantep, and Gaziantep needs cultural tourism," Sahin said.
At the beginning of September, Minister of Health Fahrettin Koca announced that Turkey was "going through the second peak of the first wave of coronavirus." It remains to be seen how the country will be able to handle an unprecedented crisis with an unknown end.
For the moment, Gaziantep remains keen to promote industry and tourism, and recently hosted a large aerospace and technology festival. But the pandemic has already taken a serious toll on the city.
"Before Covid, it was impossible to find a table in well-known restaurants such as Bayazhan and Hisvahan on a Saturday night without making a reservation. Tourists were coming to Antep from Istanbul and Izmir on the weekends and they were waiting in queues outside of [iconic eatery] Imam Cagdas for more than 30 minutes just to taste [the kebab dish] Ali Nazik," Avşaroğlu said.
"However, most of the places are now empty, and people started to fear more to socialize outside as all the hospitals in Antep are full despite the anti-Covid measures that were taken by employers."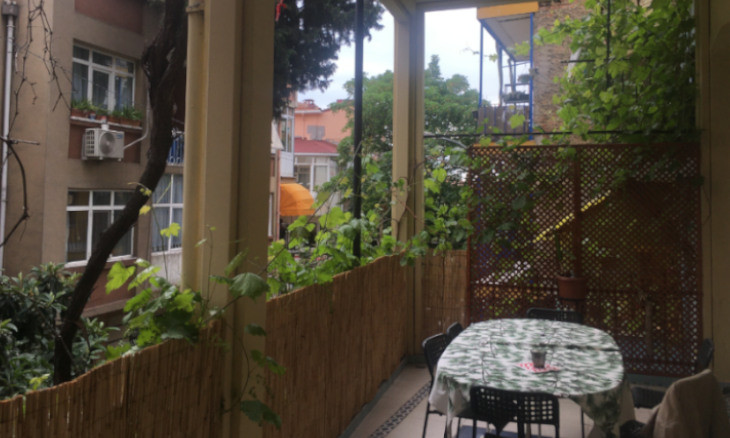 Istanbul, COVID-19, and the importance of balconies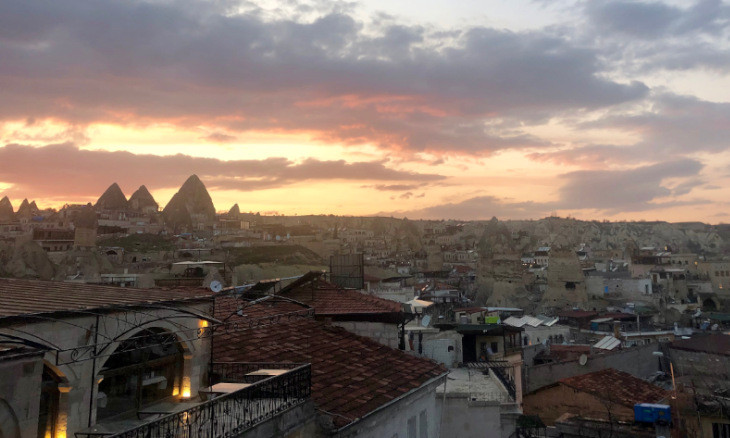 One last trip outside Istanbul: Nevşehir and Kırşehir