'Unmonitored mining in eastern Turkey wants to end all life in region'
Unmonitored and extensive mining in eastern Turkey threatens to destroy all life in the area, an environmental activist said. Divriği Life and Nature Platform has launched a social media campaign to organize locals against mining.
Burcu Özkaya Günaydın / DUVAR
Extensive unmonitored mining activities in eastern Turkey are invasive to the point of appearing to want to end all life in the area, a local environmental activist said.
The Divriği Life and Nature Platform started a social media campaign on Oct. 20 to "organize the people against mining," because they believe Divriği can exist as a farming town, and not an industrial area, representative Ali Aydın said.
The central-eastern provinces of Sivas, Erzincan, Dersim and Malatya have been the site of extensive drilling and mining in recent years under the pretext of "investigating Turkey's underground resources," platform Aydın noted.
"Some 90 percent of [Sivas' district] Divriği was licensed for mining. Drilling has been ongoing in Erzincan for over a year without an environmental impact assessment. Copper and chrome searches have been expanded. These are all conducted without researching the impact on nature," Aydın said.
Sivas' Divriği district provides 63 percent of Turkey's iron supply and is anticipating the construction of a story quarry, Aydın noted, although the existing mining activity has already polluted the area's natural resources.
"The trouts in Çaltı Stream are dead. Wildlife as a whole is disappearing. Life in Divriği wants to be wiped out entirely," Aydın said.
Locals in the area are often farmers and feed animals, but are left to start mining as their occupations are threatened by pollution.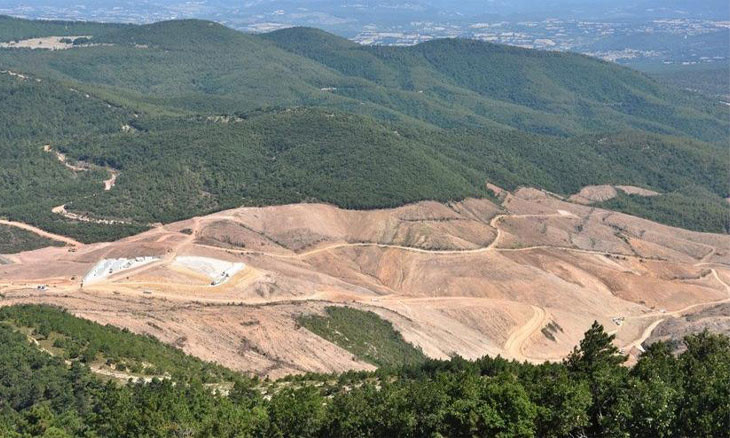 Pro-gov't firm's copper mine risks destroying three villages in Turkey's Kaz Mountains