Istanbul faces mass destruction in potential tsunami, municipality warns
A recent municipal report revealed that thousands of structures across Istanbul would be damaged in a potential tsunami triggered by an earthquake, a permanent risk for the metropolis. The Oct. 30 earthquake that hit the Aegean province of İzmir triggered mass flooding in the area.
Duvar English
A recent report by Istanbul Municipality revealed that thousands of buildings would be damaged in a tsunami that could be triggered by a high-magnitude earthquake that the city anticipates.
The report focused on the 17 coastal districts of Istanbul, all of which are highly populated by both residences and businesses, "in an attempt to minimize the damage in a potential tsunami."
Istanbul's Princes' Islands were revealed to be the area under highest risk as waves that top 12.3 meters are expected to damage more than a thousand structures.
The central district of Kadıköy on the Anatolian side is projected to experience floods that rise up to almost eight meters, spreading to a thousand meters across the riverbeds that wind through the area.
Meanwhile, the suburban district of Bakırköy risks flooding along a riverbed that passes through, submerging 1,200 meters of land on both sides under a maximum of 6.41 meters of water.
Named after a small lake located in the area, the suburban district of Büyükçekmece is projected to experience flooding of 8.59 meters in depth, damaging 1,400 structures.
Anatolian suburb Maltepe is also among the high-risk areas, projected to experience flooding up to almost eight meters, reaching 670 meters inland and completely submerging the Orhan Gazi Urban Park.
The central district of Beşiktaş is estimated to be flooded some 200 meters inland, while downtown Beyoğlu will be flooded with three-meter waters that will damage more than 170 buildings.
Floods as high as 6 meters (19 feet) were recorded around the Aegean district of İzmir after the Oct. 30 earthquake that hit the region, head of Boğaziçi University's Kandilli Earthquake Research Institute Dr. Haluk Özener said.
"It was determined that the tsunami got in up to 1,300 meters (0.8 miles) from the shores of Alaçatı's Azmak. It was detected that the flood distance in Akarca reached 820 meters (0.5 miles) and in Sığacık 320 meters (0.2 miles)," he said.
He said that according to scientific data, the risk of a tsunami higher than 1 meter (3 feet) anywhere in the Mediterranean in the next 30 years is close to 100%. And an earthquake bigger than magnitude-6.0 in the Aegean and Mediterranean seas is very likely to create a tsunami.
Turkey is among the world's most seismically active zones and has suffered devastating earthquakes, including the 1999 Marmara quake.
A total of 1,475 aftershocks – 44 with a magnitude higher than 4.0 – have been recorded since last Friday's quake rattled İzmir, Turkey's third-largest city, home to more than 4.3 million, Turkey's Disaster and Emergency Management Authority (AFAD) said.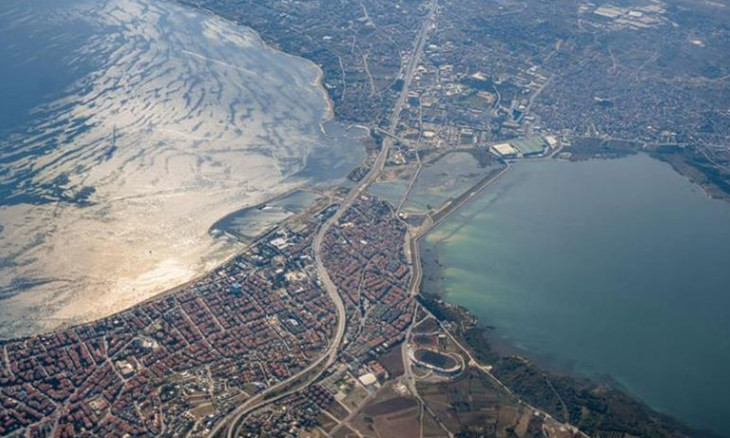 Veteran seismologist warns of tsunami risk in planned Kanal Istanbul after expected big Marmara quake