Erdoğan inspects fire-hit Marmaris from helicopter as blazes rage on
As firefighting teams continued to battle the wildfires in Turkey's coastal resort of Marmaris for the third day on June 23, President Recep Tayyip Erdoğan watched the process of air and land intervention from a helicopter. 
Duvar English
Turkish President Recep Tayyip Erdoğan inspected the forest areas hit by fire in the coastal resort of Marmaris from a helicopter on June 22, state-run Anadolu Agency reported.
Erdoğan was accompanied by Interior Minister Süleyman Soylu who briefed him about the latest developments.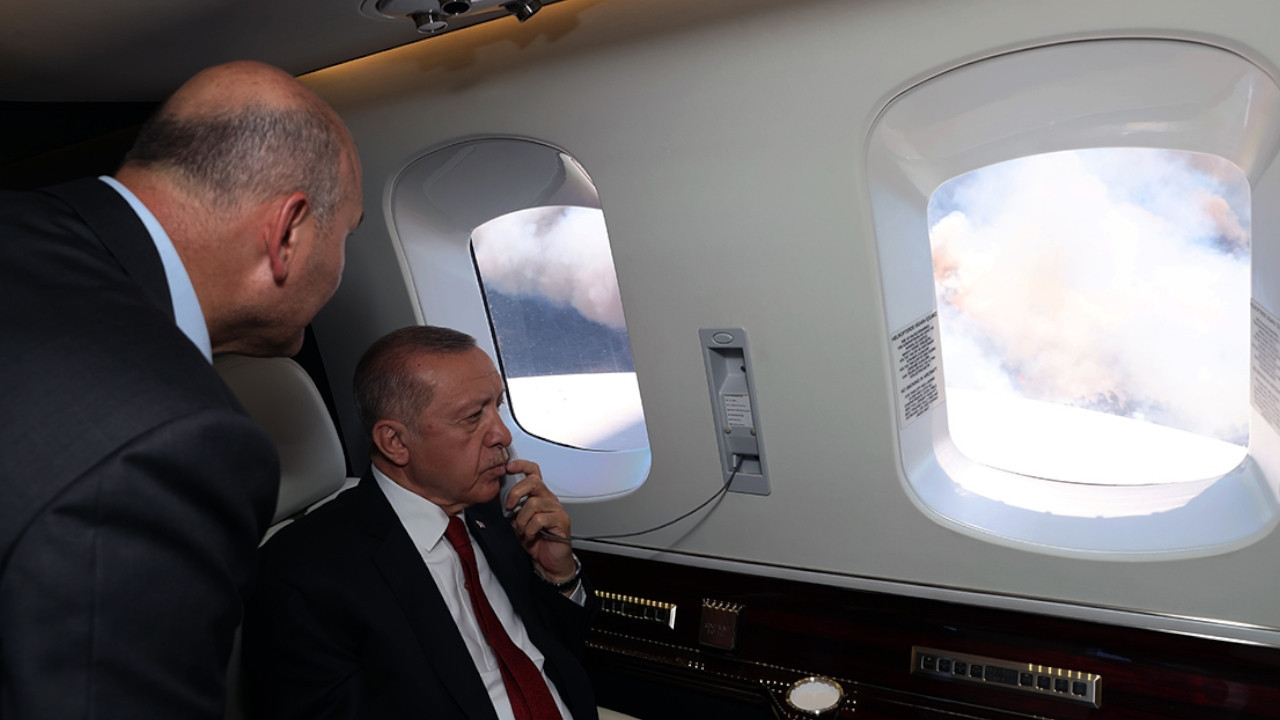 The wildfires that broke out in the Bördübet region on June 21 evening have been going on for the last three days. Marmaris Mayor Mehmet Okay said in a social media post early on June 23 that firefighting teams are still trying to put out the fires which have been continuing at four different points.
"We are scared about the wind increasing in the afternoon. We hope that all glazes are put out until that hour with an intensive intervention from the air, and we all breath a sigh of relief," he said.
Günaydın sevgili hemşehrilerim,
Zor bir gecenin ardından sabahın ilk ışıklarıyla havadan müdahale tekrar başladı. Değirmenyanı Kürardı'nda soğutma çalışmaları sürüyor. Ancak 4 noktada hala alevler yükseliyor. pic.twitter.com/NpaClZwwhg

— Mehmet Oktay (@oktaymehmet48) June 23, 2022
Firefighters continued to battle the wildfires from land and air on June 23, as hopes that the blazes were contained fizzled after they spread again due to high temperatures and windy conditions.
The cause of the fire, which began at around 8 p.m. on June 21 is not clear.
Scenes of burning woodland sparked fears of a repeat of last year's fires that devastated tens of thousands of hectares across the region.
Last summer's wildfires, most of which were also near Marmaris, were the most intense in Turkey on record, a European Union atmosphere monitor said last year, adding that the Mediterranean had become a wildfire hot spot.
Kemal Kılıçdaroğlu, head of the main opposition Republican People's Party (CHP), said on June 22 the government was "incompetent" and had not prepared for the fires since last year.
"The whole world knows how sensitive an area the Mediterranean basin is on this issue due to climate change," Kılıçdaroğlu said, speaking near Marmaris.
"They'll blame the wind and not themselves," he said.