Erdoğan pictured with Soylu for first time since mafia boss' claims
Turkish President Recep Tayyip Erdoğan and Interior Minister Süleyman Soylu have been pictured for the first time since mafia leader Sedat Peker started to make bombshell allegations against the minister in May.
Duvar English
Turkish President Recep Tayyip Erdoğan and Interior Minister Süleyman Soylu have been pictured together for the first time since the release of mafia leader Sedat Peker's videos in May implicating the minister in a series of corruption allegations.
Erdoğan has been avoiding hosting Soylu at ceremonies held at the Presidential Palace since the release of the videos. Soylu did not attend a ceremony at the Presidential Palace on June 8, during which governor candidates held a meeting with Erdoğan.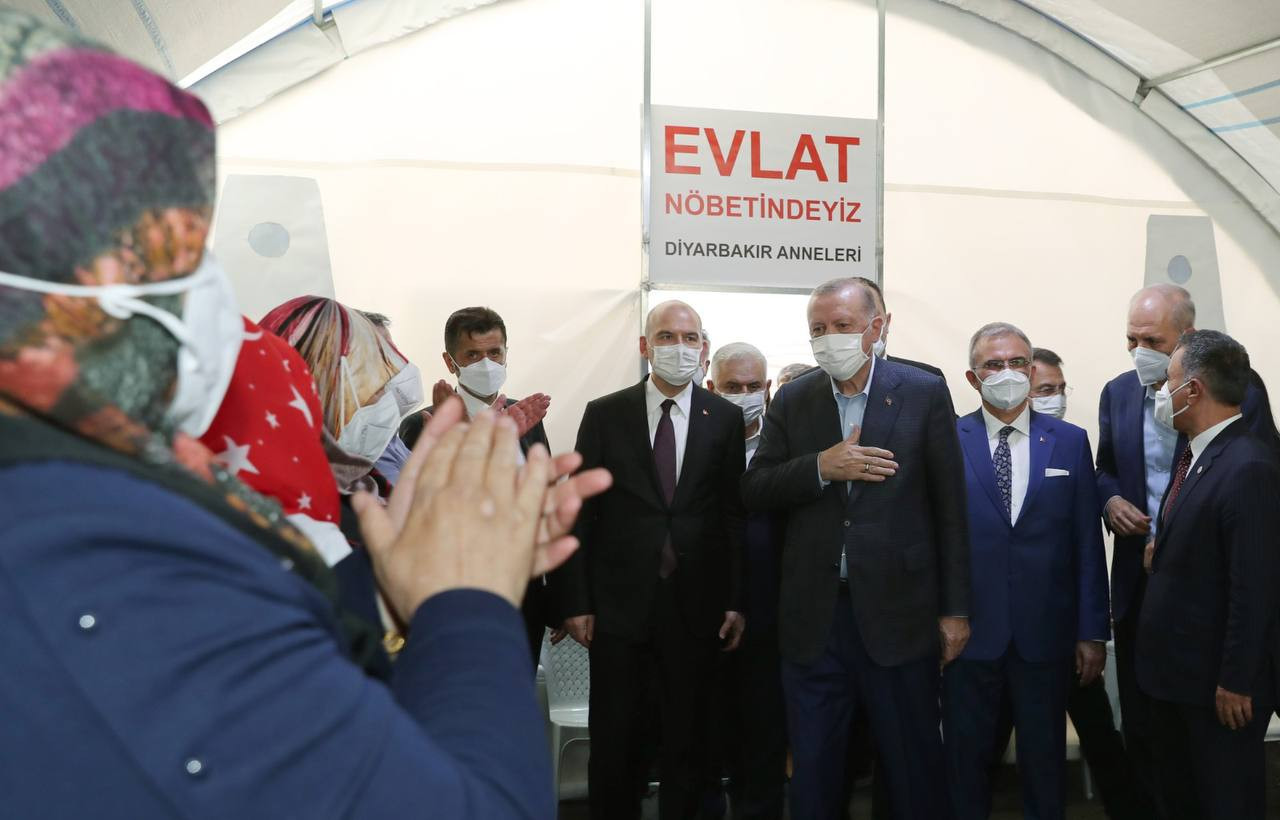 Soylu was also not present at a July 1 meeting at the Presidential Palace aimed to curb violence against women, although Family Minister Derya Yanık and Justice Abdulhamit Gül had been invited.
Following a series of speeches during which Nationalist Movement Party (MHP) leader Devlet Bahçeli threw his support behind Soylu, Erdoğan and the minister on July 9 met with Diyarbakır Mothers, a group comprised of women who have been demanding the return of their children who they say were abducted by the Kurdistan Workers' Party (PKK).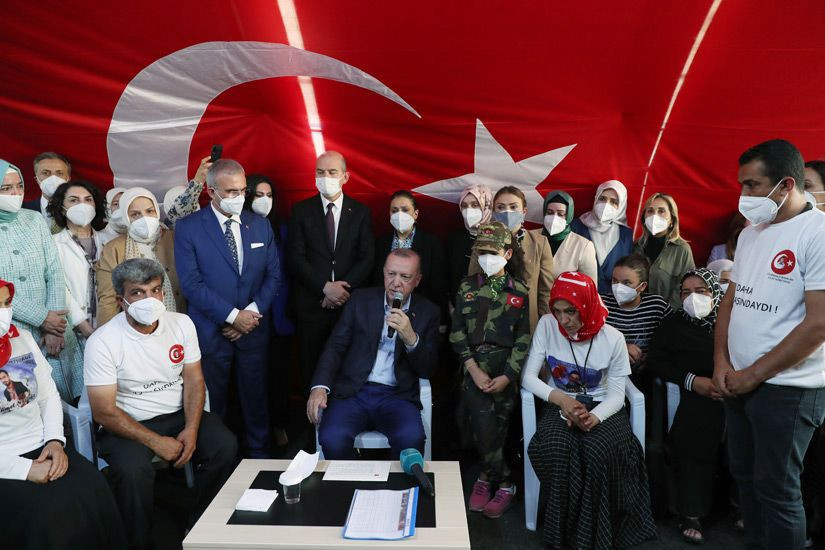 The visit came as Erdoğan visited the southeastern province to attend an inauguration ceremony for the launch of a series of projects.
Soylu released his photos with Erdoğan on his Twitter account.
Söz konusu evladı olduğunda, annelerin cesaretinin yenemeyeceği hiçbir örgüt, hiçbir kötülük yoktur...

Terörle mücadelede kararlılığı ve liderliğiyle, evlat nöbetindeki annelere cesaret kaynağı olan Cumhurbaşkanımız Sn. @RTErdogan, Diyarbakır Anneleri bir arada... pic.twitter.com/HQ7VOqM1vn

— Süleyman Soylu (@suleymansoylu) July 9, 2021
Former main opposition Republican People's Party (CHP) lawmaker and journalist Barış Yarkadaş said that these photos' release is "very meaningful" after so many days of Erdoğan's silence on Soylu.
"After Bahçeli's coming out of support with 'Süleyman Soylu is not alone,' AKP Chair Recep Tayyip Erdoğan has shown that he received the message," Yarkadaş wrote on Twitter.
AKP Genel Başkanı Recep Tayyip Erdoğan, Bahçeli'nin "Süleyman Soylu yalnız değildir" çıkışı sonrası mesajı aldığını gösterdi. Erdoğan, Diyarbakır'da çocuklarını arayan anneleri, İçişleri Bakanı Süleyman Soylu ile birlikte ziyaret etti. Günler sonra verilen bu fotoğraf anlamlı... pic.twitter.com/xAItyzTyfb

— Barış Yarkadaş (@barisyarkadas) July 9, 2021
Mafia leader Peker, a friend-turned-foe of the ruling Justice and Development Party (AKP) who is currently in the United Arab Emirates, has been releasing videos on YouTube filled with serious allegations against current and former politicians, with the most high-ranking one being Soylu.
In response to the allegations, Bahçeli, a staunch all of the government, said that no one can put a leash on the minister.
Bahçeli, a close friend of Peker's foe and mafia leader Alaattin Çakıcı, was the first high-level politician to voice full support to Soylu, who denies that the government left him alone.