Extensive water retention policies risk drying out all lakes in Turkey, study reveals
The Turkish state's extensive water retention policies risk drying out all of the country's lakes, a recent study by a Süleyman Demirel University academic revealed. Burdur Lake could dry out entirely in 20 years, and Turkey's largest fresh water source Beyşehir Lake is among the bodies of water that are shrinking.
Serpil Kurtay / DUVAR
Turkey's extensive use of water sources has put lakes across Turkey at risk of drying out entirely in the near future, a recent study by Süleyman Demirel University researchers revealed.
Mediterranean Eğirdir Lake risks a 24-percent drop in water levels over the next century if the necessary precautions aren't taken, the study revealed, discouraging the state from expanding any uses of the lake for watering, as well as modifications to existing systems to minimize usage.
Turkish Water Works reported a 1.55-meter drop in the lake's water level over the past three years, while Turkey Nature Protection Association noted that a bottleneck in the lake has shrunk down to 1.2 kilometers, and that it's likely the body of water will eventually split in two.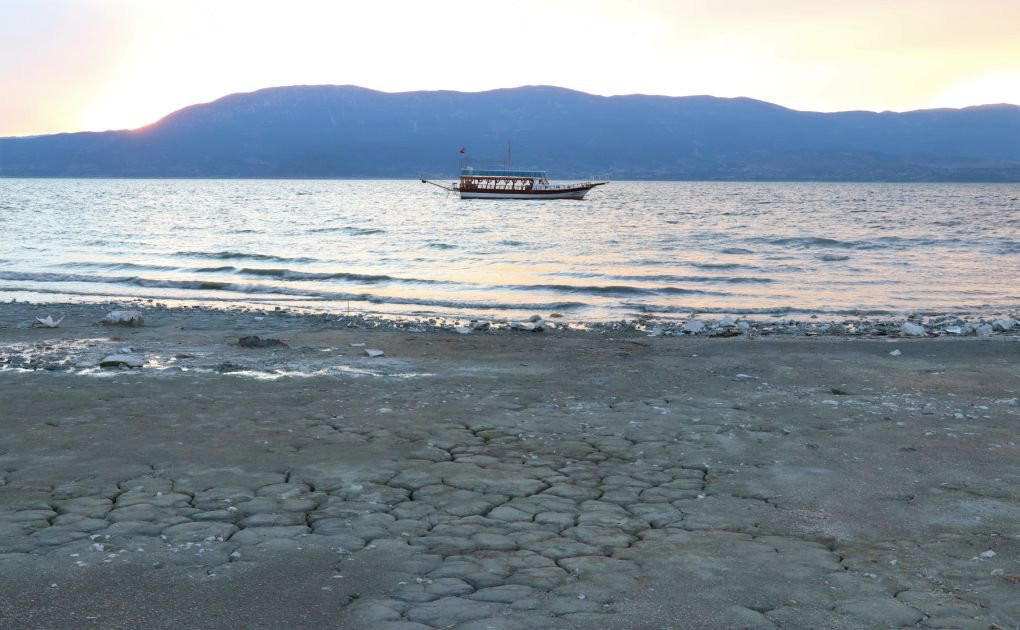 Nearby Burdur Lake was revealed to have suffered a steady water level decline since '95 because rain was effectively monopolized by the reservoirs and dams around it, the Süleyman Demirel University study also revealed.
Burdur Lake could dry out entirely in 20 years, the scientists added, since the projected drop in water level for the next 100 years, 31.5 meters, is about five times the depth of Burdur Lake, prompting academics to urge the state to eliminate any nearby water retention facilities that are not essential.
Meanwhile in western Turkey, one of the Marmara Region's top water sources, İznik Lake shares a similar fate that local non-governmental organizations including medical chambers and bar associations are trying to prevent from actualizing.
A collection of NGOs released a statement slamming the state's filling of parts of the lake with concrete, as well as its use of its water for nearby mining projects.
"As a result, the lake's water is not scientifically categorized as contaminated," the statement said. "Water is not financial capital, it's all living things."
Water levels in western Turkey's Sapanca Lake have dropped from 32.5 meters to 30.3 meters in recent years as well, a measurement by local water works revealed, a drop triggered most likely by the transfer of water to nearby Gölden Yuvacık Dam.
Turkey's largest fresh water source, Beyşehir Lake's depth has receded as far back as six meters at certain points, local environmental activist Bekir Sami Tan said, adding that no additional water preservation should be allowed in the area.
A home to more than 200 bird species, most notably flamingos, Acıgöl Lake's area has shrunk from 160 square-kilometers to 42 square-kilometers, risking the well-being of the local fauna, including numerous endemic species.