Finnish ambassador to Ankara: Finland assists Turkey in alleviating refugee burden
In an interview with Duvar English, Ambassador Ari Mäki said that Finland has granted residence permits to 2,586 Syrian refugees from Turkey during the period between 2016-2021, in order to alleviate the burden in the country. "This year Finland is planning to receive from Turkey some 500 refugees defined by the UNHCR. The Government of Finland has annually decided quotas for refugees," he said.
Menekşe Tokyay - ANKARA
Duvar English has launched a new series of interviews with the ambassadors in Ankara.
The interviews will be reachable both from our Turkish and English websites.
The political, economic, commercial, social aspects of bilateral relations as well as challenges and opportunities ahead will be elaborated in each interview.
The second interview is conducted with Ari Mäki, Finnish ambassador to Ankara.
Ari Mäki, who has been in this position since September 2019, previously served as the Head of Latin America and the Caribbean Department (2015-2019) of the Finnish Ministry of Foreign Affairs and before that he was the Finnish ambassador to Afghanistan.
Finland, which is accepted as the happiest nation in the world within the framework of the World Happiness Report prepared by the United Nations among 149 countries, also stands out with its approach in the field of education and is widely hailed in terms of its best-quality education system.
The Ambassador, who prioritizes human rights within the framework of his diplomatic mission and closely follows the case of imprisoned human rights activist Osman Kavala, is also in constant contact with non-governmental organizations advocating for women's rights in Turkey.
The cultural dimension of relations has been also developing dynamically. Recently, Yapı Kredi bomontiada and the Finnish embassy launched an important cooperation in Istanbul under the exhibition "Asia from West to East", which consists of photographs taken by former President of Finland C.G. Mannerheim between 1906 and 1908 during his journey from Central Asia to China.
Maintaining its contacts with the business world, the Finnish diplomatic mission received the Turkey-Finland Business Council Commercial Diplomacy award in the category of Stakeholder Relations under DEİK on January 15. Finland's goal is to double bilateral trade in the next three years.
We held an interview with Ambassador Ari Mäki on behalf of Duvar English on bilateral political contacts, the commercial dimension of relations, the secrets of being a "happy country", his approach to the refugee problem, Finland's support for civil society in Turkey and many other critical topics:
How do you assess Turkey's current stance regarding the ECHR decisions on human rights activist Osman Kavala? As a country that has supported Turkey's EU accession bid, do you think the country should pay much more attention to improve its human rights record?
We continue to stress the importance of abiding by the final judgments of the European Court of Human Rights. All our governments should be continuously striving to fulfill their international human rights obligations. Human rights are universal, they belong to us all, in Turkey and Finland alike.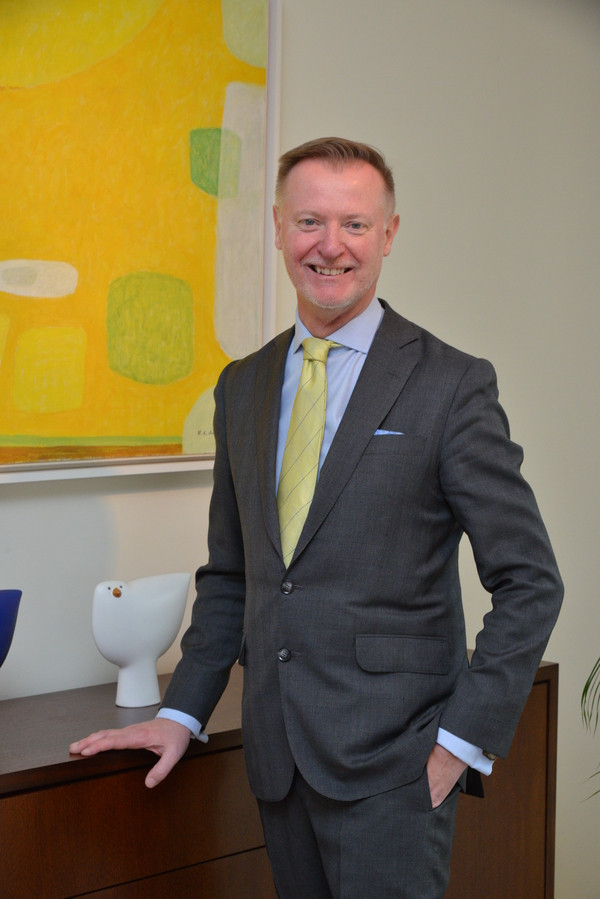 I also would like to mention that a Turkish Non-Governmental Organization We will Stop the Femicide Platform got the International Gender Equality Prize (IGEP) in 2021 granted by the Finnish government. Ms. Angela Merkel, the former Chancellor of Germany got the IPEG Prize in 2017.
We will Stop the Femicide Platform is doing groundbreaking work in combating violence against women in Turkey.
As a country that is known as the happier of the world, what is Finland's magic formula to sustain happiness in its international relations and diplomacy, in your opinion?
International Relations and Diplomacy are very important for us. Finland sees itself as an active nation, which benefits from real, equal and genuine cooperation with other nations. Besides sharing our best practices – we also try to learn from others and listen what others have to say. This is what Finland means by reciprocity.
In addition, the fact that we have an active foreign policy that seeks genuinely to promote universal values, such as equality of rights, freedom of expression and democracy is a source of happiness for us. Finns know that common challenges, such as the climate change, need common solutions and cooperation between all nations of the world.
What are the ongoing bilateral projects that the two countries are conducting or those, which are financially supported by Finland? Do Finland and Turkey conduct any consultation or cooperation regarding Syrian issue?
For the time being Finland and Turkey do not cooperate in any bilateral development projects. Finland together with other EU member states is participating joint EU-Turkey projects. We are actively contributing to some EU-Turkey Twinning projects with Turkish ministries, mainly by sending our experts here.
The Finnish and Turkish Ministers for Foreign Affairs meet regularly and have regular political consultations. During these meetings important regional issues such as the conflict in Syria are of course regularly discussed. Both countries are also active members in the Global Coalition to Defeat Isis. Both Finland and Turkey also support providing much-needed humanitarian assistance across the borders to Syria.
In addition to this Finland has granted during 2016-2021 residence permit altogether to 2.586 Syrian refugees from Turkey in order to alleviate the burden in Turkey. This year Finland is planning to receive from Turkey some 500 refugees defined by the UNHCR. The Government of Finland has annually decided quotas for refugees.
Finnish education system, known as the world's best system, should also inspire Turkish decision-makers. What are the main characteristics of this schooling system that other countries could adopt for their own systems?
Finnish children spend much less time in school than in other countries and receive less homework. Still we receive excellent results in education.
The strength of the Finnish Education system lies in the equality. Finland offers high quality training for all teachers. People who work in education from the kindergarten teachers to adult education are university-trained professionals with a high level on expertise in their field.
Equality means to us that every child in the kindergarten has an open avenue to proceed on his or her educational path through elementary school to high school or second grade vocational training and further to the University or the University of Applied Sciences.
Our schools are free of charge and the level of education is kept high in every neighborhood in every school. The schools also have a lot of autonomy in their curricula. The key of our success is that we trust our education experts. Other countries could learn from our methods of formulating curricula and teaching, teacher training, how we structure the environment of the school and from our policy of education.
What have been the latest trends for the trade volume between Turkey and Finland? Do you think there is still some untapped potential for this bilateral trade?
Our objective is to double the bilateral trade between Finland and Turkey over the next three years. This would mean EUR 3 billion trade volume, up from EUR 1.5 billion in 2020 which roughly translates to a 27% annual growth rate.
The trade balance is currently positive from the Finnish perspective, but Turkish exports to Finland are also on a growth path. Finnish exports to Turkey from January to October 2021 totaled EUR 759 million (18.8% growth compared to same period in 2020). At the same time, Turkish exports to Finland totaled EUR 596 million (26.4% growth).
Digitalization and sustainability are the two main pillars of near future growth. Sustainability covers topics such as renewable energy, energy efficiency, circular economy, waste management, while digitalization contains themes such as smart manufacturing, digital trust, and communication infrastructure (5G).
What are the main reasons behind Finland's insistence on implementing restrictions, in effect since October 2019, on defense industry imports from Turkey?
In October 2019, EU Member states committed to strong national positions regarding their arms export policy to Turkey. In the council conclusions, it was mentioned that this is done on the basis of the provision of the Common Position 2008/944/CFSP on arms export control, including the strict application of criteria 4 on regional stability. Finland follows this common line. We are naturally following all relevant developments closely.