First COVID-19 case diagnosed among attendees of massive AKP congress
The first COVID-19 diagnosis among the attendees of the massive İzmir congress of the ruling Justice and Development Party (AKP) was announced. President Recep Tayyip Erdoğan had boasted about filling the congress hall to the brim during the Feb. 22 event.
Duvar English
The first COVID-19 case has been diagnosed among the participants of the ruling Justice and Development Party's (AKP) provincial congress in Aegean İzmir three days ago, where the president boasted about the mass crowds.
Former assistant director of marketing and media relations for the AKP, Emre Cemil Ayvalı, tested positive for COVID-19 days after he mingled with officials of the party at the congress.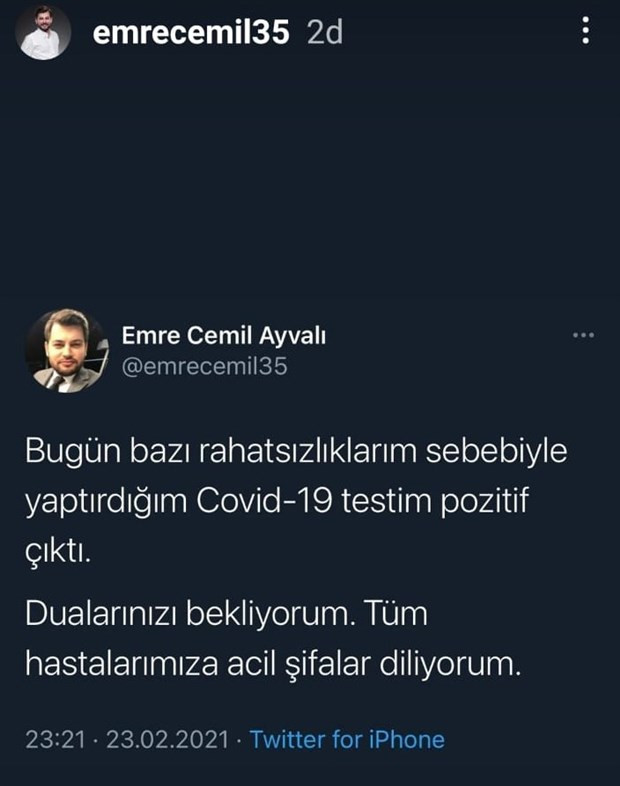 "I tested positive for COVID-19 after I got tested with some discomfort," Ayvalı said in a tweet on Feb. 23, although the post is no longer available.
Ayvalı was photographed sitting with AKP district mayors at the congress and shared photos from the event abundantly on his social media.
The former AKP official quit his job after making a blatant admission that he had advised the party to cause conflict among what he called a "coup tradition" that follows the republic's secular guidelines, and the followers of U.S.-based Islamic cleric Fethullah Gülen.
Meanwhile, a main opposition Republican People's Party (CHP) deputy slammed the fact that members of the AKP have been cutting corners and bypassing the COVID-19 testing and vaccination criteria.
AKP officials also came under fire recently for attending a funeral in mass numbers, an event that Health Minister Fahrettin Koca eventually apologized for.