Former MHP mayor under fire for killing endangered deer in Turkey's west
A former mayor from the Nationalist Movement Party (MHP) prompted outrage after sharing a photo of himself with an endangered red deer he hunted down. Although the species is at risk of extinction, the hunt was part of an Environment and Forestry Ministry bid.
Duvar English
The killing of an endangered red deer by former mayor Mehmet Kula from the Nationalist Movement Party (MHP) caused an uproar on social media after he posted a photo of himself with the slain animal.
"I say Godspeed to all my hunter friends who don't owe the state a dime," Kula noted alongside the photo of himself and the dead animal on social media, following a hunting trip in the western province of Kütahya.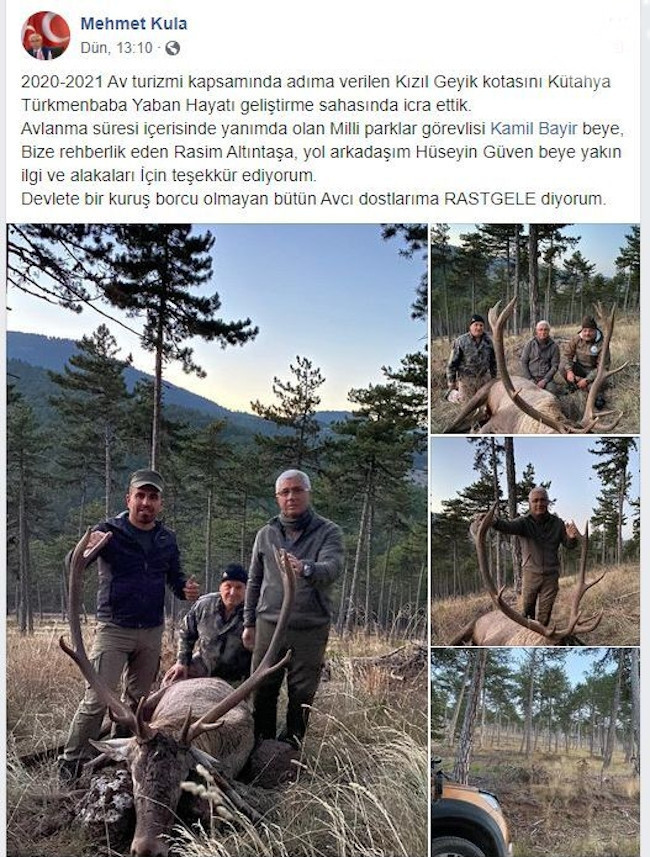 Turkey's Agriculture and Forestry Ministry opened a hunting bid recently, allowing the killing of endangered species as well, a local environmental group representative Hediye Gündüz said.
The deer was ranked "red," the most severe level of endangerment by the International Union for Conservation of Nature (IUCN), Gündüz added.
"Our country promised to preserve them by joining the IUCN, and banned hunting in their most prominent habitats," Gündüz said.
The former mayor from MHP shot and killed the deer on one of these protected spaces, Gündüz noted.
"Are national parks meant to protect wildlife or abed hunting atrocities? Hunting is murder," Gündüz said.