HDP MP visits historic churches in ruins in eastern Turkey
Turkish-Armenian lawmaker Garo Paylan told Gazete Duvar in an interview about his visits to centuries-old churches and monasteries that are about to collapse and need immediate restoration in eastern Turkey. Some of these historical buildings are used as barns, Paylan said.
Serkan Alan / DUVAR
Turkish-Armenian deputy Garo Paylan from the Peoples' Democratic Party (HDP) began to examine the centuries-old churches and monasteries throughout Turkey that are in danger of being abandoned.
Paylan visited about 20 historical buildings in the eastern provinces of Van, Muş and Bitlis and will further visit the structures in the Diyarbakır, Mardin, Ardahan and Artvin provinces.
Paylan said that he could not hold back his tears when he saw these places, which were used as barns, on the verge of demolition.
Paylan told Gazete Duvar that he will try to raise awareness for the protection of cultural assets all over Turkey. The deputy talked about the situation of these structures, which are in danger of extinction, as well as the need for measures to protect them.
Below are the questions asked by Gazete Duvar and the deputy's answers:
You brought up the fate of cultural assets in Turkey at different times in the past. You recently visited Van, Bitlis, Muş provinces and started a campaign on the condition of churches and monasteries. What is the purpose of this?
Anatolia is the geography where civilizations were born. There are ancient folks here. A significant part of these folks has been either expelled from these lands or cleansed in the last hundred years. Armenians, Greeks, Assyrians and Jews, who made up half of the population of Anatolia 100 years ago, are now a very small minority. There were thousands of churches, monasteries, schools, hospitals of these peoples, who were largely destroyed.
Now there are ruins. There are cultural assets trying to survive. For 100 years, these lands have never seen peace. There is tension with the Greeks and Armenians. The way to resolve these tensions is to show respect. To show that Anatolia is the geography of all peoples. I started this trip to save these cultural assets of these people.
You first went to the eastern provinces of Van, Bitlis and Muş. You went there knowing the possibility that those structures might already be destroyed, right?
I've seen all of these buildings before I became a lawmaker. I burst into tears everywhere I went. Many important places were destroyed. Some of the roofs and walls had collapsed.
There is a place called Seven Churches in Van province. One and a half churches remained there. The walls of that church were carved by treasure hunters. It's about to collapse.
Think of an old man. If not well taken care of you will lose it in a few years. These types of temples are not maintained and are old. They are destroyed by snow, rain, sun or treasure hunters. This shows me that it is almost consciously wanted to destroy these buildings and to destroy the traces left by the Armenians. This gave me great sadness.
Have you encountered traces of treasure hunters? How was the buildings' security?
There were no security guards anywhere, but I saw some heroes. There is an imam of the village where the Seven Churches Monastery is located in the Van province. If that church was able to survive even for a little bit, it was thanks to Shepherd Mehmet. He covers the church with tarpaulins every year.
Especially the foundations of these buildings were carved, so the inside of the columns became broken. The church collapses when the column is broken.
The main treasure is these monasteries, churches. If these buildings were restored, they would attract millions of tourists. Some monasteries are worth the pyramids in Egypt or Hagia Sophia.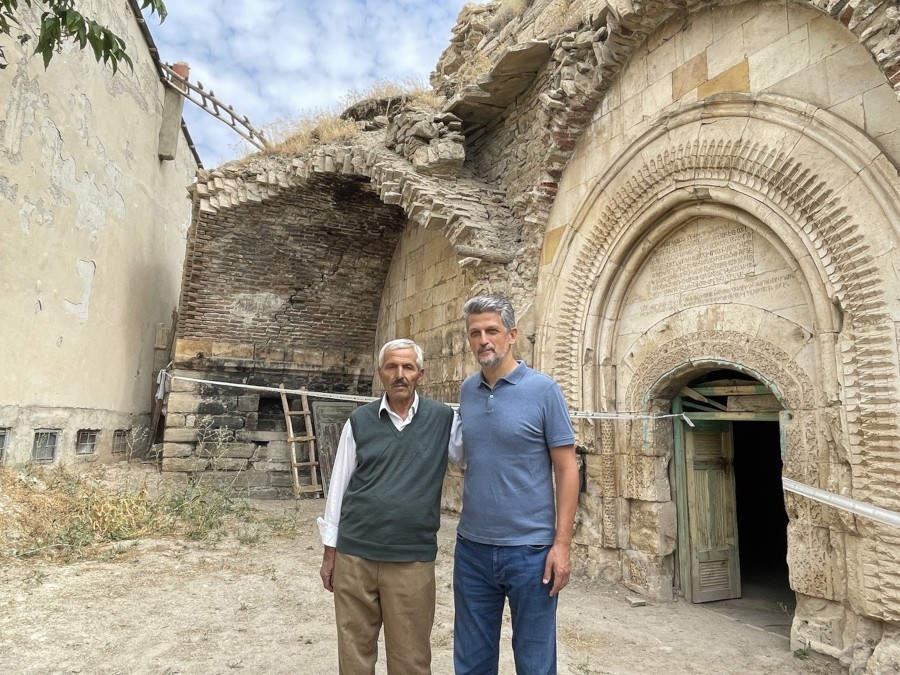 With the abandonment of these cultural assets to their fate, are the Armenians being tried to be erased from the memories?
Certainly. There is a state committee on Conservation of Cultural Assets. They need to prepare restoration projects. On the contrary, these committees in the Van, Bitlis and Muş provinces are working to destroy these places. Bureaucrats who see the Armenian identity as the enemy are appointed to these committees. The buildings I went to were used as barns.
Normalization with Armenia is on the agenda nowadays. This is not something only politicians can do. Let's restore the churches. They brag that they restored Akhtamar, but hundreds of Akhtamars are about to collapse.
During your visit, people living in the village built on the Surp Karapet Monastery in the Muş province tried to sell you the stones of the monastery. What did you feel at that moment?
I didn't pay but I got the stones. I will put the stones of the monastery in front of the Culture Ministry. When I went there eight years ago, many walls of the monastery were still standing. From what I saw eight years ago, it's gone backwards.
When the children tried to sell the stones, I told them "This is your history." "No, this is the church of the infidels," they said.
In addition to the restoration of these historical structures, can a program involving the people of the region be implemented?
There is a fear that "Armenians lived here and were expelled, their property was given to others. The Armenians will come back and take the property from you." This is a very groundless fear. This fear must be eliminated and the people living there must be told that it is in their interests to restore these cultural assets.
(English version by Alperen Şen)