No evidence found against Kavala in Gezi case, says court in detailed ruling
An Istanbul court has released its reasoned decision to acquit nine people in the Gezi Park trial, including Osman Kavala. The court said no credible evidence had been provided to give substance to claims against Kavala. The philanthropist's wiretapped telephone conversations were made "unlawfully," and therefore could not constitute as "evidence," it also said.
Duvar English
The Istanbul 30th Heavy Penal Court on Feb. 24 released the detailed reasoning for its decision to acquit nine people in the Gezi Park trial, including one of the country's foremost civil society activists, Osman Kavala.
According to the indictment, Kavala was accused of being one of the three "top management" organizers of the Gezi Park protests which took place in Istanbul's central Taksim in 2013.
The court said that they had analyzed the the reports of the Financial Crimes Investigation Board (MASAK) and did not find a single source of financial evidence linking Kavala to money provided to organize the Gezi protests.
The court also said that they did not take the wiretapped audio recordings of Kavala from 2013 into account as they were made "illegally." The wiretaps were made at the request of Gülen-linked prosecutors at the time and their contents were used as the main evidence in the indictment against Kavala.
The court said the testimony of Murat Pabuç -- a retired military officer who served as a witness in the case -- against Kavala had "no substantial value." Pabuç had said in his testimony that -- which had led to Kavala's arrest -- he was given gas masks allegedly distributed from a venue affiliated to Kavala.
The court referred to the 2013 Gezi Park protests as "vandalism" in its reasoning decision and said they had a purpose of putting the government in a difficult position and pushing government officials to resign.
On Feb. 18, the Istanbul 30th Heavy Penal Court acquitted nine of the 16 suspects, including Kavala, in the case.
The case of seven defendants who are abroad and were being tried in absentia, was separated but arrest warrants for them were lifted.
Just hours after the court's ruling, another one re-arrested Kavala on Feb. 19 over charges related to a failed 2016 military coup.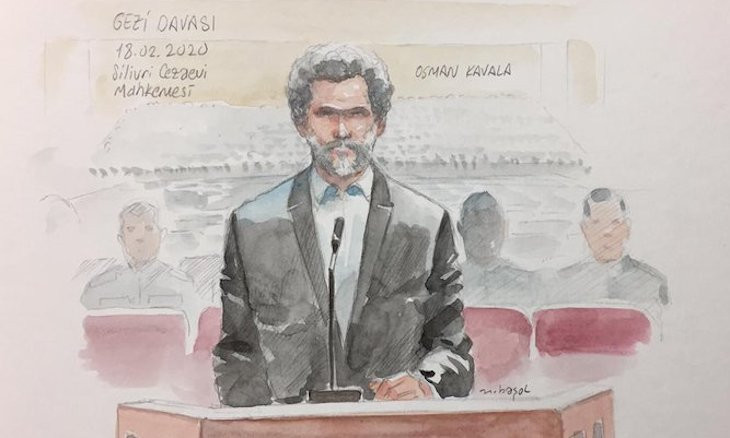 Osman Kavala re-arrested hours after acquittal ruling