Amnesty International urges acquittal of 11 rights defenders ahead of Turkish court's verdict
Amnesty International has said that only the acquittal of all 11 human defenders, who face terrorism charges in a case dubbed 'Büyükada trial,' could deliver justice for the activists. The NGO's comment came just a day before an Istanbul court is expected to give a verdict regarding the case.
Duvar English
Amnesty International on July 2 said that 11 human defenders who are being tried in the Büyükada case need to be acquitted, just a day before a verdict regarding the case is expected.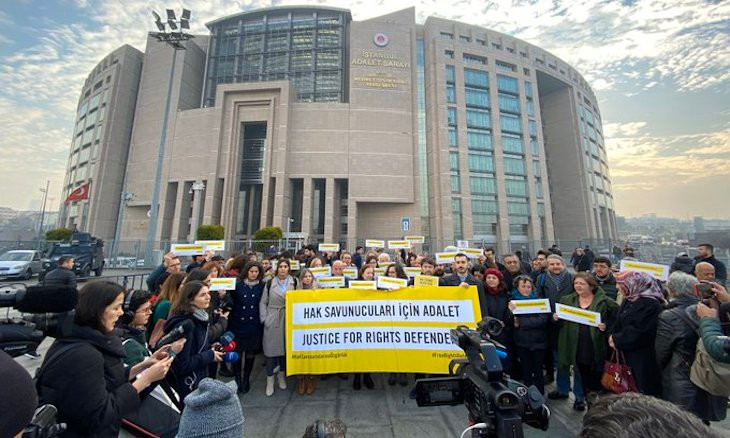 Istanbul court postpones trial into rights defenders
Ahead of the final hearing on July 3, Amnesty International said only the acquittal of all 11 rights defenders "could deliver justice for the activists who face baseless terrorism charges."
TheNGO said that the 11 rights activists, including former AmnestyTurkey Chair and now Honorary Chair Taner Kılıç and former AmnestyTurkey Director İdil Eser, have spent nearly three years fightingtrumped-up charges and could face up to 15 years behind bars if foundguilty.
The11 activists were detained in a police raid in 2017 while they wereattending a human rights workshop on Büyükada, an island nearIstanbul. They have been accused of "being a member of an armedterrorist organization" and "aiding armed terroristorganizations" by prosecutors.
Aftermore than 14 months in prison, Kılıç was released on bail inAugust 2018. Eight of the others, including two foreign nationals,spent almost four months each behind bars before they were releasedin October 2017.
"Over the course of the past 11 hearings, the 'terrorism' allegations made against all 11 defendants have been repeatedly and categorically disproven, including by the state's own evidence. The prosecution's attempt to present legitimate human rights activities as unlawful acts has comprehensively failed," Amnesty International said.
"Thisverdict matters, not just to these 11 women and men and theirfamilies but to everyone who values human rights, in Turkey andbeyond. No matter where you live, no matter which government rulesyou, you may need to have your rights defended one day," said NilsMuižnieks, Amnesty International's newly-appointed EuropeDirector.
"Fromthe start, this has been a politically motivated trial, just like somany others against other human rights defenders, journalists,lawyers, academics and activists," said Eser.