Imprisoned Turkish journalist being refused healthcare, lawyer says
Imprisoned columnist from daily Yeni Çağ is being refused healthcare despite his grievances, his lawyer said. The journalist has reportedly been refused a visit to the infirmary for 20 days, and one to the doctor in 10 days.
Duvar English
Imprisoned Turkish journalist Murat Ağırel, a columnist from daily Yeni Çağ, is being refused healthcare, his lawyer said on Twitter on July 5.
Lawyer Hüseyin Ersöz said that Ağırel, who's been imprisoned for over four months, has been refused visits to the infirmary and the doctor despite his repeated grievances.
The journalist is reportedly having trouble even drinking water because of a tooth ache.
"Murat Ağırel hasn't been taken to the infirmary in 20 days and the doctor in 10 days despite his grievances. Instead, a tooth ache he's had for two days is being 'temporarily treated' with a pain killer," Ersöz tweeted.
Silivri'de tutuklu gazetecilere yönelik "tecrit" 4 aydır devam ediyor! Tek kaldıkları koğuşlarda, "aynı anda" sadece 10 kitaba erişimleri mümkün. Bunun ötesinde Murat Ağırel, verdiği dilekçelere karşın 20 gündür "revire", 10 gündür "doktora" çıkarılmıyor. @adalet_bakanlik

— Hüseyin Ersöz (@ersozhuseyin) July 5, 2020
The lawyer also said that the imprisoned journalists in Silivri were effectively in isolation, as they had access to only 10 books at once in their individual cells.
"The condition of journalists who are put through a prison in prison through strict isolation," Ersöz said.
Ağırel became the subject of a new investigation on June 18 on charges of insulting the president and his family, although he is facing up to 18 years in prison for reporting on the funeral of a member of Turkey's National Intelligence Organization (MİT) who was killed in Libya.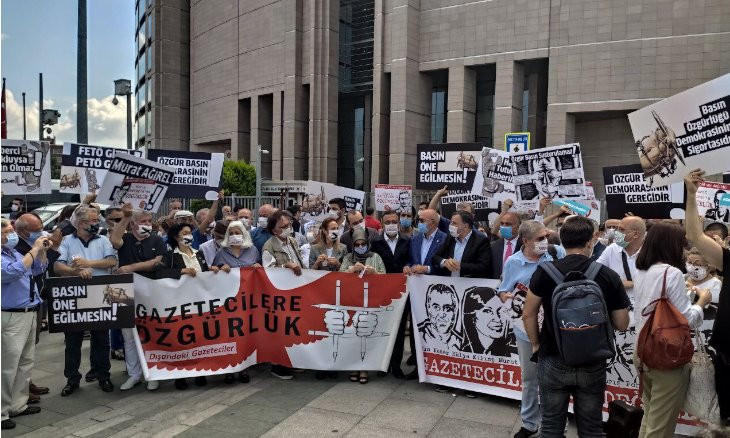 Istanbul court releases three journalists, keeps three others behind bars for officer's funeral report