Journalist Pehlivan thanks friends for 'most precious gift' after they mark his birthday at 'Freedom Park'
Jailed OdaTV journalist Barış Pehlivan has penned a letter thanking his friends after they marked his 37th birthday at Istanbul's "Özgürlük Parkı" (Freedom Park). "My friends, you gave me the most precious gift ever," Pehlivan wrote in his letter.
Duvar English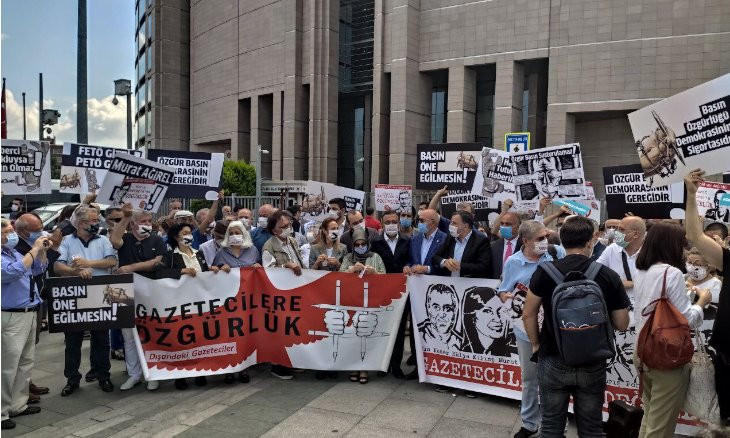 Istanbul court releases three journalists, keeps three others behind bars for officer's funeral report
Jailed journalist Barış Pehlivan has said in a letter that he received the "most precious" birthday present ever after his colleagues and friends marked his birthday by gathering at an Istanbul park and unfurled a huge banner reading: "Happy Birthday Barış Pehlivan. We are lucky to have you."
"You embraced the sky and brought it to me. And under this sky, in this struggle for truth and freedom, we are lucky to be all together and to have each other. We will have more days living in more enthusiasm and more hope than the number of days that they thought they have stolen from us," Pehlivan wrote in his letter.
Pehlivan is currently imprisoned in Istanbul's Silivri Prison for covering a report on the funeral of a National Intelligence Organization (MİT) member who was killed in Libya.
Ömrünün son 10 yılının 2 yılını hapiste geçirdi.
Hayatının son 120 ayının 78'inde ağır ceza mahkemelerinde yargılandı.
Yaşamının son 126 gününde tecrit altındaydı.
Son 3 bin 24 saatinde çocuğundan ayrı.
Hepsi haberden, fikirden, yazıdan, düşünceden...
İyi ki doğdun Barış! pic.twitter.com/Y4ZS6degwN

— Barış Terkoğlu (@baristerkoglu) July 10, 2020
A total of eight people are indicted in the case, six of whom were jailed in early March pending trial. During the first hearing of the case on June 24, the court released three of the journalists pending trial, while ordered the continued arrest of three other journalists, including OdaTV's Pehlivan.
On July 10, several friends and colleagues of Pehlivan came together at the "Özgürlük Parkı" (Freedom Park in English) in Kadıköy's Göztepe neighborhood and marked the jailed journalist's birthday.
Pehlivan turned 37 behind bars on July 10. His letter thanking his friends for their gesture was shared by Barış Terkoğlu, another OdaTV journalist who was released in the same MİT case on June 24, on his Twitter account.
Göğü kucaklayıp getirdiniz bana... pic.twitter.com/GimZKA0eVf

— Barış Terkoğlu (@baristerkoglu) July 11, 2020