Turkish police brutally disperse Suruç bombing commemorations, rip photos of victims
Police officers in Ankara and Istanbul brutally detained demonstrators commemorating the victims of the 2015 Suruç bombing that killed more than 30 members of the Federation of Socialist Youth Associations (SGDF). Police also assaulted lawyers who went to an Istanbul police station to follow-up on detained demonstrators.
Duvar English / Aynur Tekin - DUVAR
Police in the capital Ankara brutally dispersed two commemorations held to remember the victims of an ISIS suicide bomb attack.
Police surrounded a group of activists on Atatürk Boulevard who gathered to commemorate victims of the 2015 ISIS suicide bombing in the Suruç district of the southeastern Urfa province and ripped up signs that read "Justice for Suruç, Justice for Everyone!"
None of the suspects behind of the July 20, 2015 Suruç bombing that killed 33 members of the Federation of Socialist Youth Associations (SGDF) and wounded more than a hundred has been brought to justice yet.
Police also tore up photos of the victims and brutally detained protesters, pinning them to the ground by kneeling on their backs, leaving some out of breath.
Journalists and citizens were prevented from documenting the scene.
Meanwhile on Meşrutiyet Street, police violently detained demonstrators as they chanted "Justice for Suruç!"
Police also used tear gas and rubber bullets on demonstrators and tore up signs and photos of the victims.
Police also barricaded roads leading to Meşrutiyet Street, as well as the Socialist Party of the Oppressed (ESP) offices.
Demonstrators detained, shot in Istanbul
Istanbul police also violently detained commemorators and shot them with rubber bullets, severely injuring some.
College student Ferhat Ergen was shot in the face with a rubber bullet, and says that he was mostly injured in the face and chest.
"They aimed at our torsos and heads instead of shooting at our feet or below the waist," Ergen said about the officers.
The student added that both the authorities who ordered police to fire shots and the officers who fired them "know exactly what rubber bullets can do."
Police beat lawyers in Istanbul
Meanwhile, lawyers Ezgi Önalan and Gökhan Soysal were detained by police, and Önalan was beaten severely for wanting to speak to those detained at the Istanbul commemoration, the Progressive Lawyers' Association (ÇHD) said.
Meslektaşımız, derneğimiz üyesi Av. Ezgi Önalan, gözaltı takibi yapmak için gittiği Kadıköy İskele Karakolu'nda uğradığı polis şiddeti ile bu hale getirildi. Kaşı patlatıldı. Yüzü darbe izleri ile dolu. https://t.co/wUddDBxBbF https://t.co/N0VNpUFozD

— ÇHD İstanbul Şube (@CHDistanbul) July 20, 2020
"Our colleague and member Ezgi Önalan was put in this condition by the police brutality she endured at the Kadıköy pier police station," ÇHD tweeted.
The lawyer was assaulted when she went to the police station to follow-up on the detainees from the commemoration, but was beaten so badly that she had a lesion on her eyebrow and multiple blow signs on her face, it said.
Önalan objected to her detention on the grounds that she was there as a lawyer, but was still handcuffed behind her back and her computer was confiscated, ÇHD reported.
Lawyer and ÇHD member Gökhan Soysal was also assaulted as he was detained during a follow-up visit.
"We found out that he was purposefully beaten and [police] stepped on his neck," ÇHD tweeted.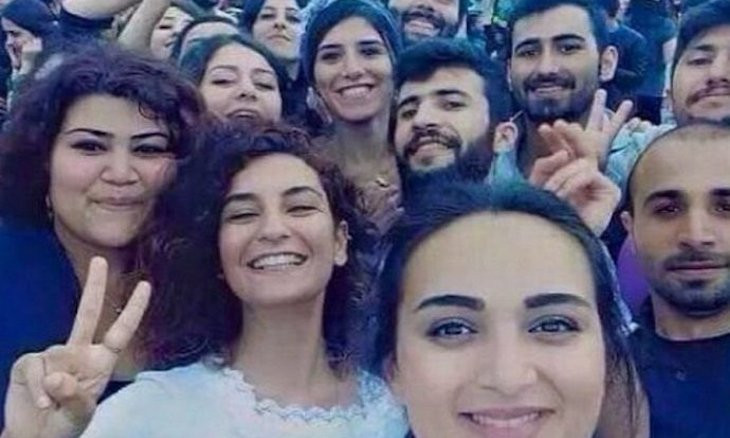 Turkey commemorates victims of Suruç bombing on fifth anniversary