Dismissed Turkish academic, known for hunger strike, arrested again
Istanbul police on Aug. 5 raided Istanbul's İdil Culture Center where leftist folk band Grup Yorum carries out its musical works and detained five people there, including former hunger-striking academic Nuriye Gülmen. The People's Law Office announced on Aug. 11 that Gülmen was among the two who were arrested in the case.
Duvar English
Nuriye Gülmen, who became a symbol of resistance in Turkey after going on a hunger strike for nearly a year, was arrested again on Aug. 11.
Gülmen was among those detained on Aug. 5 during a police raid at Istanbul's İdil Culture Center, which is run by members of the leftist folk band Grup Yorum.
"Our clients Nuriye Gülmen and Rıdvan Akbaş have been arrested. Our clients Yasemin Karadağ, Fırat Kaya and Ezgi Kul have been released under judicial control," said the People's Law Office on Twitter.
Müvekkillerimiz Nuriye Gülmen ve Rıdvan Akbaş tutuklandı.

Müvekkillerimiz Yasemin Karadağ, Fırat Kaya ve Ezgi Kul adli kontrolle serbest bırakıldılar.

— Halkın Hukuk Bürosu (@halkinhukuk_) August 11, 2020
Gülmen, a former university lecturer, went on a hunger strike in March 2017 along with another educator named Semih Özakça, after being dismissed from her job through a state of emergency decree. Gülmen and Özakça were arrested two months later on charges of belonging to the outlawed militant leftist Revolutionary People's Liberation Party (DHKP-C). The authorities released Gülmen in December 2017, whereas Özakça in October 2017.
After spending almost 11 months in hunger strike, Gülmen and Özakça ended their protest in January 2018.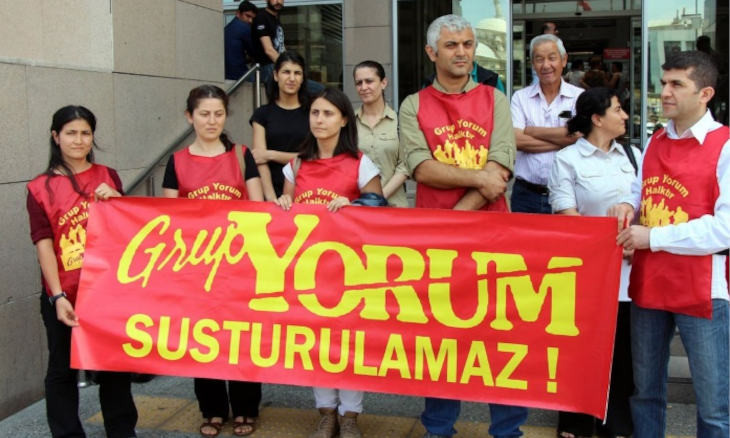 Six members of Turkish folk band Grup Yorum detained during concert rehearsal