İzmir police inflict physical, emotional torture on LGBTI+ activist rallying for Istanbul Convention
LGBTI+ activist İsmail Temel was on Aug. 5 exposed to police violence in Turkey's İzmir as he was about to leave a rally held in support of the Istanbul Convention. After battering and detaining him, the police called Temel's family exposing his gay identity. Following this incident which left permanent emotional scars on him, Temel was ostracized by his whole family and lost his job.
Nuray Pehlivan / DUVAR
İsmail Temel was one of the protesters who took part in a rally held in Turkey's Aegean province of İzmir on Aug. 5 in support of the Istanbul Convention.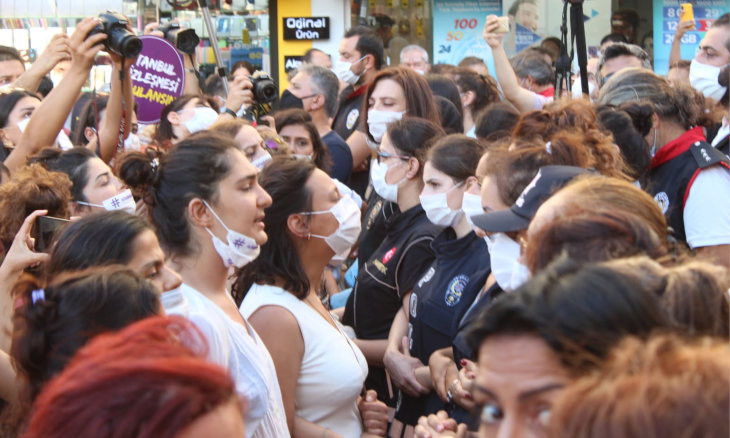 Turkish police attack women's rally held in support of Istanbul Convention
Temel was exposed to police violence and was detained on that day. The detention happened although Temel had an epileptic seizure and was unconscious.
Following this trauma, Temel's family turned their back on their son after finding out that he was at the rally to speak up for the rights of Turkey's LGBTI+ community.
"This is [Istanbul Convention] my struggle to exist [in Turkey] and I was there with this consciousness. But the police, who should have protected me, are a reason of my trauma after that day," Temel said.
Thousands of people have been recently pouring into rallies across Turkey over fears of Ankara's potential withdrawal from the Istanbul Convention, a European treaty on gender-based violence. Many conservative groups in Turkey claim the convention encourages homosexuality and is a force "destroying" the unity of Turkish families. Their opponents argue that the deal, and legislation approved in its wake, need to be implemented more stringently.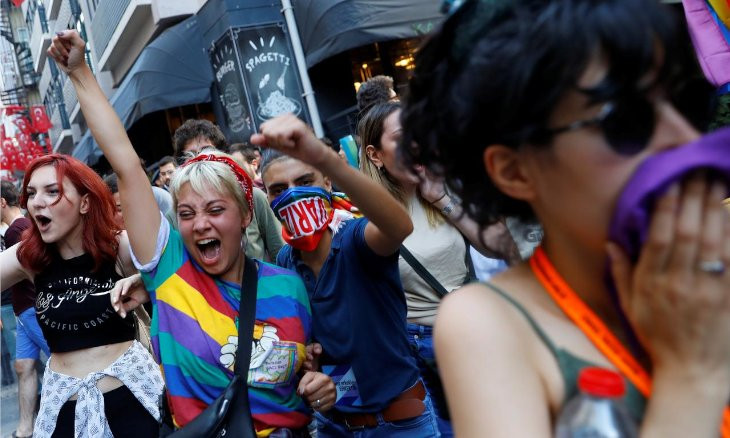 Rights groups call on UN to urge Turkey to protect rights of LGBTI+ community
Temel said that he became the target of police officers because he shouted slogans demanding equal rights for LGBTI+ individuals during the rally. He said that police officers followed him all the way to the taxi which he was about to take after the rally was over. "I and my friends departed the area [where the rally was held], but police officers took our photos and followed us," Temel said, adding that he was battered and detained after this.
"The moment I got on the taxi, a police officer pulled me harshly out of the vehicle. At that point, I hit my head to the taxi's door. Despite telling them that I could not breathe, they tried to handcuff me from behind. When people there reacted to the police, they gave up on putting the handcuff. A police officer hit me on the head a couple of times. Police officers who took my arms swore at my mother, father and my sexual identity," Temel said.
Temel said that this violence and trauma triggered his epilepsy as a result of which he fainted. "Despite being at that condition, a police officer was pushing down on my ribs. Although people around me called the ambulance, they pushed me into the police car by the head and ears," Temel said.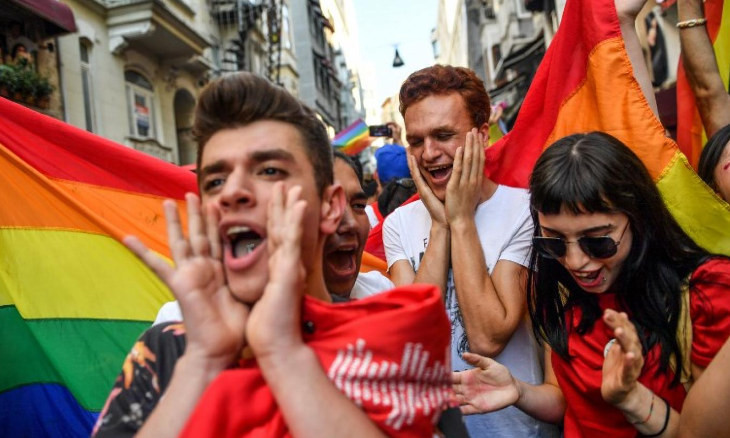 Populism in Turkish politics and the LGBTI community
Following this incident, the police called Temel's family and exposed his gay identity. Temel said that up until that moment, he had never told his family that he was gay. "My brother repeated what the police said and he slapped me without even hearing me out. My father spitted on my face, saying 'What kind of a son are you?' Due to the police I also faced violence at home. My whole family ostracized me," Temel said.
Temel's father kicked him out of the house following this incident. "I left the house without even getting my clothes. Since my workplace is in my neighborhood, I can no longer go there either. I have lost my family and indirectly I have lost my job," Temel said.
Following the physical and emotional violence Temel was exposed to on Aug. 5, he filed a criminal complaint against the police officers in question. Temel's lawyer Eren Keskin demands that police officers face charges based on the violation of Istanbul Convention's 12th and the European Convention on Human Rights's 3rd article. Kesin said that medical reports of assault as well as camera footages are enough to document the violence inflicted on Temel.
"Turkish Republic is still a very masculine state. State officials are basing their world view on the masculinity concept and this discussion on masculinity is disturbing for them," Keskin said.
"State officials see masculinity as nationalism and racialism. So, they see this as a struggle of survival. Struggle for women's rights is not just about oppression men impose on women, but also it is a struggle against racism and nationalism. Since they know what will follow after this, they see this existential struggle as a threat against themselves," Kesin said.