Turkish police batter, detain woman for 'not wearing her mask properly'
Istanbul police battered a woman as they detained her for faulty use of their face masks. Turkey's Progressive Lawyers' Association (ÇHD) shared footage of the detention where one woman falls to the ground as a result of the officer's harsh treatment.
Duvar English
Two police officers battered and detained a woman for "not wearing her mask properly" in Istanbul's Kadıköy on Aug. 19.
The footage of the incident showed two officers dragging and battering a woman, identified only as R.B., while those nearby shout for them to let go. One of the officers was seen to be not wearing his mask properly.
The scenes prompted outrage on social media, with hundreds of people calling on authorities to penalize the officers in question.
Turkey's Progressive Lawyers' Association (ÇHD) slammed the incident, saying that they will file complaints against the police. It noted that two women were detained and later released.
Maskesi burnunu kapatmadığı iddiasıyla durdurulup ceza kesilmek istenen, daha sonra polislerin sözlü tacizine maruz kalan iki genç kadın darp edilerek gözaltına alındı#KadınaSiddeteSessizKalma pic.twitter.com/G9ckKOhf7a

— ÇHD İstanbul Şube (@CHDistanbul) August 19, 2020
Following outrage on social media, Istanbul Governor's Office said that the officers were suspended from duty and that an investigation was launched. It also claimed that the woman insulted the officers and ignored their warnings on putting on a mask.
Strikingly, another social media campaign was launched after the suspension of the police officers, calling for the officers to be reinstated with the hashtag "I stand with my police."
Interior Minister Süleyman Soylu said on Aug. 10 that Ankara would be conducting "intense COVID-19 inspections" nationwide as part of government response to increasing numbers of new daily cases nationwide.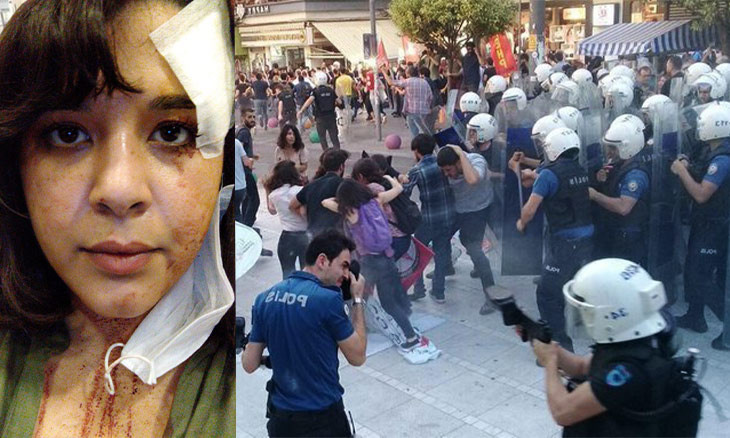 Turkish police brutally disperse Suruç bombing commemorations, rip photos of victims