Iconic senior Ankara protester, veteran judge Perihan Pulat dies
A symbolic senior protester from Ankara, Perihan Pulat, died on March 2. A veteran judge, she was best known for her presence at the frontline of the demonstrations in the capital.
Duvar English
An iconic senior Ankara resident who is best known for her frontline activism, Perihan Pulat, died on March 2 at the age of 76, in a hospital where she was being treated for a respiratory illness.
A veteran judge, Pulat was battered and severely injured by police officers during a May 1 protest in 2018, an incident she reported to the police and legally pursued afterwards.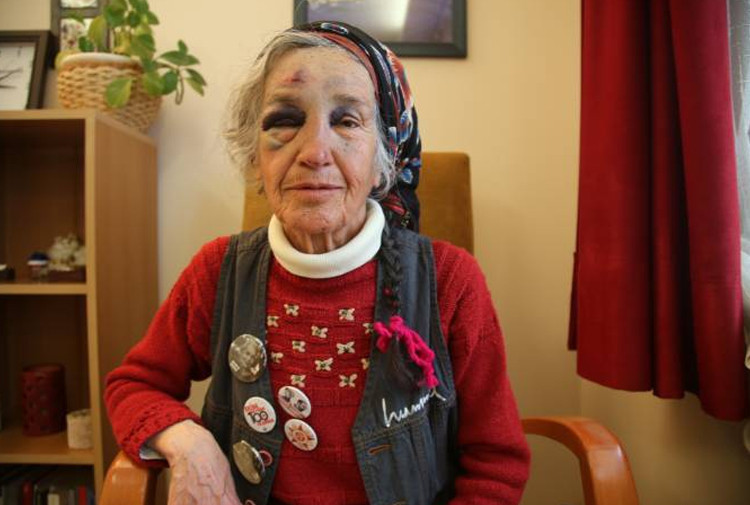 "Perihan Pulat was a historical monument herself with her peace sign around her neck," journalist Sibel Yükler said. "Always at the front of the fight, the barricade, the protest. She left behind a clean, honorable history. Her mark will stay on the streets, and on us."
#PerihanPulat tek başına tarih anıtıydı. boynunda barış sembolü, yakasında hep behice boran rozetiyle mücadelenin, barikatın, eylemin en önündeydi. iyi ki yetiştik, tanıklık ettik sana pericim. tertemiz, onurlu bir tarih bıraktı geriye. izi ne sokaklardan ne bizden silinir. https://t.co/PsXM1z3w89

— sibel yükler սիպէլ 🌈 (@sibelyukler) March 1, 2021
"Our Sister Peri, a shot from April 26, 2014. We lost one life and a massive history of resistance. Perihan Pulat was a name in the fight for the environment, society and labor, and stood by all victims," Duvar English columnist Önder Algedik said.
Peri ablamız,
26 Nisan 2014'den bu kare.
Bir canı ve de çok acayip bir mücadeleler tarihini kaybettik.
Perihan Pulat her ezilenin yanında duran, her mücadeleye destek veren doğa-toplum-emek mücadelesinin adı idi.

Çok özleyeceğim. pic.twitter.com/GSDReC88JQ

— Onder Algedik 🚗+🏗=🌡️+💦+🌪 (@OnderAlgedik) March 1, 2021
Pro-Kurdish Peoples' Democratic Party (HDP) member and human rights activist Veli Saçılık said that Pulat never fully recovered from her injury inflicted by police in 2018.
"She didn't recover and died today. She was retired from the Court of Accounts, but never retired from humanity," Saçılık said.
#PerihanPulat bu alçak saldırı sonrası bir daha hiç iyileşmedi ve bugün hayatını kaybetti. Sayıştay Hakimliğinden emekliydi ama insanlıktan hiç emekli olmadı. Bu dünyadan Perihan Pulat geçti. https://t.co/E6N4BEIqVR

— Veli Saçılık (@velisacilik) March 1, 2021