Kılıçdaroğlu raises tone, vows to deport 10 million refugees
In the first press conference after the May 14 elections, opposition presidential candidate Kemal Kılıçdaroğlu once again vowed to deport refugees, but this time raised his tone. Kılıçdaroğlu accused Erdoğan of not "protecting the borders and honor of the country by bringing more than 10 million refugees."
Duvar English
Main opposition Nation Alliance's presidential candidate and Republican People's Party (CHP) leader Kemal Kılıçdaroğlu on May 18 held his first press conference after the May 14 elections in which he unofficially received 44.88% of the votes against President Recep Tayyip Erdoğan's 49.52%.
In the conference held in the CHP headquarters in the capital Ankara, Kılıçdaroğlu raised his tone in a move to attract the voters of the third presidential candidate, nationalist Sinan Oğan who received 5.17% of the votes. Kılıçdaroğlu also adopted the slogan of "Decide for Turkey" for the second round of the presidential election.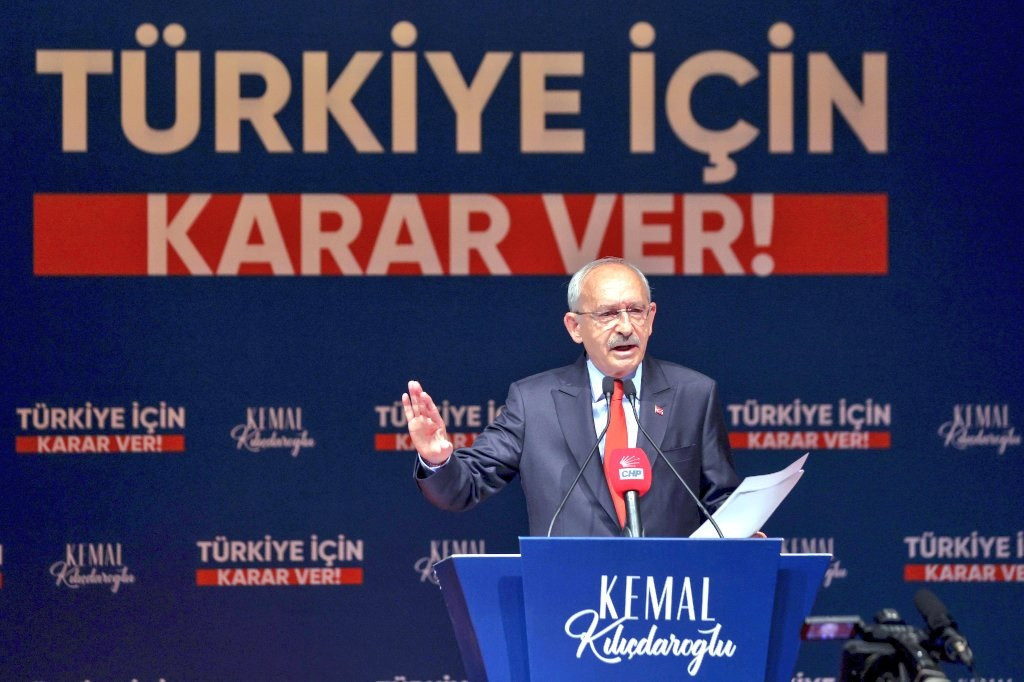 "I would like to thank all my citizens, including the 25 million voters who supported us. The change message appeared in the first round (of the presidential election). We said 'stop' to the arrogance of the Erdoğan government in the first round. The votes of the ruling party eroded significantly. Unfortunately, a feast of democracy was marred by Erdogan's campaigns of lies and slander. Frankly, I would like to see a braver and more courageous opponent before me. Our people, too, deserve candidates who do not expect help from montages," Kılıçdaroğlu said, referring to Erdoğan displaying a montage video depicting as if the Kurdistan Workers' Party (PKK) executives were singing CHP's election song.
Using all state resources during the election campaign, Erdoğan has always accused Kılıçdaroğlu of having links with the PKK, despite the latter clearly rejecting such claims. Some experts pointed out that Kılıçdaroğlu could not reach Erdoğan's support base in the election campaign and proved to them that he has no links with the PKK.
"Our nation clearly demonstrated its dissatisfaction with this system and this mentality in the first round. Our nation has given us a very effective message. Some of our citizens did not go to the polls. Some voted reactively at the ballot box. Some of them reluctantly voted for Erdoğan. We also received your messages," Kılıçdaroğlu said.
Referring to irregularities in the results, Kılıçdaroğlu said they have objected to the Supreme Election Council (YSK). "This election once again showed that (the government's) irregularities and immorality know no bounds. On the morning of the election on May 28, this time we need not one but two but five observers at each ballot box. I am calling those who voted for us."
"Erdoğan, aren't you the one who sat at the table with terrorist organizations many times and made bargains behind the door? What are you doing to slander us? Here I am open and declaring it again. I declare to all my citizens. I have never sat down with terrorist organizations, and I never will. Aren't you Erdoğan, the one who nurtured and raised FETÖ? I have never stood side by side with those who plotted against our soldiers," Kılıçdaroğlu said.
Kılıçdaroğlu once again vowed to deport refugees to their homeland should he assume power. "Erdoğan, you did not protect the borders and honor of the country. You have deliberately brought more than 10 million refugees into this country. You sold the citizenship of the Republic of Turkey to obtain imported votes. As soon as I come to power, I will send all refugees home. Are you aware that if (Erdoğan) remains, more than 10 million refugees will come to Turkey. The dollar will be 30 liras. Let my people stand up. Let those who love their homeland come to the ballot box."
Kılıçdaroğlu is expected to have a meeting with Oğan on May 19.
This is the first time Turkey will experience a second-round presidential election on May 28.