President Erdoğan displays montage video to link CHP and PKK in Istanbul rally
During a rally at the now-closed Atatürk Airport on May 7, Erdoğan displayed a montage video depicting as if PKK executives were singing the main opposition CHP's election song.
Duvar English
President Recep Tayyip Erdoğan on May 7 attended the ruling Justice and Development Party's (AKP) Istanbul rally at the now-closed Atatürk Airport. In a controversial move, he displayed a montage video depicting as if executives of the Kurdistan Workers' Party (PKK) were singing the main opposition Republican People's Party's (CHP) campaign song.
After Erdoğan said, "Would my nationalist citizens vote for them (CHP)," he showed the deepfake video and said, "Look, this is very important."
The main opposition bloc Nation Alliance's presidential candidate and CHP leader Kemal Kılıçdaroğlu on May 2 warned of "dirty deeds to be committed" for the upcoming elections regarding the online election manipulation tools.
Cumhurbaşkanı Erdoğan, İstanbul Mitingi'nde Kemal Kılıçdaroğlu'nun "Haydi" reklam filmine PKK'lı Murat Karayılan'ın videosunu montajlayıp PKK'lılar CHP'nin şarkısını söylüyorlar gibi izlettirdi. pic.twitter.com/BgJy5O1Wot

— 23 DERECE (@yirmiucderece) May 7, 2023
The rally's platform, which was prepared with the concept of a Turkey map, featured President Erdoğan's photograph as well as the inscriptions "Turkey is entrusted to you" and "The right time and the right man for Turkey's Century," along with visuals of Turkey's "national automobile" TOGG, ships, trains, and airplanes.
In the transportation guide for access to the rally published by the AKP, the party stated that a total of 10,000 buses would depart from the designated points in 39 districts of Istanbul. In addition, the party organized free ring services integrated into the commuter train line. Additional services were also organized on the airport metro line. Erdoğan said that 1.7 million people attended the rally.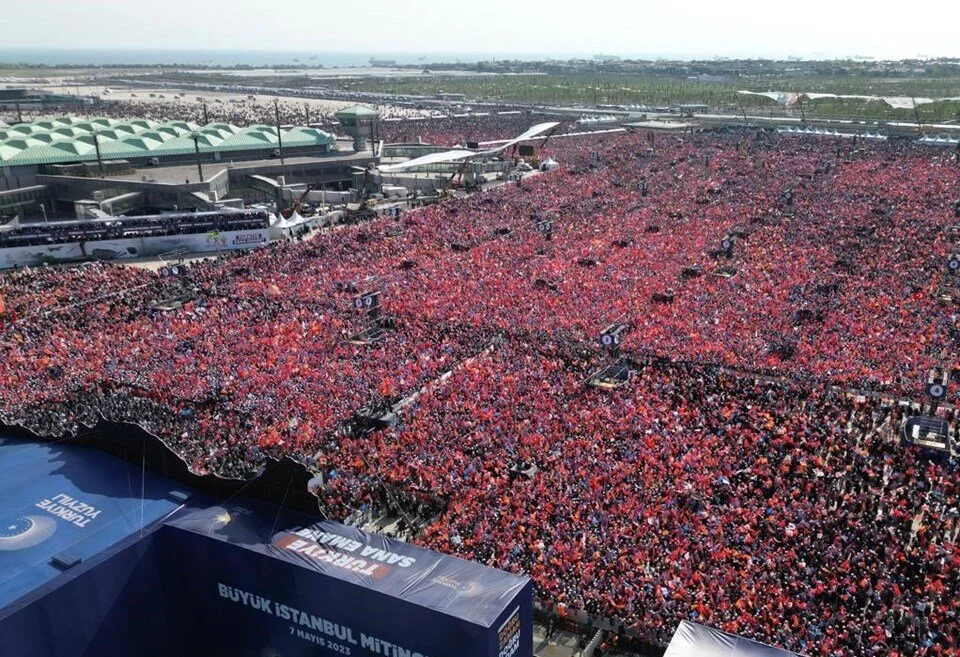 During his speech, Erdoğan frequently attacked the main opposition bloc Nation Alliance's presidential candidate Kılıçdaroğlu and other opposition politicians.
Erdoğan attacked Istanbul Mayor Ekrem İmamoğlu over the CHP's eastern Van province rally and stated, "Mr. Kemal instructed İmamoğlu to go to Van. In Van, they have made an agreement with PKK members, and they made their hand signs. Ekrem, you are from Trabzon, what are you doing there when you should be serving Istanbul?"
AKP members have been using the rally in Van province, which is highly populated by the Kurdish population, in order to link opposition with the PKK in order to create an "illegitimate" image. Their campaign made a "success" on May 7 when ultra-nationalist groups attacked İmamoğlu and the CHP supporters with stones in Erzurum province.
Erdoğan also repeated his claim regarding the Gezi Park protesters being inside a mosque with beer bottles in 2013. Even though he often stated that there are video recordings of the "incident," the videos have not been shared with the public for 10 years. Also, the mosque's imam rejected the allegations on the first day.
The president once again targeted the LGBTI+ community in Turkey and said, "Are you ready to bury those LGBTI+ supporters to the ballot boxes" while referring to the opposition parties.