Mafia boss Sedat Peker shares message for Turkish Republic's centennial in Times Square
Turkish mafia boss Sedat Peker has shared a message celebrating the Turkish Republic's centennial on Times Square, while a worldwide red notice seeks his arrest for "organised crime leadership." 
Duvar English
Turkish mafia boss Sedat Peker on Oct. 29 published a message celebrating the Turkish Republic's centennial on the screens of Times Square in New York. He has been sought worldwide with a red notice for "organized crime leadership."
Peker's message reads, "Although many aspects of my life might be up for questioning, my honor, dignity, and love of Atatürk is not." He signed the message as "Chief Sedat Peker, the last leader ('gökbörü') of global Turkishness."
Peker shared the moments the message went live on the LED screens of Times Square through his social media accounts.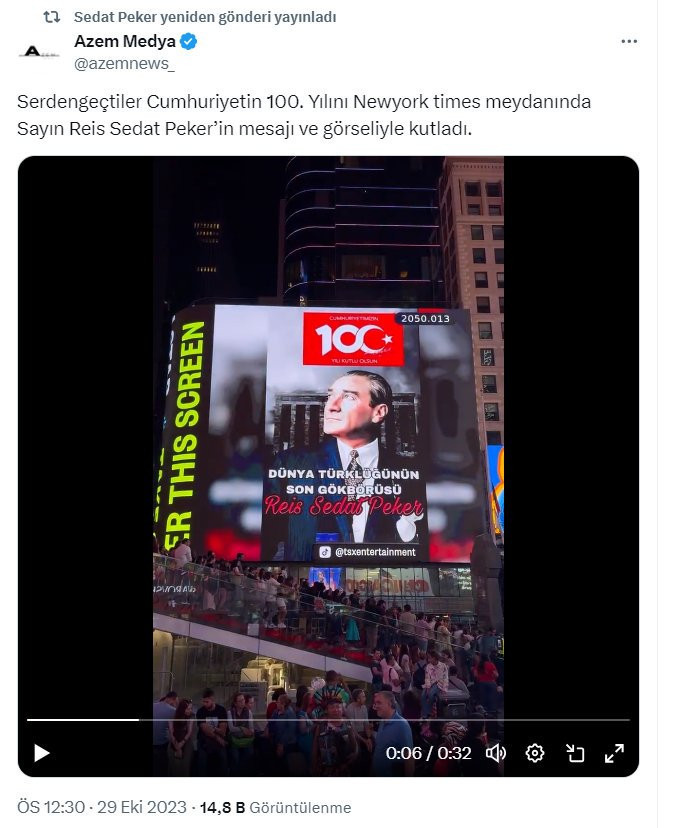 Peker fled Turkey in 2020. In 2021, he began posting videos and tweets making a series of scandalous claims against political figures, including allegations of murder, rape, corruption and drug trafficking. Millions watched his exposé videos, and the allegations resulted in the resignation of Erdoğan's two advisors, namely Serkan Taranoğlu and Korkmaz Karaca in 2022.
Interpol in 2022 issued a red notice for the fugitive Peker in 194 countries upon the request of Turkish authorities.