Members of Turkish fascist group Grey Wolves graffiti over rainbow mural
Members of the fascist and ultra-nationalist organization Grey Wolves have attempted to cover a rainbow mural with black spray, saying it represented the LGBTI community.
İdris Yılmaz / DUVAR
Members of the ultra-nationalist organization Grey Wolves, known as "Ülkü Ocakları" in Turkish, have spoiled a rainbow mural on an electric transformer with black spray paint.
The incident happened in the western province of Bursa's Gemlik district.
The fascist group said the rainbow, which had been painted by the Gemlik Municipality, was representing the LGBTI community.
The Gemlik Grey Wolves shared the photos showing its members graffiting the mural on its social media account, along with a statement titled "A warning from the Grey Wolves."
"On behalf of the Muslim Turkish nation, we demand that the Gemlik Municipality officials do what is necessary and reverse this mistake," the group said.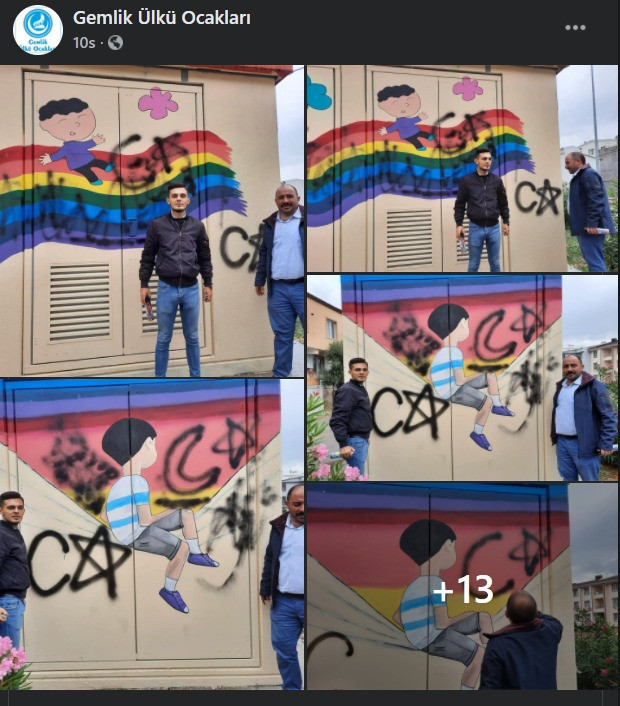 "We are facing a movement which is trying to give the image to our children that it is as if normal and ordinary to be gay. After residents who are sensitive to the issue in our district expressed their disturbance, it has been conveyed to us that the Gemlik Municipality Park Gardens Directorate had the paintings done," the group further said.
The Grey Wolves, which have been operating inside Turkey for decades, is regarded as the armed wing of the Nationalist Movement Party (MHP). During the 1970s and 1980s, it committed acts of violence on the streets of Turkey, when its members often clashed with political opponents.
An offshoot of the Grey Wolves known as "Alperen Ocakları" previously threatened the Pride Istanbul, saying that they would not allow LGBTI members to hold a parade in Istanbul.
The head of the group's Istanbul branch Kürşat Mican said in 2017 that even if the government allows the Istanbul Parade, "they would not allow it." And unsurprisingly, Mican got away with his remarks due to a government policy of impunity for hate speech.
Rights groups have been calling on Turkish authorities to fulfill the commitments enshrined in agreements on human rights and stop the stigmatization of LGBTI people.
They have been expressing their concern about the visible rise in hateful rhetoric and the propagation of homophobic narratives by some politicians and opinion-makers in Turkey and about impunity for transphobic hate crimes.