Mysterious monolith turns out to be gimmick for Erdoğan's speech
A metal monolith that mysteriously appeared and then disappeared near the ancient site of Göbeklitepe, the world's oldest temple, turned out to be a publicity gimmick for an event during which Erdoğan unveiled Turkey's national space program. An image of the monolith was projected on the screen as Erdoğan said: "I now present to you Turkey's 10-year vision, strategy and aims and I say, 'Look at the sky, you will see the moon.'"
Duvar English
A monolith, which appeared and disappeared mysteriously on a field in the southeastern province of Şanlıurfa, turned out to be a publicity gimmick for an event during which President Recep Tayyip Erdoğan unveiled Turkey's national space program.
The monolith, triangular in shape and metallic in composition, mysteriously appeared near the ancient site of Göbeklitepe, the world's oldest temple, on Feb. 5. The 3-meter-high metal slab disappeared just as mysteriously on Feb. 9. The monolith bore an inscription that read: "Look at the sky, you will see the moon" in the ancient Turkic Göktürk alphabet.
An image of the monolith was projected on the screen as Erdoğan unveiled an ambitious 10-year space program for Turkey on Feb. 9. "I now present to you Turkey's 10-year vision, strategy and aims and I say, 'Look at the sky, you will see the moon,'" Erdoğan said in the capital Ankara, as the monolith's image was seen behind him.
Turkey aims to reach moon in 2023, Erdoğan says
Erdoğan said that the space program has 10 strategic goals including sending a Turkish citizen to a scientific mission in space. He said Turkey plans to establish "a first contact with the moon" in 2023, as part of the program.
"The first rough landing will be made on the moon with our national and authentic hybrid rocket that shall be launched into orbit at the end of 2023 through international cooperation," Erdoğan said, detailing a two-phase mission.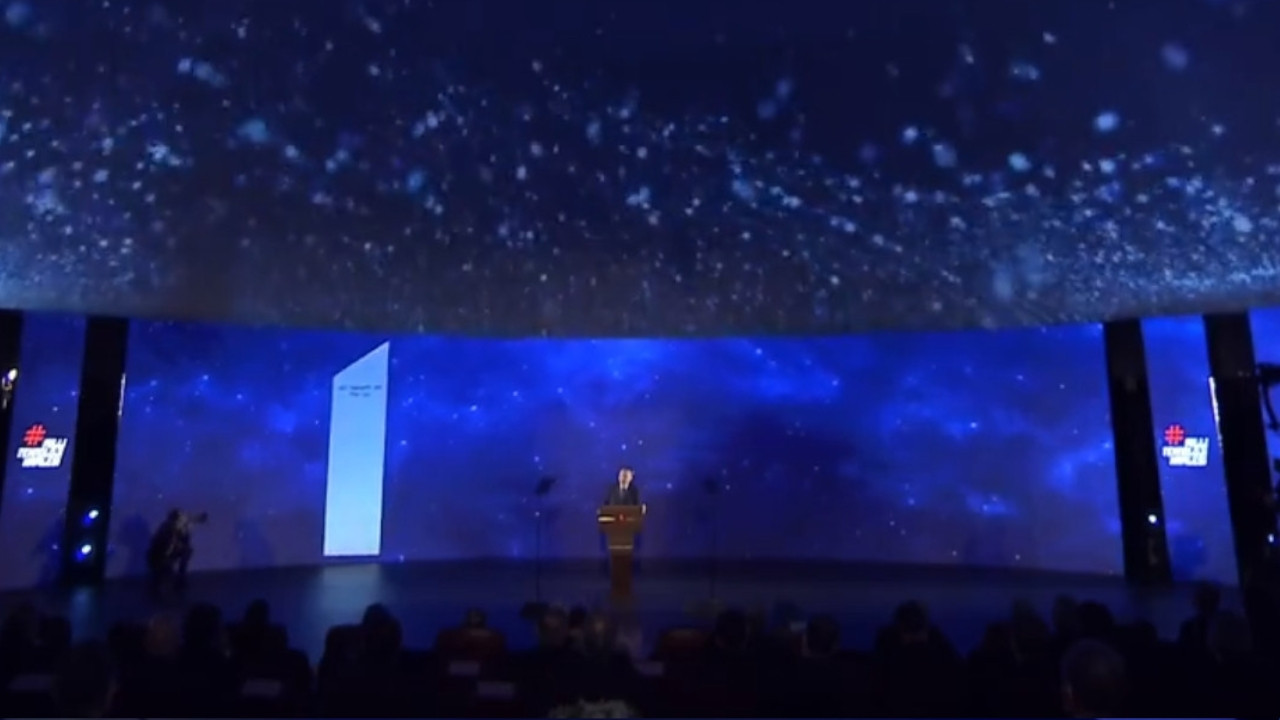 "Our feet will be on earth but our eyes will be in space. Our roots will be on earth, our branches will be up in the sky," he said.
"Our tenth and last goal is to send a Turkish citizen to space. I am sure that many people grew up dreaming about this. Maybe there are still those among you who continue dreaming about this, maybe there are even women who want to put their candidacy [to go to space]. We are of course planning to send one of our citizens to space not as a touristic trip but as a scientific mission that will show the path to future generations."
Erdoğan did not give details on how Turkey plans to achieve its ambitious goals.
Last month, Erdoğan spoke to Tesla and SpaceX boss Elon Musk on possible cooperation in space technologies with Turkish companies.
Turkey launched its Turksat 5A satellite into orbit from the United States in January in cooperation with SpaceX. Turksat 5B satellite is planned to be launched in the second quarter of 2021.