Opposition leaders hold rally to support Istanbul Mayor İmamoğlu
Six opposition leaders held a rally in front of Istanbul Municipality's building to protest the conviction of Mayor Ekrem İmamoğlu, who was sentenced to two years and seven months in prison on charges of insulting members of Turkey's High Election Board (YSK).
Ferhat Yaşar / DUVAR
Six leaders of the Table of Six, an opposition alliance founded to change Recep Tayyip Erdoğan's presidential regime, on Dec. 15 held a rally in Istanbul to oppose the conviction and political ban of Istanbul Mayor Ekrem İmamoğlu.
Main opposition Republican People's Party (CHP) leader Kemal Kılıçdaroğlu, center-right Good (İYİ) Party leader Meral Akşener, DEVA (Democracy and Progress) leader Ali Babacan, Future Party leader Ahmet Davutoğlu and Democrat Party leader Gültekin Uysal joined the rally held in front of the Istanbul Municipality's building in Saraçhane district. Instead of Felicity Party Temel Karamollaoğlu, deputy chair Sabri Tekir joined the rally due to health problems.
A Turkish court on Dec. 14 sentenced İmamoğlu, a popular rival to Erdoğan, to two years and seven months in prison on charges of "insulting" 11 members of Turkey's High Election Board (YSK). The court also imposed a political ban on İmamoğlu, which must be confirmed by an appeals court before application.
Before the rally, all opposition leaders called people to come to Saraçhane to support İmamoğlu, a popular rival of Erdoğan, against the "unlawful" and "non-democratic" decision.
During the rally, İmamoğlu was the first one who took the stage.
İmamoğlu reminded that this was not the first time the ruling Justice and Development Party (AKP) tried to stop him.
The YSK did not recognize İmamoğlu's initial victory in the 2019 local elections and ordered a repeat vote in which İmamoğlu won again with a larger difference against his opponent AKP's Binali Yıldırım.
"What are the problems of the rulers of this country with our nation and with you? What do they want from you? You voted on March 31 (2019), they didn't count. In the past, they used to give a lot of loans from state banks to the Municipality. They have not given a penny from the banks of the nation to the administration you have chosen for exactly 3.5 years," İmamoğlu said.
"You elected this mayor not once, but twice in a row. They got a court order to dismiss and imprison the mayor of your choice. Moreover, they exiled the judge of the court to get this decision," İmamoğlu added.
After thousands in the audience asked the government to resign, İmamoğlu said "No, there is no easy escape. Here are the leaders of the six political parties who will send them."
"If you are allergic to the will of the nation, you will not engage in politics. If 16 million Istanbulites are not equal in your eyes, if you do not see our 85 million citizens of the Republic of Turkey as one and equal, you will not say, 'I rule this country'. Because you don't run this country. You manage some interest groups, close family foundations. They have established an order of corruption in Istanbul and they want it to last forever," he added.
"I believe in the general will. I believe that society can build a common future together in peace. I am never afraid of them (the ruling) and the void decisions they dictate. I have no judges, prosecutors or courts to protect me. I have this great nation behind me," he further said.
İmamoğlu said when they assume power, they will not be a country whose democracy has been destroyed, whose citizens are condemned to poverty, and whose justice has collapsed.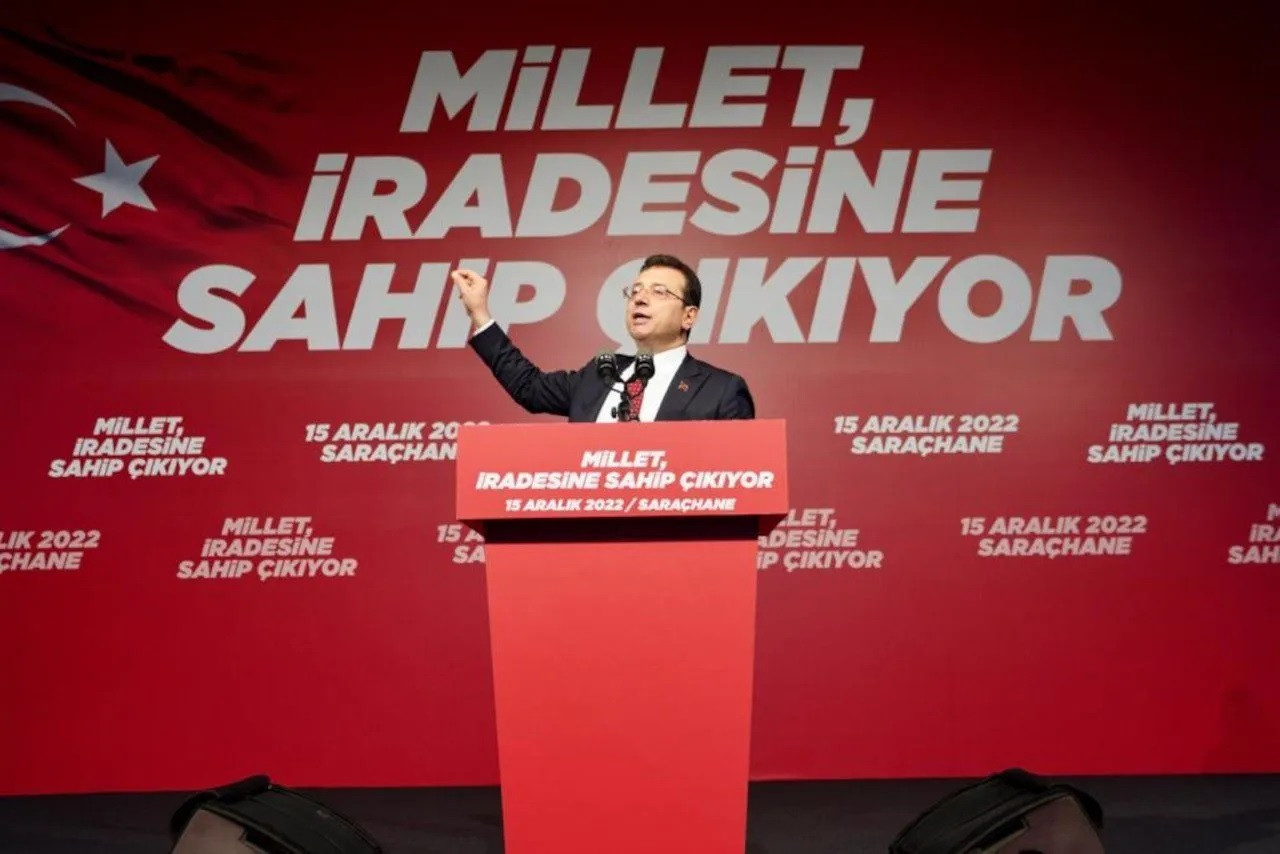 After İmamoğlu, CHP leader Kılıçdaroğlu took the stage. He said they will definitely assume power in the upcoming elections that was scheduled to take place in June 2023.
Kılıçdaroğlu said they will make the justice system to function again.
"The will of the nation was damaged by a judge. We will rebuild the national will. Justice has now turned into a fundamental problem in Turkey," he added.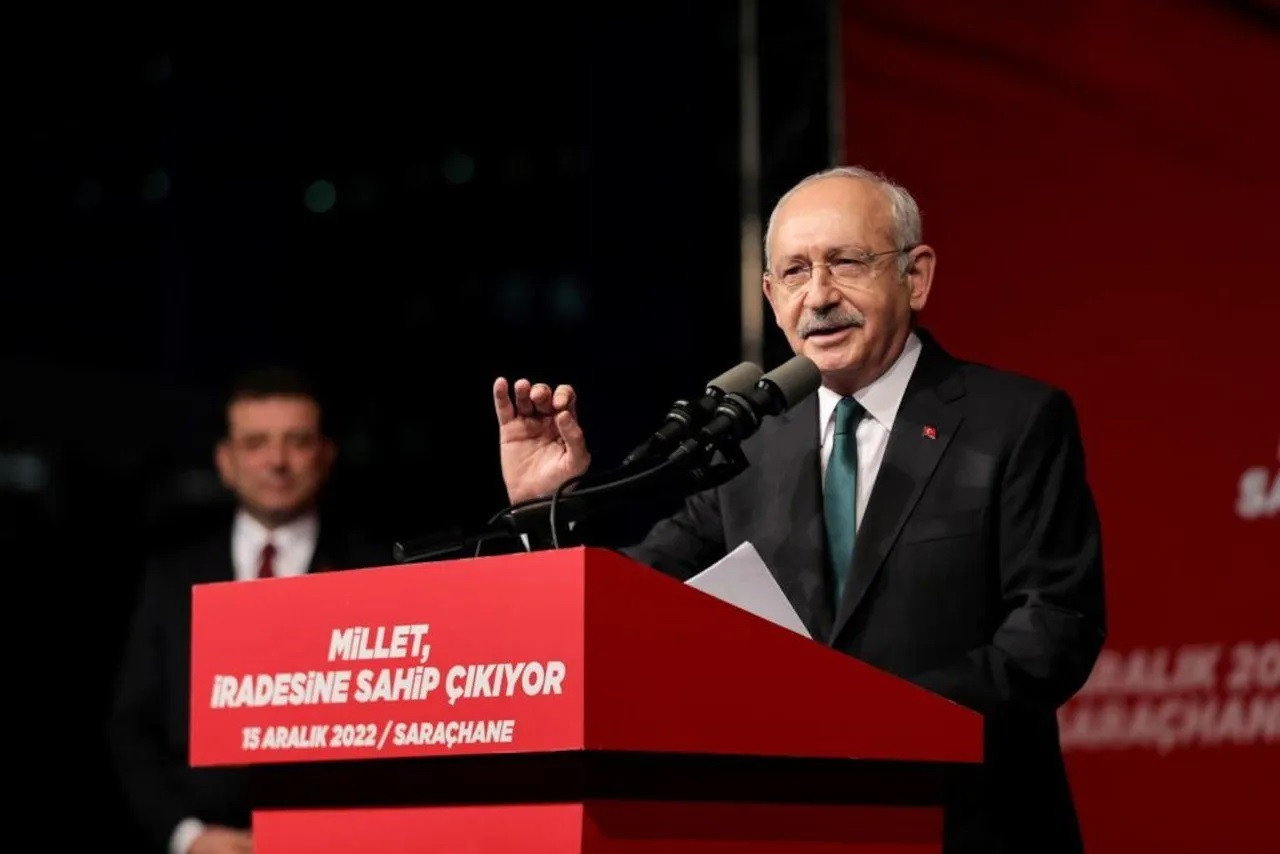 "Let me put it clearly and unequivocally, no power can prevent İmamoğlu from serving Istanbul. He will continue to do his duty with dignity and honor," Kılıçdaroğlu further said. This comment was regarded as Kılıçdaroğlu does not favour İmamoğlu to run for presidency in the upcoming elections.
While some CHP figures claimed that Kılıçdaroğlu will be their candidate, there is no official announcement yet.
Some experts say Ekrem İmamoğlu should run for presidency because Kılıçdaroğlu may not attract enough conservative voters from the ruling alliance. They also think that Erdoğan's election campaign may beat Kılıçdaroğlu's because of the former's rhetoric.
This court process and the latest decision also boosted İmamoğlu's popularity. He has been mooted as a possible challenger and polls suggest he would defeat Erdoğan.
After Kılıçdaroğlu, a former deputy prime minister of AKP and the head of the opposition Democracy and Progress Party (DEVA), Ali Babacan took the stage.
Babacan said he opposes this injustice against İmamoğlu, as well as other injustices against CHP Istanbul chair Canan Kaftancıoğlu, and jailed Kurdish leader Selahattin Demirtaş. Babacan's remarks were praised by the audience.
In June, the Court of Cassation upheld Kaftancıoğlu's convictions for "insulting" the president and state, confirming her prison sentence of four years and 11 months. The key opposition politician was on May 31 sent to Istanbul's Silivri Prison but was soon released to serve her sentence on probation. The court also revoked her membership to the party following the court's decision to ban her from politics.
On the other hand, former HDP co-chair Demirtaş has been in prison since 2016. He faces hundreds of years in prison on charges related to the PKK despite a previous European Court of Human Rights (ECHR) ruling that he was imprisoned on political grounds and should be released immediately.
"The oppressed of yesterday, Mr. Erdoğan, began to oppress others when he rose to the top. He begins to persecute. We will give our answer on the day of the election together," Babacan said, adding that Erdoğan was poisoned with power.
Erdoğan was sentenced to 10 months in prison in 1999 because of reciting a poem when was the Mayor of Istanbul. He was also imposed a political ban, preventing him from being elected as Prime Minister from the AKP in 2002 elections.
Former PM from the AKP and the head of the opposition Future Party Ahmet Davutoğlu said the judiciary has been politicized.
"Do not say that the courts are independent. We do not believe. We did not recognize this decision, we do not, we will not," Davutoğlu said.
İYİ Party leader Meral Akşener together with Ekrem İmamoğlu.
"We see in Saraçhane that 85 million are with İmamoğlu alongside 16 million," Akşener said. There are rumors that Akşener is actually in favor of İmamoğlu as a joint presidential candidate of the opposition instead of Kılıçdaroğlu.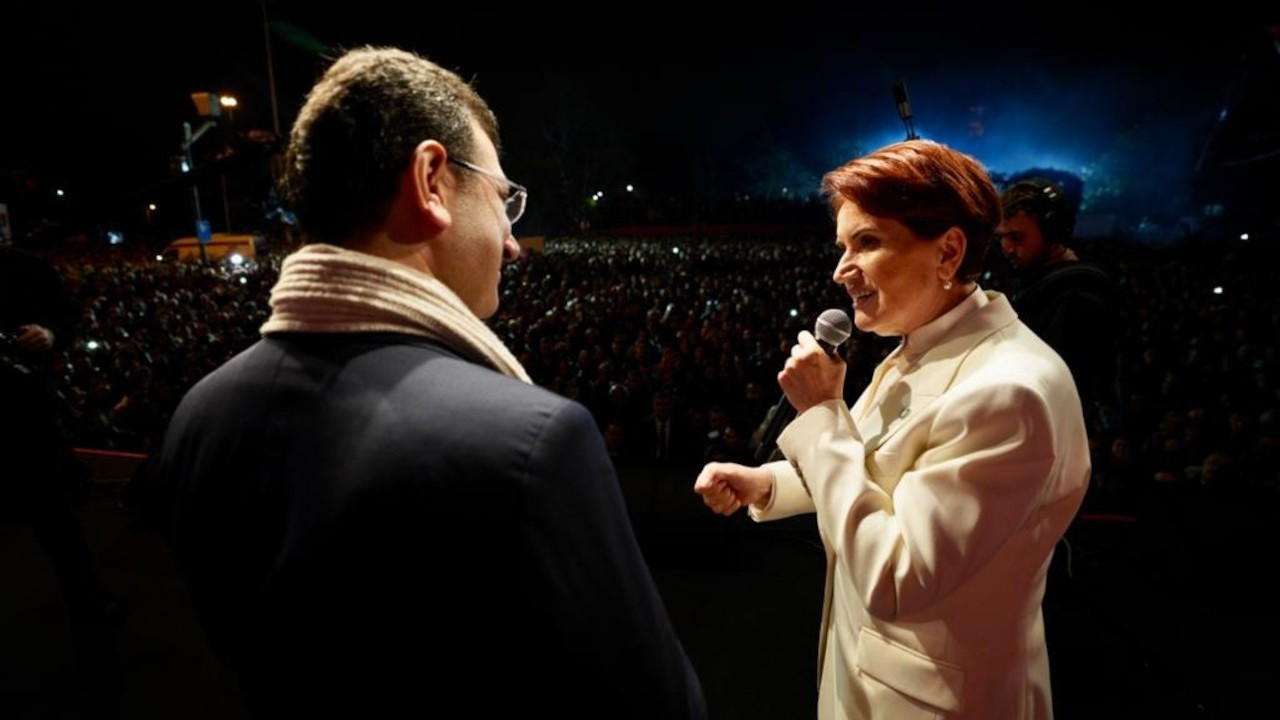 Democrat Party Chair Gültekin Uysal and Felicity Party Deputy Chair Sabri Tekir also took the stage.