Perinçek claims envoys are setting 'a deadly trap' against Turkey
Patriotic Party leader Doğu Perinçek said that the 10 envoys the president has been in a row with are in fact setting "a deadly trap." The 10 ambassadors are trying to bring the president down through the row concerning imprisoned philanthropist Osman Kavala, according to Perinçek.
Duvar English
Patriotic Party (VP) leader Doğu Perinçek said on Oct. 25 that the resolution-geared statements from 10 embassies Ankara had been in a row with were in fact "a deadly trap" that tried to get President Recep Tayyip Erdoğan to back down from his orders of declaring the 10 ambassadors persona non grata.
The 10 Western ambassadors had been condemned by the president following a public statement they released, urging for the immediate release of jailed philanthropist Osman Kavala, but said that they abide by diplomatic conventions on non-interference, averting a threatened expulsion.
President Recep Tayyip Erdoğan, who said at the weekend he had ordered the envoys to be declared persona non grata for seeking the release of Kavala, told a news conference they had stepped back and would be more careful.
"Our goal is never to create crises, it is to protect the rights, laws, honor and sovereignty of our country," Erdoğan said in a televised address after chairing a cabinet meeting. "With a new statement made by the same embassies today, a step back was taken from this slander against our country and our nation."
Meanwhile, Perinçek had a completely different interpretation of the situation, as he said that the ambassadors had shown no proof of backing down, but instead laid out a trap for the president.
"This is a trap to get President Erdoğan to back down. This is a deadly trap. The plan to tear Tayyip Erdoğan down is in effect," Perinçek said.
Perinçek said that the ambassadors' statements were much like saying "I made a mistake, I'm fixing it" after committing a murder, adding that one "can't just say 'I apologize, we won't meddle in Turkish internal affairs again.'"
"They're not backing down but they're trying to get President Tayyip Erdoğan to take a step back, you know what's behind him? An abyss. When Mr. Tayyip Erdoğan takes a step back, the abyss is waiting behind him."
Perinçek proceeded to say that the 10 embassies of Canada, Denmark, France, Germany, the Netherlands, Norway, Sweden, Finland, New Zealand and the United States were members of a criminal organization.
"The U.S. presses their buttons and they move in unison," he said.
The president and his close circle consider the diplomatic row to be resolved, but the foreign states' seeming compliance is really part of a relentless plan by the U.S. to tear down the president, Perinçek said.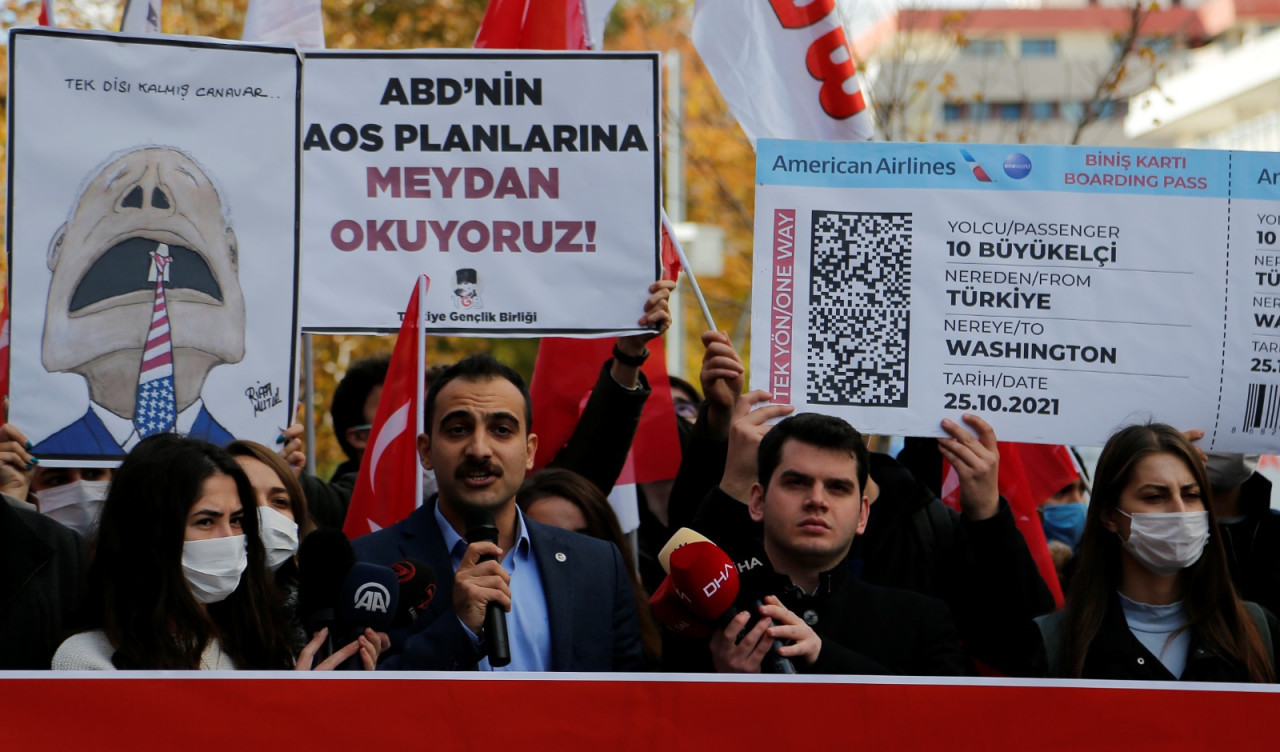 Led by Perinçek, the Turkish Youth Association (TGB) also held protests on Oct. 25 condemning the United States' "plans for chaos."