Erdoğan signals more investigations on way against pro-Kurdish HDP
President Erdoğan has signaled that HDP officials can face further investigations "anytime" soon, after authorities on Feb. 25 issued warrants for the detention of 15 people as part of a probe into the annual congress of the party. "Their [HDP's] judiciary process will [as of now] function very intensively; new [investigation] files might come anytime," Erdoğan said.
Duvar English
President Recep Tayyip Erdoğan has commented on a recent investigation launched into the annual congress of the Kurdish-issue focused Peoples' Democratic Party (HDP), signaling that more investigations could be on the way for the party.
"Their [HDP's] judiciary process will [as of now] function very intensively; new [investigation] files might come anytime. Do not then say 'Why didn't the President say so before?' Everything they do is crime," Erdoğan said on Feb. 25, while speaking to reporters on his return flight from Azerbaijan.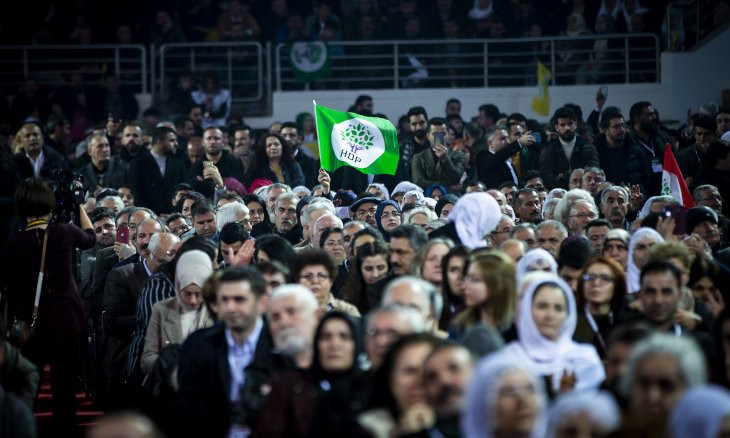 Investigation launched into HDP congress over display of PKK leader Öcalan's pictures
Erdoğan's comments came after Ankara Chief Public Prosecutor's Office launched an investigation into the party's fourth ordinary congress over the display of Kurdistan Workers' Party (PKK) leader Abdullah Öcalan's pictures in a slideshow.
The prosecutor's office said in a statement on Feb. 25 that 14 people were detained as part of the probe, while searches were ongoing to detain another.
Erdoğan also commented on the election of Pervin Buldan and Mithat Sancar as the HDP's co-chairs during the congress on Feb. 23. Buldan was re-elected, whereas Sancar replaced former co-chair Sezai Temelli.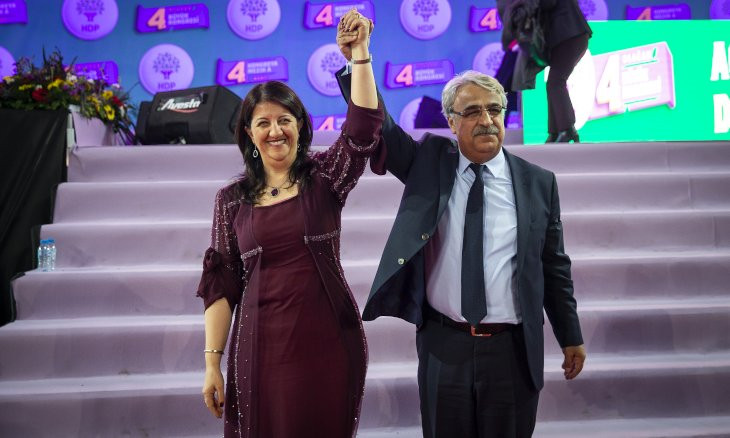 Turkey's pro-Kurdish HDP elects Pervin Buldan, Mithat Sancar as co-chairs
"Would chairpersons change all the time? Their chairpersons keep changing non-stop. One goes and another comes. It is not over; and so it shall be like this also in a very short time," Erdoğan said, hinting that fresh investigations might be soon launched into Buldan and Sancar.
Criticizing the HDP for showing pictures of Öcalan in a slideshow during their congress, Erdoğan said: "Why did you [HDP] let this happen? You are saying that you are a party, are we not? Why don't such things happen in our parties? If here is a state of law, you [HDP] will abide by all the requirements of the law of this country. If you do not abide, they will make you do so. This is how it is."
HDP members are often accused by the government of being members of the PKK, which is a group designated as a terrorist organization by Ankara, Washington and the European Union.
Hundreds of HDP members and a number of its former deputies are in jail on charges linked to the PKK.