Arınç says Barkey had close ties to AKP, Kavala's contact with him should not be crime
AKP co-founder Bülent Arınç has commented on prosecutors' showing civic activist Osman Kavala's alleged phone calls with U.S. academic Henri Barkey as evidence against the philanthropist in the coup investigation. Arınç said Barkey played an important role in the the foundation of the AKP and Kavala's contact with him should not be considered as a "crime."
Duvar English
Bülent Arınç, a founding member of Turkey's ruling Justice and Development Party (AKP) and former deputy prime minister, has said that prosecutors should not present philanthropist Osman Kavala's previous contact with Henri Barkey, a well known American expert on Turkey, as evidence that would support the suspicion of Kavala's involvement in the failed coup attempt of 2016.
Arınç, who became a member of the High Advisory Council of the Presidency last year, said on Feb. 27 that the AKP used to have close relations with Barkey, especially during its foundation years, and he held meetings with the party officials.
"He [Barkey] came [to Turkey] before the foundation of the AKP as well. He was also back then highly esteemed. He was saying that prejudices about the AKP needed to be erased; and we put effort to break down the prejudices in the outside world. And Barkey was one of them [to put effort]. I do not know what Barkey talked about with Osman Kavala; but, his contact with Barkey should not be shown as a crime. As his [Barkey's] coming to our [AKP's] meetings is not a crime, his contact with Osman Kavala should also not be shown as a crime," Arınç said during a TV program on TV5.
Arınç made the comments after renowned journalist Murat Yetkin made a reference in his recent article to a photo from 2013 that shows Arınç and Barkey attending a pro-government think-tank's meeting in the capital Ankara. The photo was taken by Cihan News Agency, which was shut down following the coup attempt of July 2016.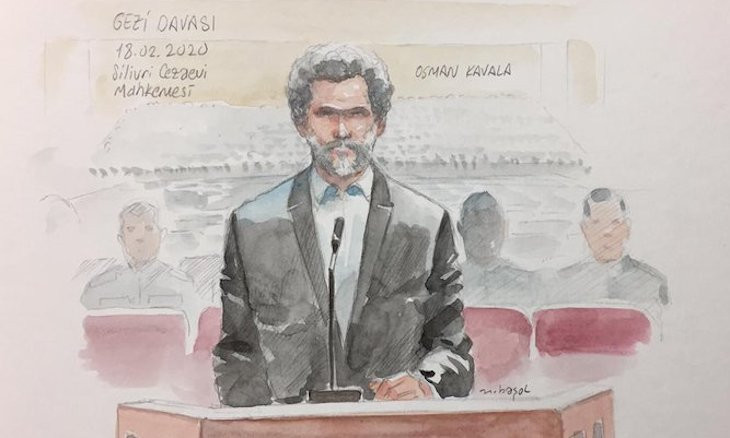 Osman Kavala re-arrested hours after acquittal ruling
Kavala was re-arrested on Feb. 19 as part of a probe into the coup attempt, after he was acquitted from the Gezi Park trial a day earlier. The Istanbul Chief Public Prosecutor's Office cited Kavala's alleged 93-hour phone call with Barkey between 2010-2017 as the reason for the prominent civic activist's re-arrest.
Kavala's lawyers denied this alleged 93-hour phone call, saying that a Historical Traffic Search (HTS) report confirming lack of such a tele-communication was submitted in the case file.
Barkey is likewise a suspect in the case, having being accused of involvement in the coup attempt by prosecutors. Turkey's pro-government media calls him a CIA agent and accuses him of orchestrating the putsch. Barkey regards charges as absurd and ludicrous.
He said in an interview with Deutsche Welle Turkish on Feb. 21 that he knew Kavala only in passing and they did not ever hold a phone call.
Asked how "close" he was with Kavala, Barkey said: "We do not in fact have a close relationship or a friendship. Kavala is my sister's friend; that's how I met him. Except that, we saw each other in a couple of meetings and had a quick word. We have not come together for any project either."