İYİ Party in disarray after deputy accuses Istanbul chair of being a Gülenist
The İYİ Party is in disarray after deputy Ümit Özdağ claimed that the party's Istanbul chair, Buğra Kavuncu, is a Gülenist. While Kavuncu blasted the allegations and said that he will file a complaint against Özdağ, İYİ Party leader Meral Akşener said that the legal process gives the deputy the opportunity to prove his claims.
Duvar English
The right-wing opposition Good (İYİ) Party is in disarray after one of its deputies accused the party's Istanbul chair of being a supporter of U.S.-based Islamic preacher Fethullah Gülen.
During a live TV program on Oct. 19, Ümit Özdağ claimed that İYİ Party Istanbul chair Buğra Kavuncu is a Gülenist and that he conveyed his concerns to party leader Meral Akşener.
Özdağ also said that Kavuncu was the head of an organization with known links to the Gülen movement, whose official name is the Fethullahist Terrorist Organization (FETÖ), and that the organization was shut down following the July 15, 2016 failed coup attempt, which is widely believed to have been orchestrated by Gülenists.
"When the party was being founded, I told Akşener, 'There is information that this individual is linked to FETÖ.' He wasn't included as a founding member afterwards," Özdağ said.
According to Özdağ, Akşener dismissed his warnings.
"She told me that there are no records of such links in the state," Özdağ said.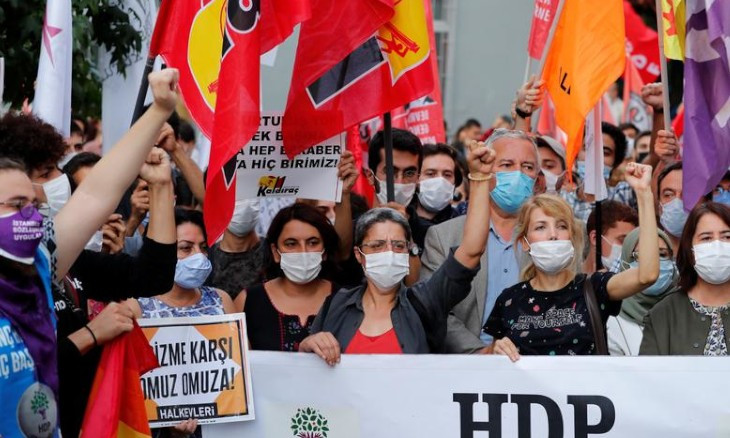 Turkish gov't to extend its crackdown on HDP to all opposition parties, says İYİ Party lawmaker
Following Özdağ's accusations, Kavuncu called the TV program and said that he will file a complaint against the deputy.
"I listened to his words in great sadness and anger," Kavuncu said.
The deputy's remarks were also met with fury within the party, with Özdağ's advisor announcing his resignation on Twitter.
"I will continue to work for the İYİ Party under the leadership of Meral Akşener," Hüseyin Evren Kavas said.
İYİ Parti İstanbul Milletvekili Sayın Ümit Özdağ'ın danışmanlığından istifa etmiş bulunmaktayım. Genel Başkanımız Sayın @meral_aksener 'in liderliğinde İYİ Parti'nin iktidarı için bir nefer olarak gayret etmeye devam edeceğim.

— Hüseyin Evren Kavas (@evrenkavas) October 19, 2020
The party's district heads in Istanbul released a statement shortly after Özdağ's remarks and demanded his expulsion from the party.
A day later, Akşener said that Kavuncu filed a complaint and Özdağ has the opportunity now to prove his claims.
"We'll see what will happen," Akşener told reporters on Oct. 20 when asked to comment on the allegations, as she also stressed the existence of the freedom of expression within the party.
She also said that what matters is not the brawl within the party, but what ruling Justice and Development Party (AKP) Group Deputy Chair Bülent Turan said of the incident.
Turan on Oct. 19 tweeted his remarks from a year ago, saying that they expected the dissolution of the İYİ Party.
#İYİParti'de kim FETÖcü, kim değil bilemem ama 1 yıl önce;

"İYİ Parti bir operasyon için kuruldu, seçimden sonra dağılma süreci başlayacak"demiştik

Partisine küsen Gn Bşk, Mv istifaları, kongrede liste oyunları derken şimdi de malum tartışma. Bekleyin, Grup bile kuramayacaklar! pic.twitter.com/W7EeWqV92r

— Bülent TURAN (@turanbulent) October 19, 2020
"İYİ Party was founded for an operation and we said that their dissolution would begin after the elections," Turan says in the video.
Akşener, in return, said that they already expected "an attack" on the party since "our votes are increasing."
Claims of rapprochement between İYİ Party, HDP are lies: Akşener
Separately, Özdağ on Oct. 19 claimed that the İYİ Party and the Peoples' Democratic Party (HDP) cooperated during the March 31, 2019 local elections in the eastern province of Kars, which resulted in the HDP's victory.
Özdağ said that he tried to convince Akşener to cooperate with far right Nationalist Movement Party (MHP) to prevent the HDP's victory, but couldn't manage to do so.
When asked to comment on said allegations, Akşener said, "This is a massive lie."
"The person who says this is a liar," Akşener said on Oct. 20.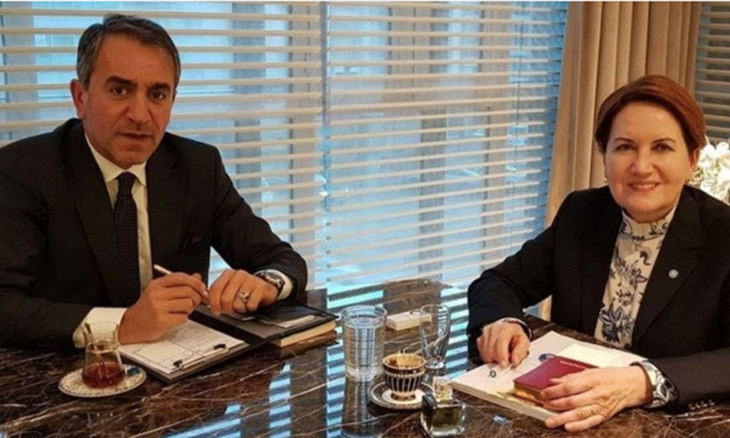 Turkey briefly detains opposition İYİ Party leader's adviser over 2015 column