'This is treason': Turkish opposition blasts gov't after lira's freefall
Amid the Turkish lira's historic crash in value, opposition parties have once again pointed out that the ruling AKP can no longer manage the economy and deemed its policies "treason" against the country. As the currency saw its second-worst day ever on Nov. 23, opposition parties gathered their senior officials and accelerated talks on inter-party cooperation.
Duvar English
Turkey's opposition parties have been strengthening their cooperation further amid the Turkish Lira's historic crash against the dollar.
Future Party leader Ahmet Davutoğlu, who is also President Recep Tayyip Erdoğan's former prime minister, said that the government's handling of the economy is not mere "ignorance," but instead "betrayal" to the country. "I call on all our political parties' leaders and valuable nation to start the real economic War of Independence against this betrayal," Davutoğlu tweeted on Nov. 23.
Bu artık cehalet değil İHANETTİR!

Bu ihanete karşı tüm siyasi parti liderlerini ve aziz milletimizi gerçek ekonomik Kurtuluş Savaşı başlatmaya çağırıyorum.

Bu çerçevede ilk görüşmem bugün 17:00'de Sn. Kılıçdaroğlu'yla. İkinci görüşmem yarın 14:30'da Sn. Akşener'le olacak.

— Ahmet Davutoğlu (@Ahmet_Davutoglu) November 23, 2021
Afterwards, he met with main opposition Republican People's Party (CHP) leader Kemal Kılıçdaroğlu. The two held a press meeting during which they once again urged the government to declare early elections.
"What we have gone through during the day cannot be explained or interpreted as a mere economic crisis...The picture that we are facing right now is completely the product of wrong policies of the government. I call onto the government; do not proceed on this wrong road any longer," Davutoğlu said during the press conference.
Kılıçdaroğlu touched upon Erdoğan's intervention at the Central Bank, saying the bank is no longer conducting monetary policy to achieve price stability.
"The institution that is responsible from the price stability, i.e. the Central Bank, can no longer do this. It is just observing it. Its authority has been taken from it. Who took it? Erdoğan did -- just with a decree," Kılıçdaroğlu said.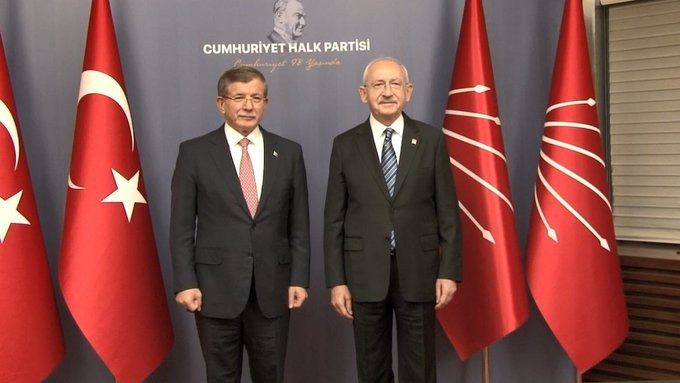 Meanwhile, Kılıçdaroğlu canceled his planned visit to the southeastern provinces of Şanlıurfa and Gaziantep and will convene members of his party's Central Executive Board (MYK) on Nov. 24 to discuss the currency.
The announcement was made by Kılıçdaroğlu's adviser Deniz Demir on Twitter.
SON DAKİKA: CHP lideri Kemal Kılıçdaroğlu, Gaziantep ve Şanlıurfa programlarını iptal etti. CHP MYK yarın olağanüstü toplanacak.

— Deniz Demir (@demirdenizchp) November 23, 2021
Former Economy Minister Ali Babacan who currently chairs the opposition Democracy and Progress Party (DEVA) similarly slammed Erdoğan, saying he "does not know what he is doing."
"You had previously announced the dollar forecast as 10.30 for the year 2024; and in less than three months, the exchange rate has surpassed the level of 13. You do not know what you are doing," Baban said during an opening ceremony of a party building on Nov. 23.
Meanwhile, İYİ (Good) Party executives held an emergency meeting at the party quarters with regards to the course of the economy and later held a press meeting.
Once again calling on Erdoğan to declare elections, the İYİ Party said that following the shift to the executive presidential system in 2018, the lira started to lose value at an unprecedented level.
"Just in the last week, all of our citizens have each lost 20,000 liras. This money has gone to those who make money from interest, pro-government contractors and pro-government investors. In one year, we have turned into a country that got poorer a total of 170 billion dollars," said the İYİ Party statement, which was made by Ümit Özlale, the vice chair for economic development policies of the party.
Peoples' Democratic Party (HDP) is also preparing to discuss the lira's historic downward slide, as it announced that its Central Executive Board will hold an "extraordinary" meeting at 11 a.m. on Nov. 24.
During his party's parliamentary group meeting on Nov. 23, Kılıçdaroğlu referred to Erdoğan as "the national security problem" of Turkey after the latter defended the Central Bank's continued contentious interest rate cuts amid rising double-digit inflation despite widespread criticism.
Kılıçdaroğlu slammed Erdoğan's description of his government's handling of the economy as an "economic war of independence," by saying it was Erdoğan's ruling Justice and Development Party (AKP) that has been ruling the country for the last 20 years.
"Erdoğan is saying, 'We will triumph in this economic War of Independence.' What happened that you started to hold a National War of Independence? Was it nother person ruling this country? Where were you for the last 20 years?" Kılıçdaroğlu asked.
Erdoğan has applied pressure on the Central Bank to pivot to an aggressive easing cycle that aims, he says, to boost exports, investment and jobs - even as inflation soars to near 20% and the currency depreciation accelerates, eating deeply into Turks' earnings.
Erdoğan labeled the move as part of an "economic war of independence," rejecting calls from investors and analysts to change course.
İYİ Party said that the current executive presidency system has brought the country to a point of bankruptcy, saying the lack of an inspection mechanism is the reason of the deepening economic crisis.
"This monstrous system, in which one single person acts as the Central Bank Governor, Economics Minister, Prime Minister, President and the heads of many other positions, has brought our country to the verge of bankruptcy," said İYİ Party deputy chair Bahadır Erdem.
HDP co-chair Pervin Buldan also commented about the tumbling of the lira as low as 13.45 to the dollar, saying the AKP will not be able to garner a support level more than this in the next elections.
"This exchange rate surpassed 12 today. Do you know what this is? This is the vote level that the AKP will get in the next elections. I give the good news of this from here, and good luck to the AKP. The junior coalition partner of the AKP, which wanted very much of the election threshold level to go down, will also garner a vote level below this," Buldan said during her party's parliamentary group meeting on Nov. 23.
The Central Bank has slashed rates by a total of 400 points since September, leaving real yields deeply negative as virtually all other central banks have begun tightening or are preparing to do so.
The lira has been by far the worst performer globally this year due mostly to what some analysts have called a premature economic "experiment" by the president who has ruled Turkey for nearly two decades.
Erdoğan's AKP is sliding in opinion polls ahead of elections scheduled for no later than mid-2023, reflecting sharply higher costs of living.
Investors appeared to flee as volatility gauges spiked to the highest levels since March, when Erdoğan abruptly sacked the hawkish former Central Bank chief and installed a new governor, like the president a critic of high rates.