Turkey commemorates ISIS massacre in Ankara
The victims of the Oct. 10, 2015 ISIS double suicide bombing have been commemorated at the scene of the attack in the capital Ankara. The police prevented the journalists and other participants from attending the commemoration, saying that only families of victims would be allowed to enter the area. 
Serkan Alan / DUVAR
The victims of the 2015 Ankara Massacre have been commemorated in the Turkish capital in front of the train station where the attack occurred.
A suicide attack outside the Ankara railway station – blamed on ISIS – killed more than one hundred people and injured more than five hundred on Oct. 10, 2015.
The massacre went down as the deadliest terror attack in modern Turkish history. The victims were largely supporters of the Kurdish-oriented and liberal-left People's Democratic Party (HDP). They had gathered to march for peace ahead of national elections on Nov. 1.
Families of victims on Oct. 10 marched in front of the train station with a banner with the photos of the massacred people.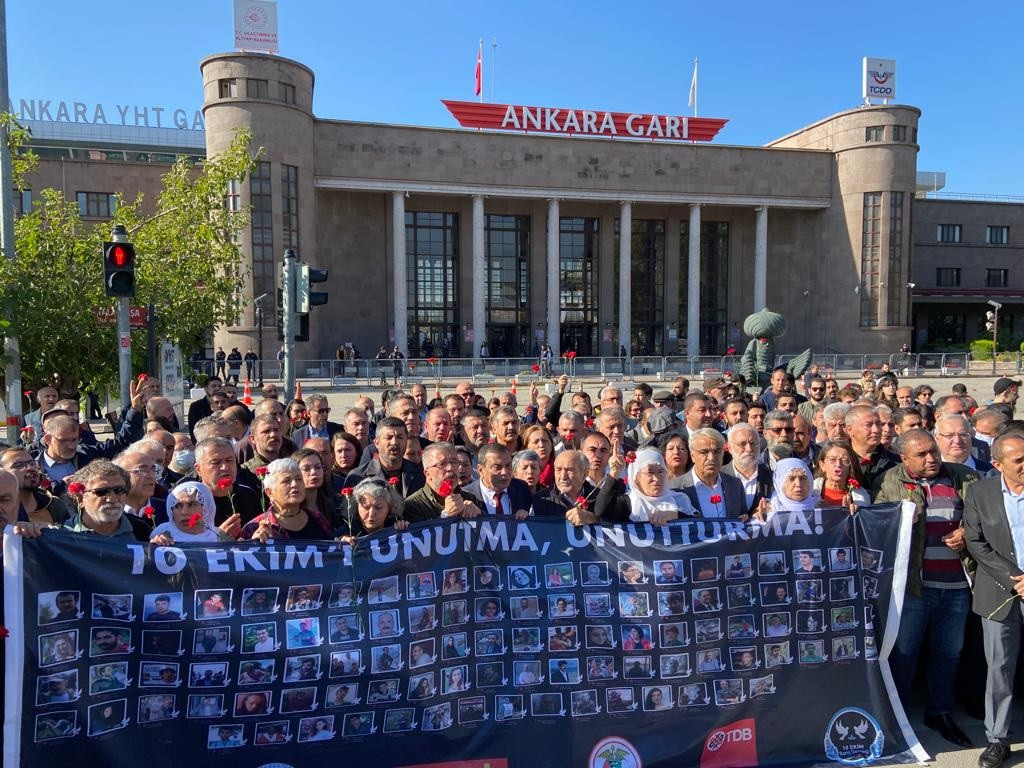 The police prevented the journalists and other participants from attending the commemoration, saying that only families of victims would be allowed to enter the area.
Several political figures, including main opposition Republican People's Party (CHP) deputies Veli Ağbaba, Murat Emir, Ali Mahir Başarır, Kani Beko; HDP co-chair Mithat Sancar, HDP group deputy chair Saruhan Oluç, and deputies Oya Ersoy, Ali Kenanoğlu, Murat Çepni attended the commemoration.
10 October Peace Association chair Mehtap Sakinci Coşgun said: "Every year we make this commemoration here to make others respect our pain. We will continue to demand justice until the real killers are prosecuted. We will be here on the 10th of every month until a real monument arrives here."
Coşgun criticized the attitude of the police before the commemoration and said: "Faced with the police intervention, nearly 20 people were detained. We do not want to mourn alone. We raise our voices against injustice."
The Confederation of Public Employees Trade Unions (KESK) co-chair Şükran Yeşil said that the ruling Justice and Development Party (AKP) was also responsible for the bombing.
"During that period, the government carried out such a policy of blood and plunder that it fed the barbarian ISIS militants in this country. We will continue our struggle until the responsible politicians are prosecuted," Yeşil said.
The Confederation of Revolutionary Trade Unions (DİSK) chair Arzu Çerkezoğlu said: "We will never forget those who shed blood and those who instigated October 10 until a real trial takes place. No one should hope for help from massacres and bombs during the election process today. Don't even think about it."
The AKP was not able to win a parliamentary majority with 41 percent of the votes in the elections held on June 7, 2015. The balance in parliament required the formation of a coalition cabinet and the then-prime minister, Ahmet Davutoğlu, engaged in negotiations to that effect. President Recep Tayyip Erdoğan declared on Aug. 24 that, as the coalition initiatives had failed, snap elections would be held on November 1.
Meanwhile, several political figures commemorated the massacre with their messages.
CHP leader Kemal Kılıçdaroğlu tweeted: "I commemorate with sadness and mercy our compatriots, who we lost in the 10 October Ankara Massacre, whose pain we felt in our hearts as on the first day, and I once again curse terrorism and its collaborators. Maintaining peace and tranquility in our country is our debt to our citizens who were murdered at the train station."
Acısını ilk günkü gibi yüreğimizde hissettiğimiz #10EkimAnkaraKatliamı'nda yitirdiğimiz yurttaşlarımızı hüzün ve rahmetle anıyor, terörü ve terör işbirlikçilerini bir kez daha lanetliyorum. Ülkemizde barış ve huzuru sağlamak Ankara Garı'nda katledilen yurttaşlarımıza borcumuzdur!

— Kemal Kılıçdaroğlu (@kilicdarogluk) October 10, 2022
"On the anniversary of the massacre, I commemorate our citizens who lost their lives in the heinous terrorist attack of ISIS. Those who try to break our unity and solidarity will never reach their goals," then-PM, currently the opposition Future Party leader Ahmet Davutoğlu said.
Ankara Garı katliamının yıl dönümünde DEAŞ'ın hain terör saldırısında yaşamını yitiren vatandaşlarımızı rahmetle anıyorum.

Birliğimize, beraberliğimize kast edenler hiçbir zaman amaçlarına ulaşamayacak!

— Ahmet Davutoğlu (@Ahmet_Davutoglu) October 10, 2022
"It has been seven years since the 10 October Ankara Station Massacre by ISIS. The pain did not subside for a day. We will never forget the 103 people who left us. We will embrace the longing for a just and peaceful Turkey of those we have lost," then deputy PM, now opposition Democracy and Progress Party (DEVA) leader Ali Babacan said.
DEAŞ'ın gerçekleştirdiği 10 Ekim Ankara Garı Katliamı'nın üstünden 7 yıl geçti. Acısı bir gün bile hafiflemedi.

Aramızdan ayrılan 103 insanımızı hiçbir zaman unutmayacağız.

Kaybettiklerimizin adil ve barış dolu Türkiye özlemine sahip çıkacağız.

— Ali Babacan (@alibabacan) October 10, 2022
(English version by Alperen Şen)