Turkish bar associations sue singer Yıldız Tilbe over call for stray dogs 'to get poisoned'
Istanbul and Bursa bar associations have filed criminal complaints against singer Yıldız Tilbe after she called for stray dogs to "get poisoned." The bar associations said that Tilbe incited people to commit crimes.
Duvar English
The Bursa Bar Association on March 14 filed a criminal complaint against singer Yıldız Tilbe over her social media post in which she called for stay dogs to "get poisoned."
The criminal complaint concerns Tilbe's March 12-dated tweet in which she said: "Let people give poisonous meat to attacking dog groups in their region so that they all die." Upon reaction, the singer later deleted the tweet.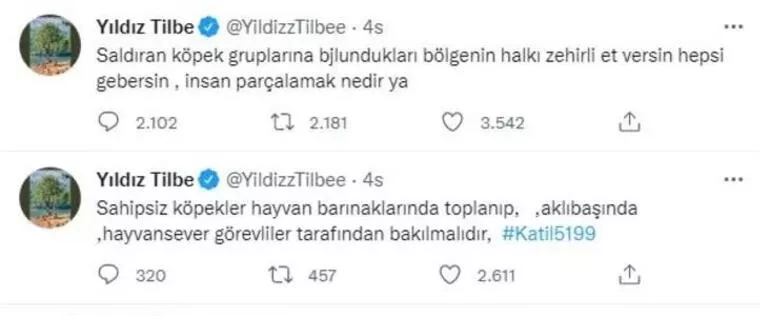 In its criminal complaint, the Bursa Bar Association demanded that Tilbe be punished for the offenses of "inciting people to commit a crime," "inciting the public to hatred and enmity," "inciting people to disobey the laws."
The bar association said that Tilbe, who has millions of followers, should set an example for the society, but that her remarks serve to violate the rights of animals.
On March 12, the Istanbul Bar Association had also announced that it filed a criminal complaint against Tilbe.
Yıldız Tilbe hakkında İstanbul Barosu Hayvan Hakları Merkezi olarak suç duyurusunda bulunulduğunu kamuoyunun bilgisine sunarız. pic.twitter.com/1zcbUUFqSj

— İstanbul Barosu Hayvan Hakları Merkezi (@istbarohhm2022) March 12, 2022
Upon reactions, Tilbe released a statement in which she said that "no one can declare me an animal hater." "I said that animals that attack and tear people should be the ones to get slaughtered and executed, like people who kill people," she said in a video shared on her social media account.
Recently, various discussions about "dangerous" dogs have been on the public agenda.
President Recep Tayyip Erdoğan on Dec. 25 instructed municipalities to capture "dangerous" dogs and place them in shelters. Since his order, authorities all around the county have been busy capturing dogs illegally and taking them to shelters.