Turkish journalists on streets against 'disinformation law'
Turkish journalists and representatives of media organizations have rallied in the capital Ankara against a proposed law that is likely to further increase internet censorship in the country. The journalists called on the government to withdraw the bill and left their pens and pencils in front of Atatürk Statue in the Ulus district in a symbolic move of protest.
Serkan Alan / DUVAR
Hundreds of journalists on June 22 gathered in the capital Ankara, protesting against a proposed law that seeks up to three years in jail for those spreading so-called "disinformation" on the internet.
The legislation, introduced by the ruling Justice and Development Party (AKP) government, is expected to be discussed at the parliament's General Assembly next week.
Upon the call of several organizations including the Journalists' Union of Turkey and the Turkish Journalists' Association, media workers came together in front of Atatürk Statute in Ankara's Ulus district and called on the government to withdraw the proposed law that will tighten control on internet media.
Several lawmakers and representatives of democratic mass organizations showed their support by attending the protest during which slogans of "Free press, free society" and "Media cannot be silenced" were shouted. Journalists also held banners reading "'No' to law of censorship," "Don't touch my social media," and "We want freedom of press and expression."
Turkish Journalists' Association chair Nazmi Bilgin said that they in fact had wanted to hold their protest in front of the parliament, but were banned from doing so.
"They think that by keeping us away from the parliament, our voice will not be raised…Do not think that we don't consider 'disinformation' as something important. But the way to stop this does not go through jail term. There are articles in the [proposed] law that will keep the media silent. This law is against human rights, the freedom of communication and freedom of press," he said in a press statement.
Afterwards, journalists left their pens and pencils in front of the Atatürk Statue in a symbolic move of protest against the legislation.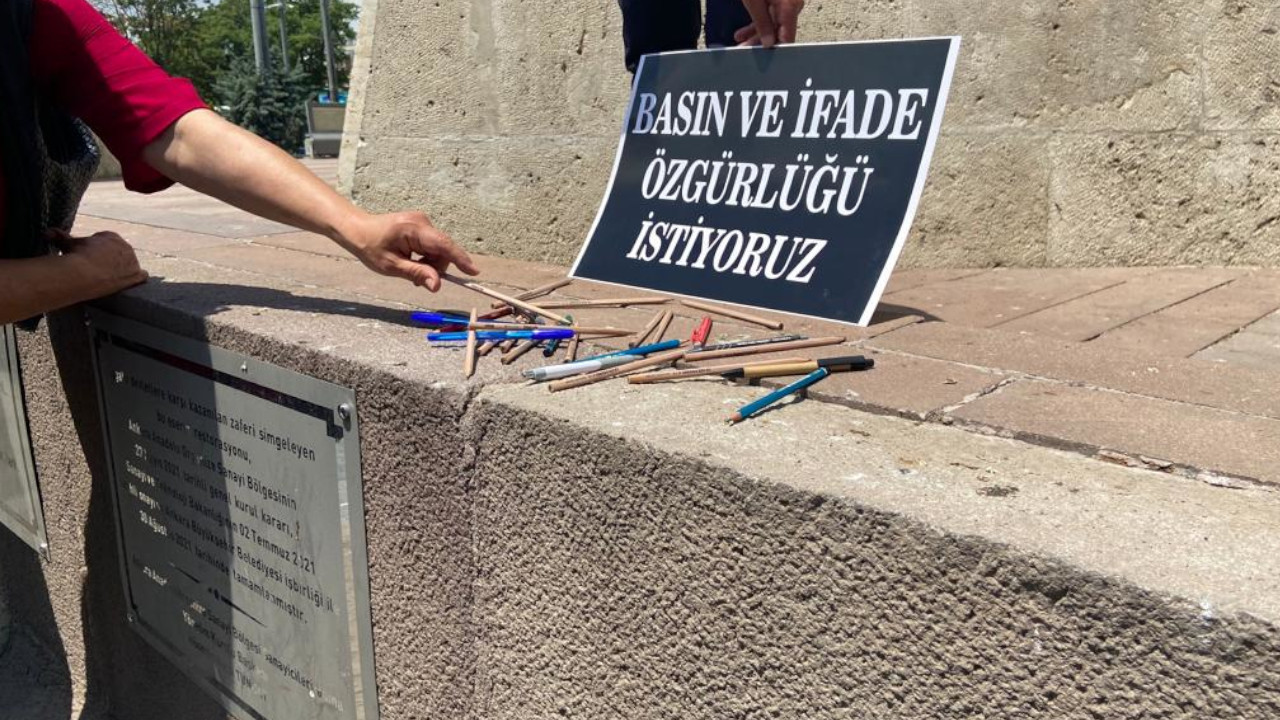 The draft legislation that seeks to criminalize the spread of what the government calls "disinformation" on internet, is moving toward a vote in the parliament. The bill was approved by the Justice Commission of the parliament last week.
(English version by Didem Atakan)