Turkish opposition party leader and Red Crescent official in fresh row over selling tent
Mentioning the scandals of the Turkish Red Crescent ("Kızılay") for selling tents after the earthquake, opposition Felicity Party leader Karamollaoğlu said he will not even donate blood to Kızılay anymore. In response, Kızılay Deputy Secretary General Murat Ellialtı said "If he needs blood one day, we will act mature and not turn him down," adding that Karamollaoğlu is "quite old."
Duvar English
Turkish Islamist opposition Felicity Party (Saadet) leader Temel Karamollaoğlu said on March 10 that "I will neither help nor encourage others to help the Kızılay (Turkish Red Crescent) in any way anymore."
"I won't even donate blood. I would go to the hospital, but not Kızılay," Karamollaoğlu told broadcaster TV5.
His remarks came after it came to light that Kızılay sold tents and food to charity Ahbap to be distributed to the earthquake victims. In the face of this revelation, Kızılay Kerem Kınık tried to defend himself by saying he was not informed about the sales and criticized his colleagues once he found out about it.
Responding to 81-year-old Karamollaoğlu, Kızılay Deputy Secretary General Murat Ellialtı said "Karamollaoğlu is quite old. If he needs blood one day, we will act mature and not turn him down."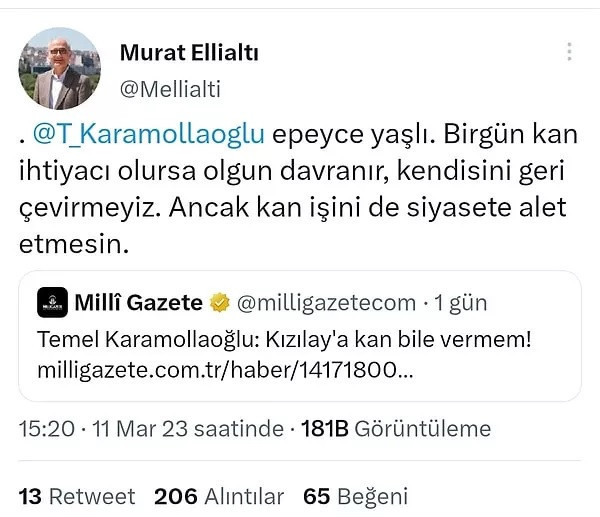 Ellialtı's comments stirred huge reaction on social media, as people criticized him for not acting like a state bureaucrat but rather as a company manager.
After the reactions, Ellialtı protected his Twitter account.
Kızılay also sold the second-hand goods that have been donated to the institution in 2019 and 2020, journalist Murat Ağırel has revealed.