Turkish association probed for 'not condemning' retired admirals' declaration
Authorities have launched an inspection into the Turkish Retired Army Officers Association (TESUD) after the association said that it had not used "any remarks of condemnation" with regards to the retired admirals' declaration on the Montreux Convention during a meeting with Defense Minister Hulusi Akar.
Duvar English
An inspection has been launched into the Turkish Retired Army Officers Association (TESUD) after the association contradicted the Defense Ministry by saying that it had "not condemned" the declaration signed by 104 former admirals in support of the Montreux Convention.
In a letter sent to the association, the Ankara Governor's Office said on April 7 that inspectors were assigned to probe the association with the "approval" of the Interior Ministry.
The move came after the Defense Ministry said on April 5 that they had received a visit from TESUD and Turkish Retired Non-Commissioned Officers Association (TEMAD) executives and that the two associations had "condemned" the admirals' declaration.
Türkiye Emekli Subaylar Derneği (TESUD) ve Türkiye Emekli Astsubaylar Derneği (TEMAD) Başkan ve Yönetim Kurulu üyeleri Millî Savunma Bakanlığına destek ziyareti gerçekleştirerek bazı amirallerin yayımladığı bildiriyi kınadıklarını belirtti. https://t.co/U4OJuyCxJi pic.twitter.com/msNQUTDzkc

— T.C. Millî Savunma Bakanlığı (@tcsavunma) April 5, 2021
Shortly after these remarks, TESUD released a written statement saying that they had been "invited" to the Defense Ministry and that during the exchange of "opinions and suggestions" between the two parties, the association "had not used any remarks of condemnation with regards to the retired generals' declaration."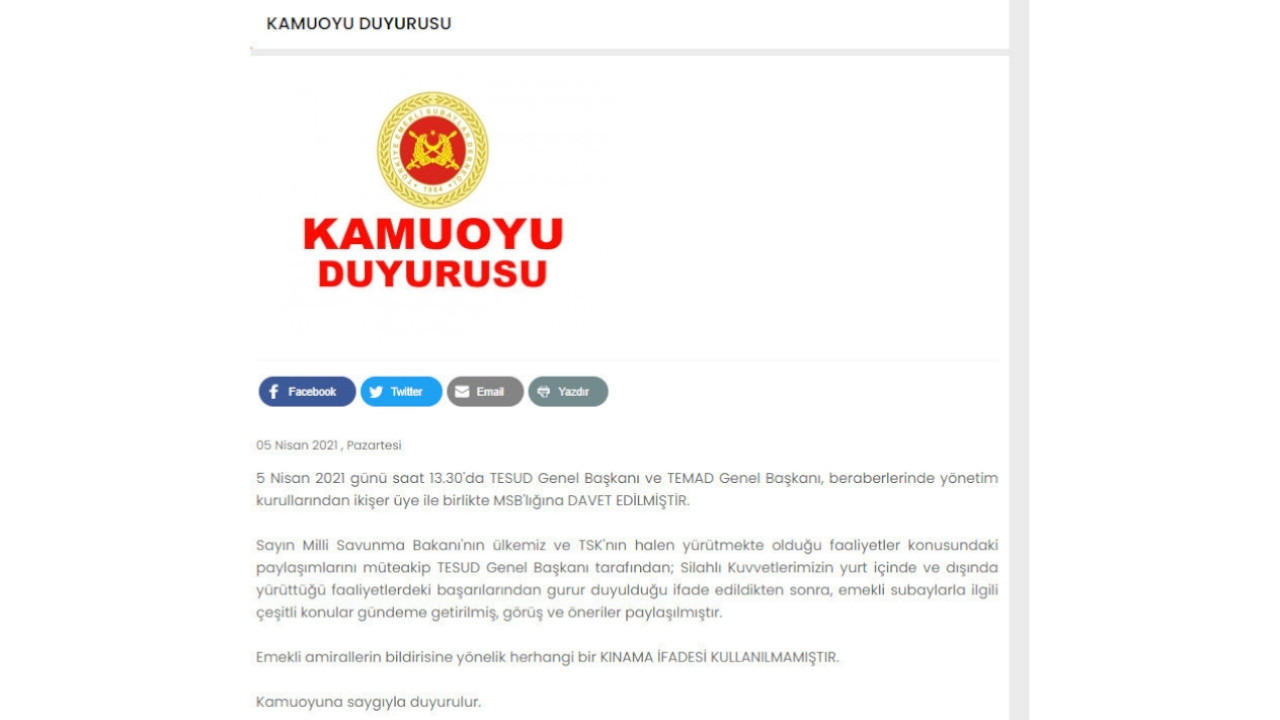 In the face of this written statement, TESUD received a letter from the Ankara Governor's Office on April 7 saying they would face an inspection starting at 10 a.m. on April 8.
Some 104 retired admirals on April 3 voiced concern over Montreux Convention - which they said was strategically important for Turkey's maritime security. They indicated that the Kanal Istanbul project could put the Montreux Convention at risk and have an adverse effect on Turkish interests.
On April 5, Turkish authorities detained 10 of the retired admirals for signing the relevant declaration on grounds they were conspiring against the constitutional order. The 10 retired admirals are still under detention.
Ruling Justice and Development Party (AKP) said the declaration was a direct challenge to civilian government and evoked past army interventions, with President Recep Tayyip Erdoğan accusing the retired soldiers of "hinting at a political coup."