Good from far, far from good: The story of Beyoğlu
Yiğit O. Özdemir writes: Today, what we know of as Istanbul's Istiklal Avenue was originally called Grande Rue de Pera. It is where decisions are made, especially when it comes to how and with which tools will "urban plunder" be managed. Mechanisms of consent and resistance are formed here. The victories and defeats of campaigns about urban space happen here.
Yiğit O. Özdemir
My dear friend, former editor, journalist Adnan Genç recently created a written portrait of Fatih, an old district in Istanbul, depicting the place through his own experiences. He explained the history of the region through very nice, small descriptions. This historic peninsula has been abandoned by today's intellectuals; nonetheless, the district of Fatih has new residents now. Its borders have been enlarged in past years to include the shopkeepers and craftsmen in Eminönü and Sultanahmet. The writer penned his brilliant memories of the area. Following a post on social media, it was suggested that I write a similar portrait. At first I just smiled, but after a few days, I thought to myself, "Why not?"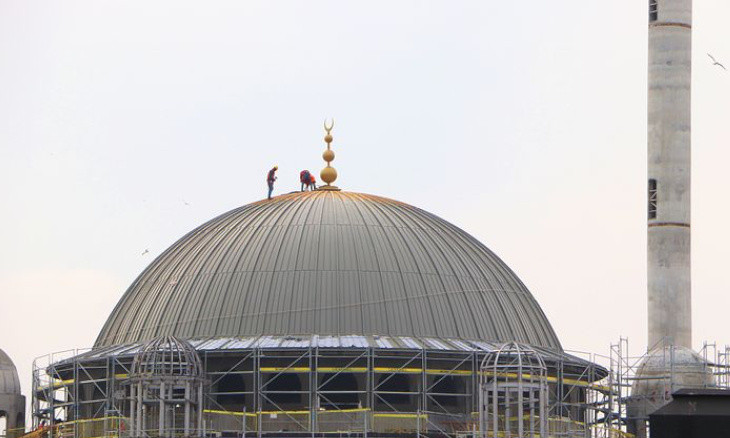 Taksim Square: Meeting point or ideological battleground?
Well, I wasn't a student in the 1960s in Beyazıt, and I didn't grow up in Fatih. I can only explain the historic peninsula based on the memories of my father. These second-hand memories include stories of my father going after school to my grandfather's shop in Mahmutpaşa, where my uncle was also working as an apprentice. But these are not my memories. My own memories start at Beyoğlu (Pera) where I met the "Istanbul quarter" for the first time, a place that is now considered unpopular or marginal.
Today, what we know of as Istiklal Caddesi, or Istiklal Avenue (which translates into English as freedom or liberty), was originally called Grande Rue de Pera. It was planned by Jewish urban planner Aron Angel. It is a street with several buildings — Italian, Greek, Armenian and Levantine. The neighborhood is called Beyoğlu, but Beyoğlu is a broad region that spreads all the way to Okmeydanı and Sütlüce and includes Dolapdere and Kasımpaşa. On its south and east, Beyoğlu features the Cihangir neighborhood, which has lost its flavor because it became too popular, and the Tophane quarter, the Tünel and Şişhane. Following the footsteps of my mentor Adnan Genç, I laid the municipality map in front of me and started my story there. I did this to be able to point out the inconsistencies between the area's administrative borders and the borders of the cultural geography of Beyoğlu. What I have in mind is to be able to perhaps present a few of the limitations in its management, its diversity and the disharmony of the region.
In fact, historically, the most interesting part of the place, for me, is that it is multilingual, multireligious, multi-sectarian and multinational. This cosmopolitan and urban feel constitutes its essential identity.
There are two features that give Beyoğlu its cultural elasticity. If one is commerce, then the second one is that it hosts groups of people of very different backgrounds. The non-Muslim population, which you cannot find among the Grand Bazaar tradespeople, is the pillar of Beyoğlu. From the Belarusians who fled the revolution to the Sephardic Jewish families who were exiles of the inquisition, this place has welcomed immigrants at all times from all regions.
All the film festivals, the dozens of bars that were former cheap night clubs, the venues that have a "partial" pub culture, the restaurants that serve alcoholic drinks — the open-air tables of which always cause issues — all may seem a bit frivolous. But this variety reflects on the cuisine, making it a must for the continuity of the gastronomic culture.
The people who frequent this area are property owners and tradesmen, some residents, and groups of students that come from nearby areas, but the latter are now heading towards venues in Beşiktaş and Kadıköy. These are the groups that make up the consumer profile of Beyoğlu. With that being said, these days, Beyoğlu does not really have a cultural politics anymore.
What gives a neighborhood its character is not only the producers but also the consumers. From this perspective, from employee groups who just visit "fun places" in Yüksek Kaldırım to groups of residents from the Prince Islands who have come into town for shopping, everyone, more or less, is a part of this scene. The abundance of confectionaries and jewelers nowadays does not mean a thing to the neighborhood population or visitors from Istanbul.
The topic of how Pera became Turkish, and then how it became Arabic, I will not attempt to discuss in ten paragraphs. But I will try to make you think about the present situation a bit through writing about some positive anecdotes filled with bits of historic information.
A significant portion of the businesses in the region are the properties of foundations. From the Turkish Armed Forces Mehmetçik Foundation (which supports the dependents of military servicemen who were killed or wounded in the line of duty) to Armenian and Jewish community foundations, there are a number of groups. There is Getronagan Armenian High School in Karaköy, there is an Anatolian High School in the central part of the district, and there are French high schools. It is open to every culture and community.
You can still shop in the stores within apartment buildings that Safiye Ayla, a famous Turkish classical music singer of 1930s and '40s, donated to the Mehmetçik Foundation.
Some of these properties changed owners after the events of September 6 and 7, 1955, while some others were quickly taken under the protection of foundations because of pogroms. There are also private properties that were sold very cheaply to enable swift immigration to Greece. There are many different owners of property, apartments, houses, and buildings. If you don't count the Roma people who settled in Tarlabaşı in the past 30 years, a unique characteristic of the area that has been constant is the consulates located all along the street.
For instance, the büfes, or small fast-food stalls, that are opening one by one on Sıraselviler Street are actually there due to land seizure. In this period of what we can call the Turkification of the area, land is being stolen from the adjacent Armenian Orthodox Church. The first hamburger shop that opened there was a small establishment called "Kristal Büfe" in the 1980s. Actually, until the 2000s, before fast-food chains were so widespread, there was a culture of these small food stalls in Istanbul. Then the perception that they were not hygienic was introduced, and then they were closed. The remaining ones became chains themselves.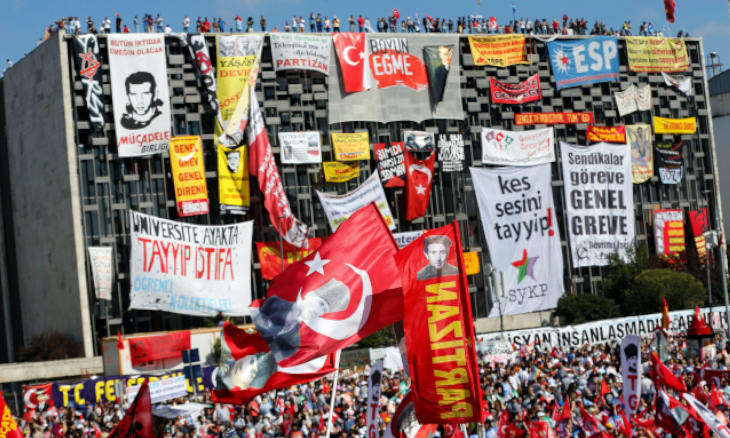 The Gezi Park protests were a milestone for Erdoğan
In this sense, Pera is where decisions are made, especially when it comes to how and with which tools will "urban plunder" be managed. Mechanisms of consent and resistance are formed here. Examples and tactics, as well as the victories and defeats of campaigns about urban space happen here.
The name Taksim Square comes from the distribution of water here. Taksim translates as "distribution" in English, and this was the place where the water flow to Istanbul and nearby provinces was organized in the Ottoman times. The distribution was done at the place where today the "Victory Monument" is located, the one sculptured by Italian sculptor Pietro Canonica. The Victory Monument is built in the memory of the Turkish War of Independence and in commemoration of the friendship between the Russian and Turkish forces. What we know of as Gezi Park today was an old Armenian cemetery. The park was opened to visitors in 1945, as a part of then-President İsmet İnönü's plan.
While I was strolling with two Viennese artists one day, they told me this phenomenon of having a central square and urban center was definitely a socialist style, and that neoliberal European cities did not have these kinds of central points, or to be more specific, they didn't have points that were so aggressively central to the city. I have visited and seen many cities. I want to use Frankfurt as a model: there is no place I can name as the political center of the city. Circulation is more important than these central squares or places. There are historical centers whose fresh touristic look is kept preserved for visitors, and they have commercial businesses. They are under very strict control because they are regarded as cultural assets.
Before we come to the topic of how we cannot protect our history in Turkey, I want to say this: There is a reason why many people who have wanted to run away from these sterile centers in Europe opted for Istanbul's entertainment venues and nightlife as their first stop since the 1960s. Until the year 2010, the city was, contrary to Europe, was a place where things are interposed among one another.
Actually, it was in Beyoğlu where the positive consequences of the period's neoliberal urbanization policies could be seen at their simplest. The metro came to this district first, and then it branched out to the rest of the city. The area has become a space in which LGBTI+ people have been able to express themselves the most easily since the 1990s. As an acquaintance of mine who managed a hotel for years in Sıraselviler told me, political Islam, moderate or non-moderate, was always at odds with the Beyoğlu area due to their cultural codes.
Some benchmarks may be listed as follows: First, the trash bins were removed because of terror attacks, and then trees were removed. After the turn of the millennium, the area was still quite politicized. During New Year celebrations in 2000, I remember a group of 100 people throwing stones at the hotel The Marmara from the square. Then, small businesses were thrown out by chains and due to economic violence.
The fight for the iconic Emek Movie Theater is a top theme because a chapter was closed after that struggle ended. In any case, the cinematic culture of Beyoğlu died long before, namely when the Fitaş movie theater was indexed to mainstream Hollywood cinema. The festival culture was alive, but it was target-focused. With the spread of online culture, everybody was already downloading music and movies from the Internet.
Speaking of music, after the wall fell, Istanbul welcomed several progressive musicians and music from subcultures from the Eastern Bloc countries. Small groups from Yugoslavia used to play at the Jazz Stop managed by the late drummer Engin Yörükoğlu of the band Moğollar. Many musicians based their jazz sound of the time on these guitarists. Later, in the area called "Küçük Beyoğlu," they tried to squeeze the culture of the music venues MOJO, Kemancı, and Hayal Kahvesi together in a small hip area. But except for the young generation (the 90s), there were not too many fans. The last time I looked, new licenses for selling liquor were stopped and very high taxes were being imposed on old licenses.
Actually, Pera culture, for a long time, at least since globalization, has been pushed to a local level. This is is against Pera's international and European texture. From those days, Beyoğlu has only the İnci Pastry Shop left today, which has been forced to change locations, and a couple of other shops.
In the past, Beyoğlu was fed by Francophone culture through organic, commercial, and quite elite connections with continental Europe. It has been rumored that prominent Turkish poet and writer Yahya Kemal, who was the Madrid Ambassador for some time, billed the money he lost to the King of Spain while gambling to his ministry. This same Yahya Kemal stayed in the Park Hotel for 20 years without paying a penny. And this same Yahya Kemal was writing letters about how sad he was that babies in Nişantaşı were deprived of hearing the sound of the call to prayer because there was no mosque there.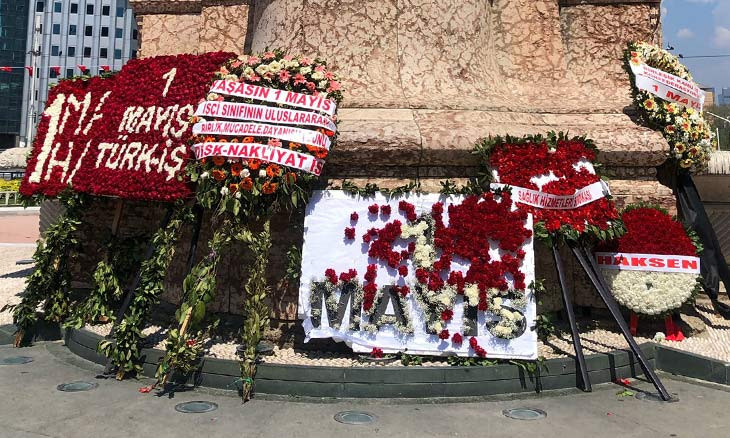 Istanbul's May Day under COVID-19 measures ends up with detentions, police confrontation, a destroyed wreath
The closure of the Galata Mevlevi lodges at the beginning of the 20th century followed by the slow secularization of the area's music culture has also been parallel to the endless struggle of the new republic. The slope downwards to Tünel still has a vivid music culture. Several luthiers are located on this street. In one of the streets on the right, there is the German High School, which I attended. It was a girls' high school before, and was founded in 1933.
Today, a "glocal" texture dominates in Beyoğlu. We cannot say that the former aristocratic atmosphere is there, nor the multi-centered culture – in fact, it was this atmosphere that inspired tens of painters, movie makers, poets and artists, thus enhancing Turkish art. Nor is there a bourgeois culture that has fought many wars, like in Europe. From the 1990s to 2010, with the positive leadership of Babylon, a leading music venue, a significant cultural platform that I can call glocal was built here, but it was not permanent for many reasons. After Lale Plak was closed, we only have Kalan Müzik left; both were had provided us with the works of those days.
There are those who have hope that maybe this slowdown brought by coronavirus would lead to the building of a different cultural platform. Well, it wouldn't be bad if a Barcelona wind blows from Karaköy to Tünel.
I have no doubt that many talents will pass through smoothly in the future, despite the positive and negative effects the area has been exposed to due to its location at the intersection of two continents.
Please excuse me for trying to squeeze such a long topic into a modest and short piece. However, if we do not have the Tophane entertainment describes by Ahmet Rasim, the journalist and lifestyle writer of the time, if the voices of jazz bands are not heard, the biggest loss here is in our hearts.
Author:
Artist, graduate student.