More land on Kanal Istanbul route zoned for residential, commercial use
Millions of square-meters of land was zoned for commercial and residential use, FOX TV reported on July 24. The land joins those owned by Finance Minister Berat Albayrak and Sheikha Moza bint Nasser, mother of Qatar Emir on the artificial canal's route.
Duvar English
Some 2,000,000 square-meters of land on the route of President Recep Tayyip Erdoğan's "crazy project" Kanal Istanbul were re-zoned to allow commercial and residential construction, FOX TV reported on July 24.
Land around the artificial canal was zoned as part of construction plans for a new satellite city, "Yenişehir," which is designed to take up land currently used for agriculture.
Two million square-meters of land in the Şamlar Village was registered by Turkey's Treasury, where it was transferred to the Housing Development Administration (TOKI), CHP Istanbul city council member Nadir Ataman reportedly said.
Mostly land that will eventually have a view of the canal, one million square-meters of farm land in the Sazlıbosna village was previously expropriated to TOKI.
"You don't know who TOKI will sell to, these lots were allowed for residential and commercial use, allowing luxury residences and malls to be built on meadows," Ataman said.
The councilman also said that unearned income would be earned from this land, as the value of the lots spiked when they were zoned for commercial and residential use.
President Erdoğan's son-in-law and Finance Minister Berat Albayrak had previously been reported as the owner of land around the canal's route, along with mother of Qatar Emir, Sheikha Moza bint Nasser, with all their land being zoned for commercial and residential use.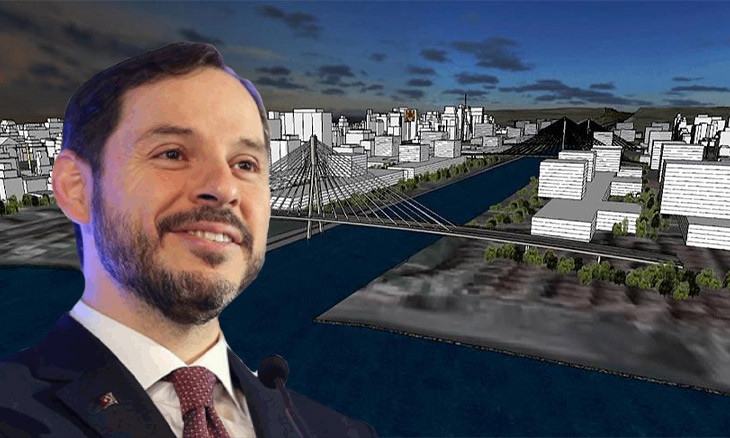 Finance minister's lot on Kanal Istanbul route opened up to commerce