Women mark Int'l Day for Elimination of Violence Against Women by protesting patriarchy, impunity, injustice in Turkey
Women across Turkey took to the streets on Nov. 25, the International Day for the Elimination of Violence against Women, slamming the patriarchy and state impunity. The women requested accountability for crimes against women including femicides, as well as the protection of existing laws that sanction women's rights.
Aynur Tekin / DUVAR - Azra Ceylan / Duvar English
Women across Turkey flooded the streets on the night of Nov. 25 to protest the country's ever-growing femicide toll, systemic impunity for male assailants, and the state's failure to protect women through judicial and legal means.
Police barricaded a group of 10 women from non-governmental organization Women's Committees for hours before detaining them in Istanbul's central Taksim Square.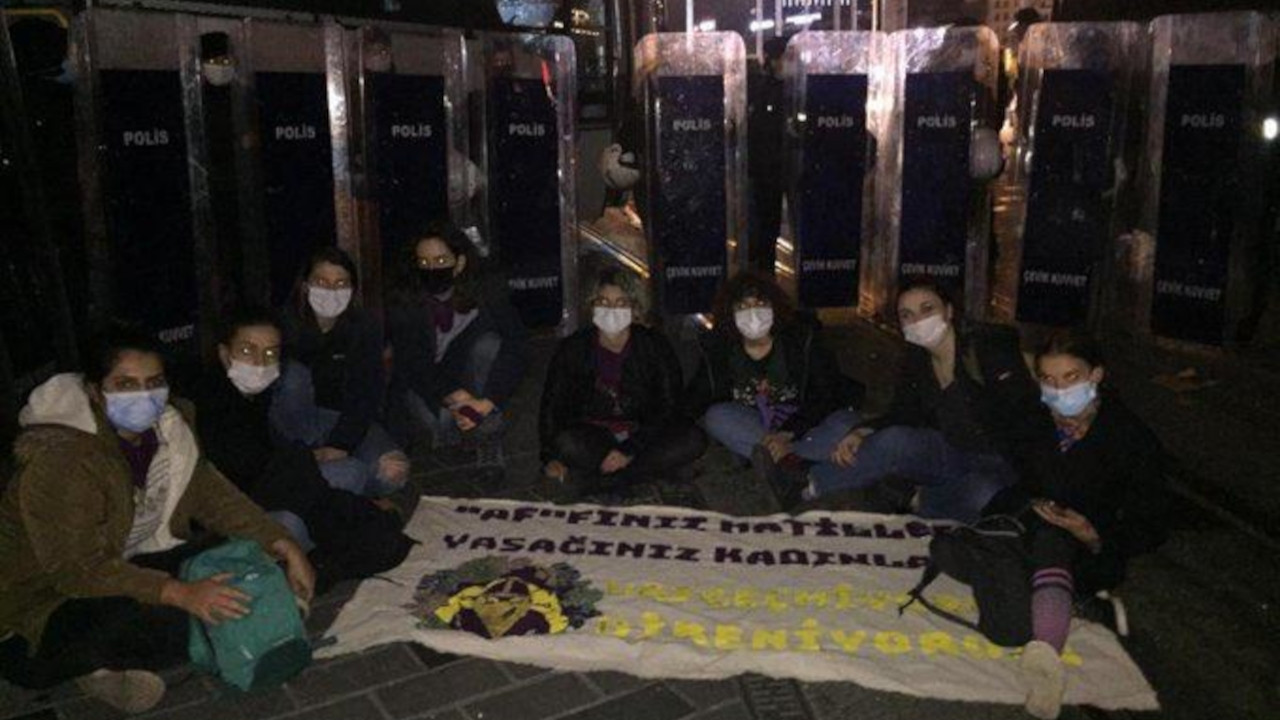 The women marched along İstiklal Avenue to reach Taksim Square, where police blocked their path to prevent them from holding a press conference and held them in place for hours before dragging them out of the space.
"Although there was no legal basis for it, we were essentially placed under arrest for hours. The Turkish state held women hostage on Nov. 25," a representative said in a video they released in the early hours of Nov. 26.
"We saw how much the state fears women once again, as they sent 200, 300 police officers for 10 women."
Meanwhile on Istanbul's Anatolian side, a group of women's organizations met in central Kadiköy under heavy police surveillance.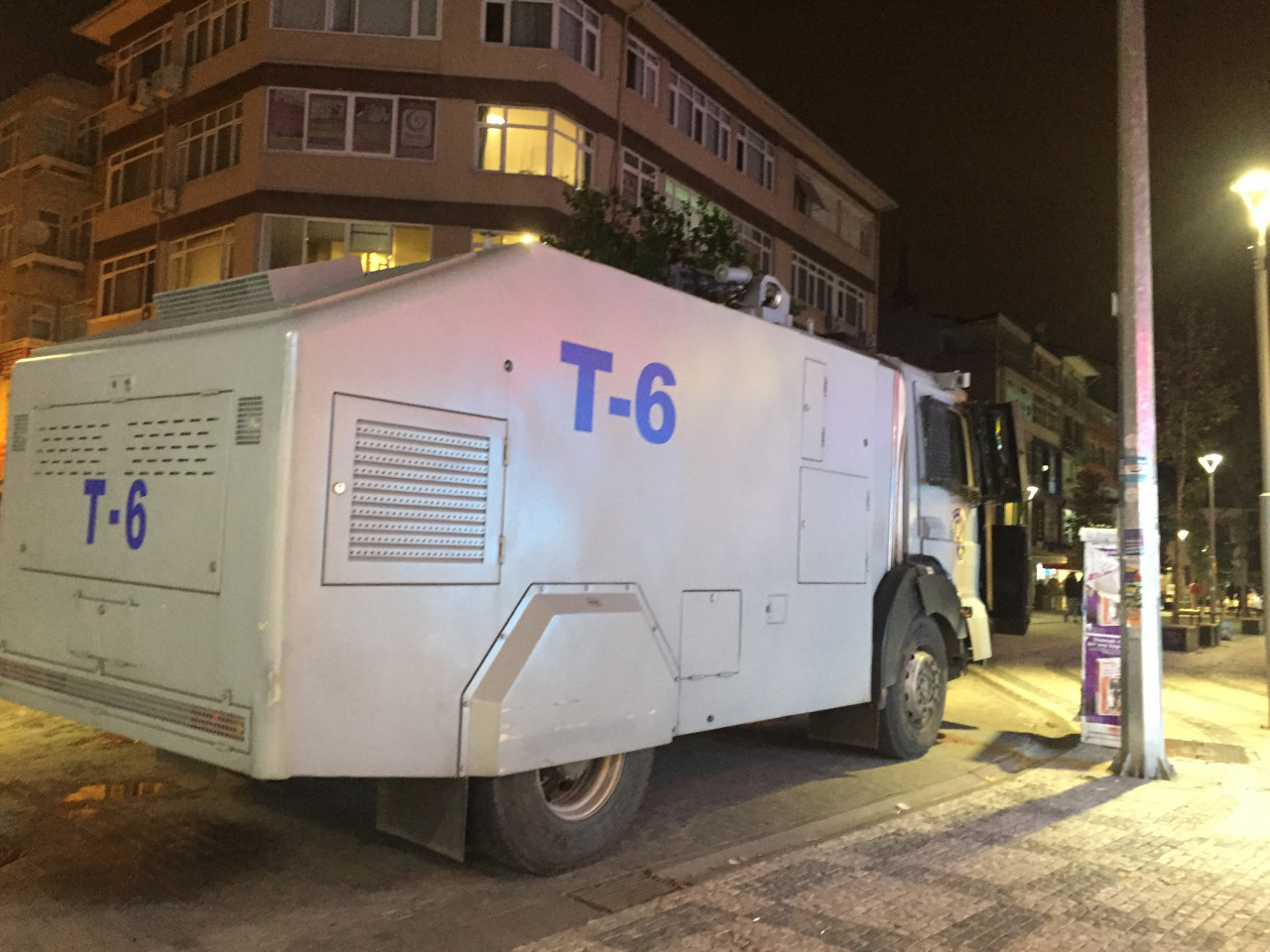 As police warned the women to maintain safe distances from each other to adhere to pandemic precautions, different groups marched to the meeting point by the Bosphorus.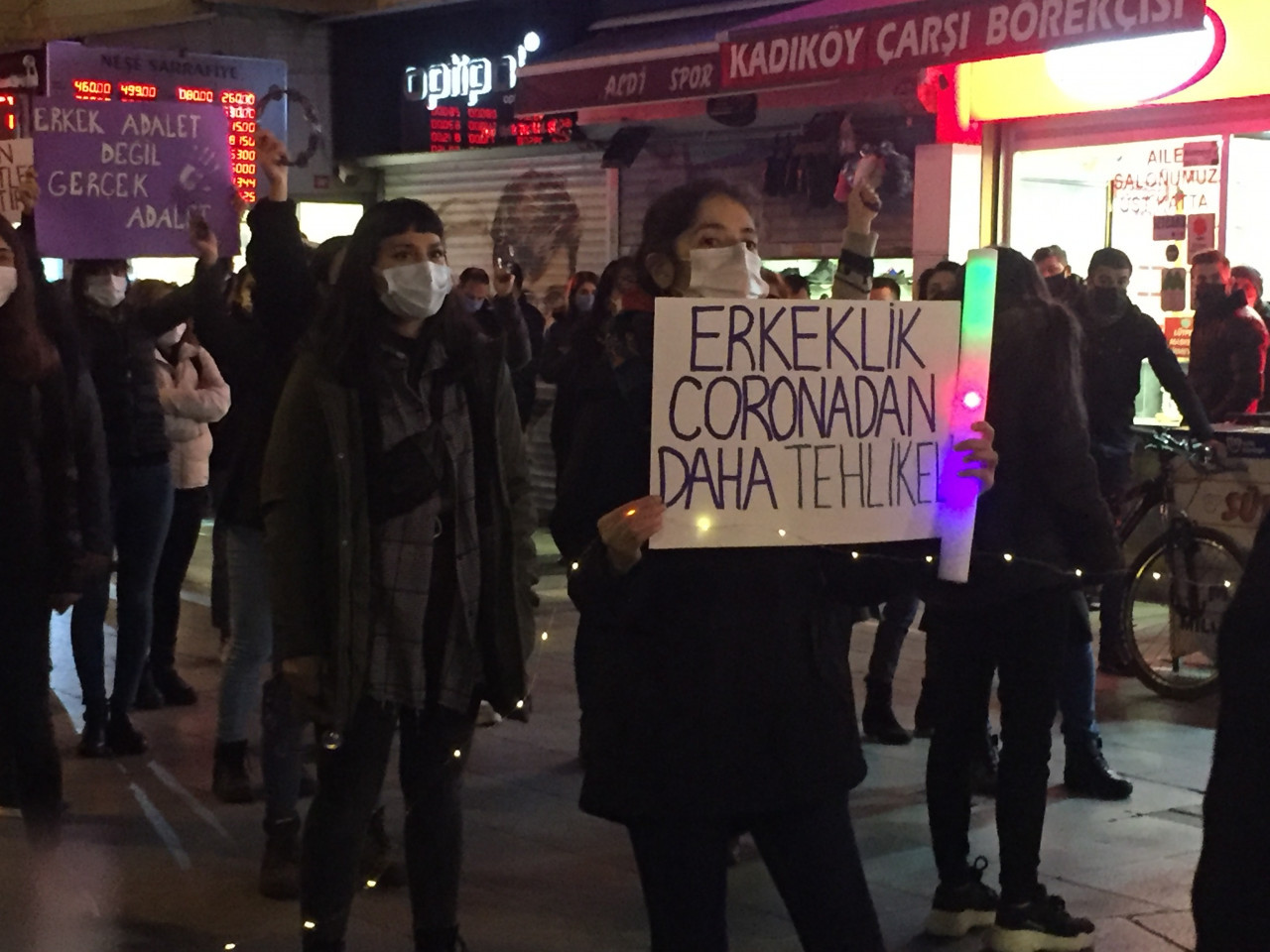 Many protesters held signs that read "the patriarchy is more dangerous than coronavirus" and "masculinity kills more than COVID-19."
Led by the 25 November Women's Platform, one of the main demands of the women was accountability for assailants.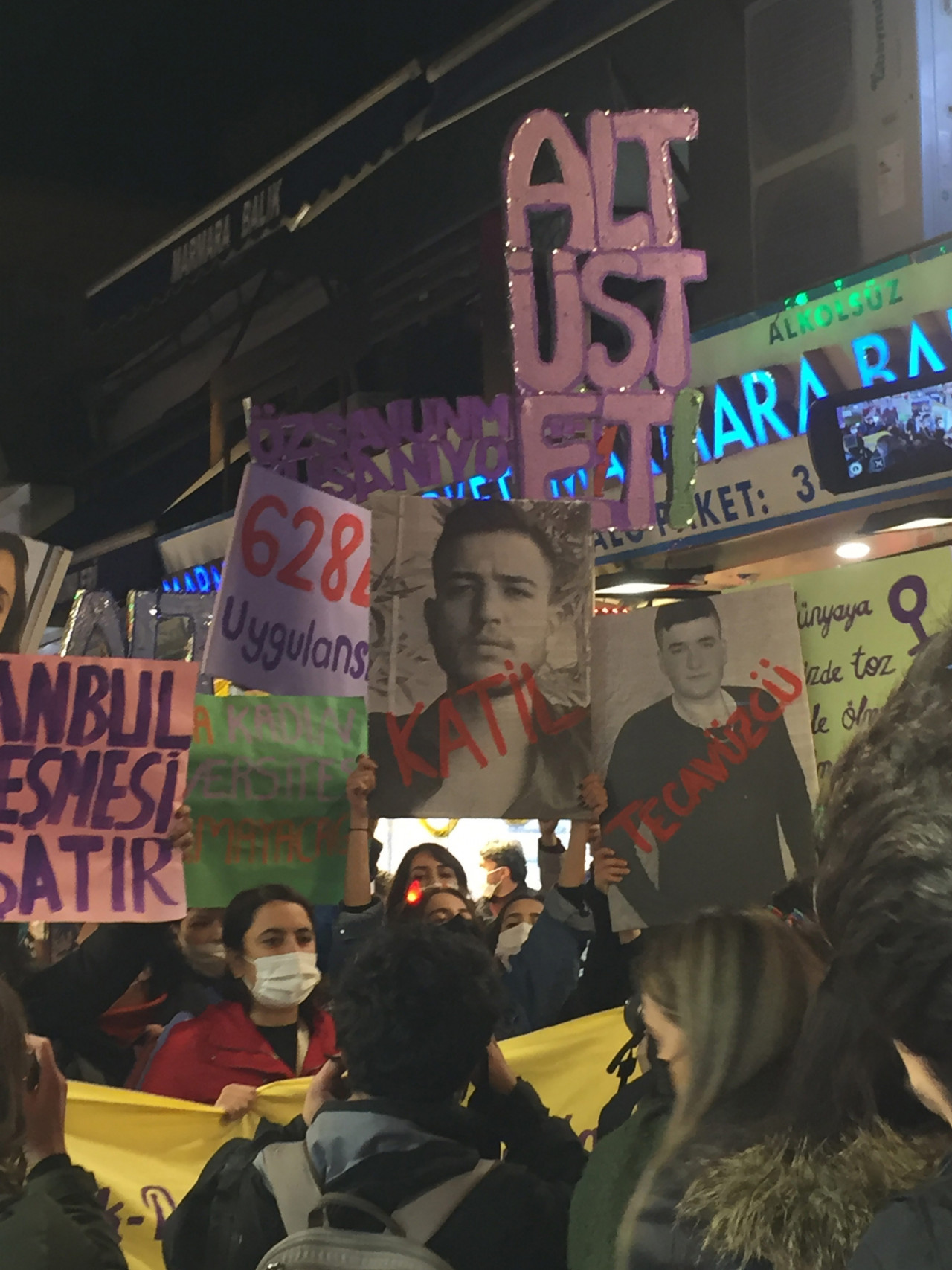 Protesters held up photos of Ümitcan Uygun, the suspected killer of Aleyna Çakır, and Musa Orhan, a soldier who sexually assaulted 18-year old İpek Er.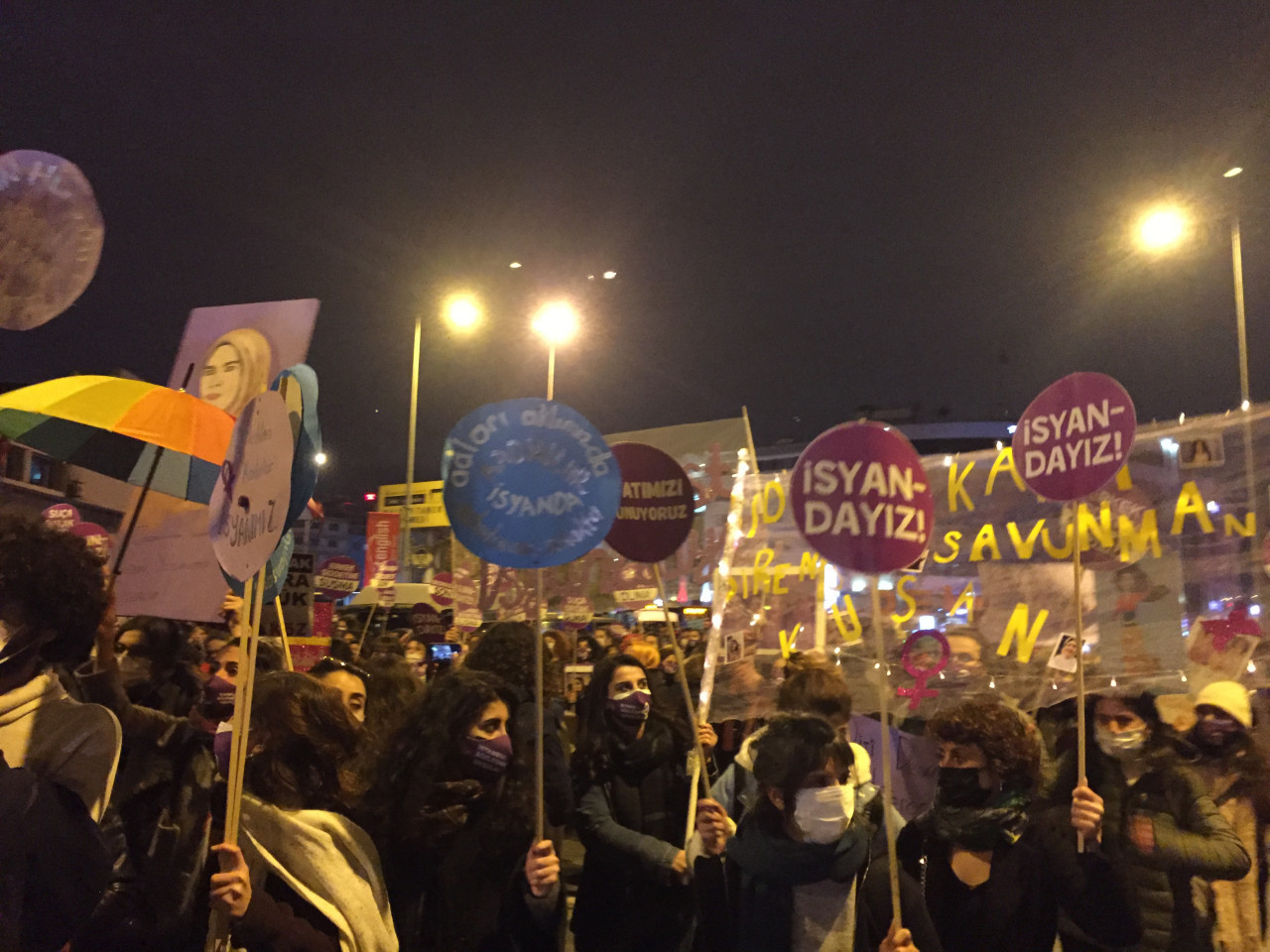 Women held up signs and often chanted "İsyan," the Turkish word for "rebellion," as the state's reluctance to enforce accountability for violence against women has pushed women for years.
Most recently, Interior Minister Süleyman Soylu said that violence against women was "a shame" and urged men to hit themselves instead of hitting women.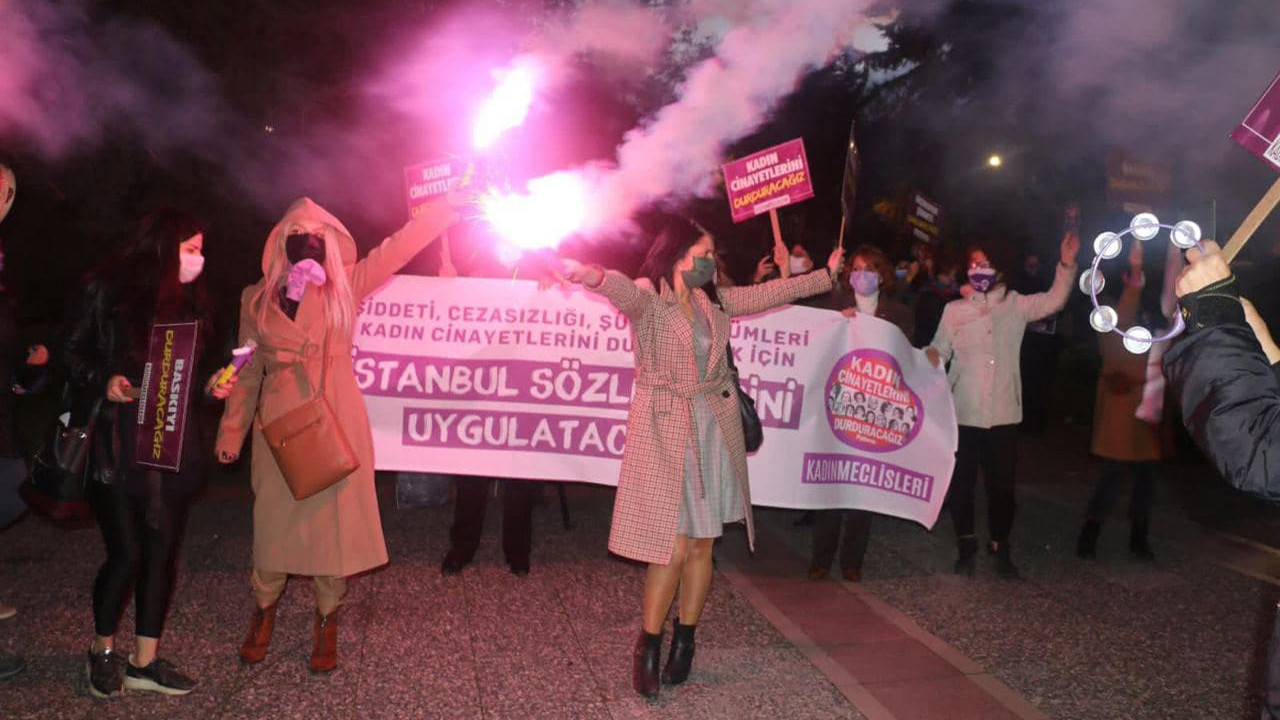 The protesters also called for the protection of the Istanbul Convention, officially the Europe Convention on preventing and combating violence against women and domestic violence.
The ruling Justice and Development Party (AKP) has been debating withdrawing from the convention, prompting outrage within and outside their party.
"Assailants' attitude of 'I did it, I'd do it again, I won't get punished anyways' and the fact that they don't face repercussions encourages other assailants," said a member of the We Will Stop Femicides Platform in the Aegean province of Mersin.
📍Mersin

Faillerin 'yaptım, yine yaparım; nasıl olsa ceza almam' şeklinde yaklaşımları, ve gerekli cezayı almaması olası failleri cesaretlendiriyor. Her kadının özgürce, her şiddetten uzak yaşaması için meydanlardayız. #25KasımKadınaSiddeteHayır pic.twitter.com/mS5z5bf35d

— Kadın Cinayetlerini Durduracağız Platformu (@KadinCinayeti) November 25, 2020
"We stand united against the dismissal of our labor, and the exclusion of women from the workforce on the grounds that 'she's busy with housework," said another member of the platform in the Mediterranean province of Antalya.