Women in Turkey protest murder of Mahsa Jîna Amini
Women in several provinces of Turkey have protested the murder of Mahsa Jîna Amini by Iran's morality police. During the protest in Ankara, several women were injured and detained by the police.
Aynur Tekin, Nur Kaplan / DUVAR
As per the call of Women Strong Together Platform, women in several provinces of Turkey on Oct. 2 protested the brutal murder of Kurdish woman Masha Jîna Amini by the morality police in Iran.
The protest with the slogan "Freedom in Iran, Turkey and everywhere" took place in Istanbul's Kadıköy district with the participation of Turkish women, Iranian women, women assemblies and non-governmental organizations.
Slogans such as "Today in Iran, tomorrow we will shake the world everywhere," "We do not want an Islamic state," "Jin, Jiyan, Azadi everywhere for Mahsa" were chanted during the protest.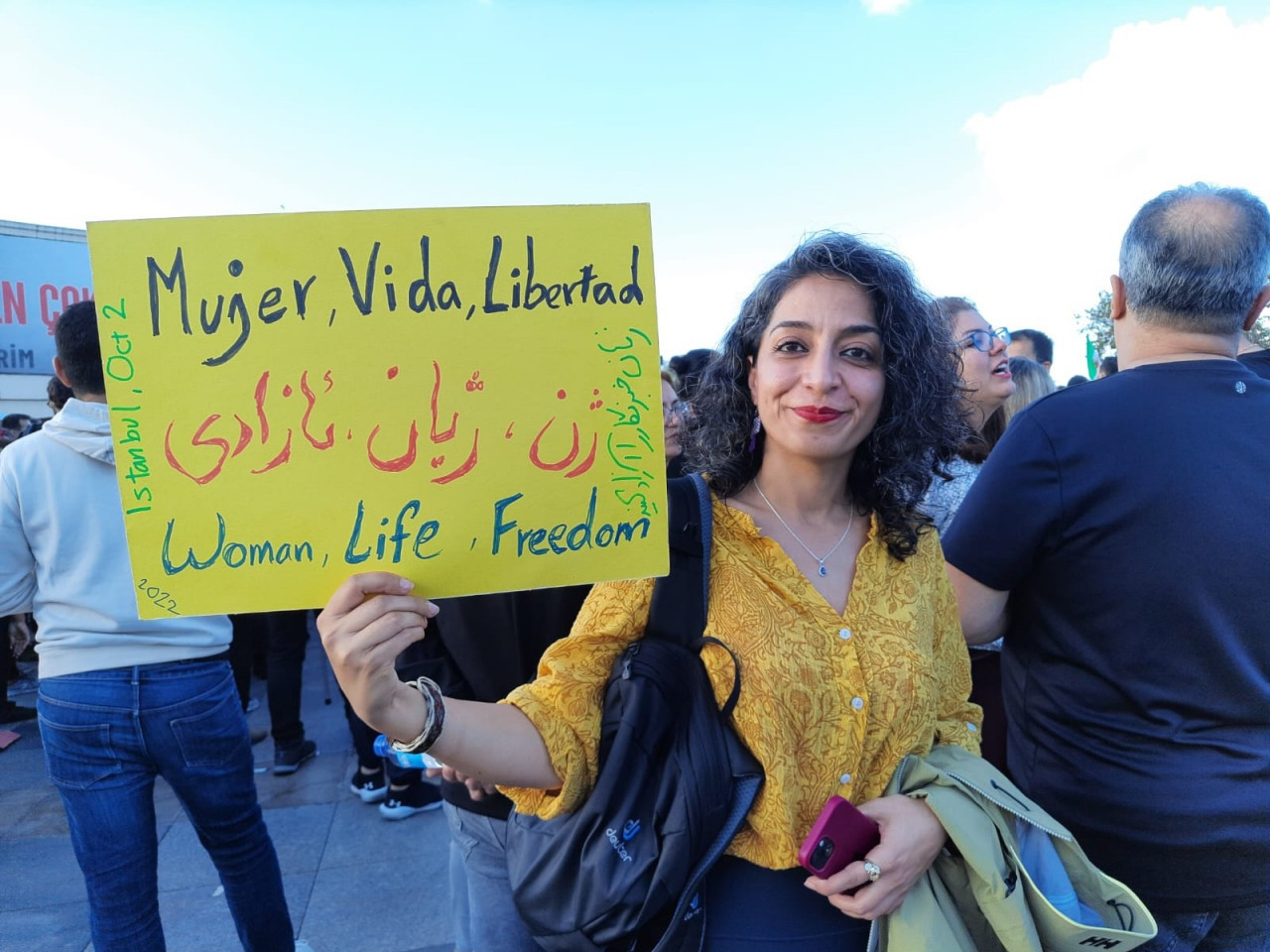 A press statement was read in Turkish and Persian during the protest.
"The murder of Mahsa became the anger of us women, who are fighting against patriarchal state violence all over the world. We are subjected to moral impositions similar to those of the Iranian regime (in Turkey); our lives are increasingly restricted. The violence in our lives is organized by the male state itself, both in Iran and in Turkey. Since we are women, we are subjected to violence, we are murdered. The only solution against this organized violence is in women's solidarity that knows no borders, in our common struggle for liberation," the statement said.
"Because we know, Iran is not far away (from our situation). (The ruling coalition) can withdraw from the Istanbul Convention overnight in Turkey. LGBTI+s are targeted with religious propaganda and hate speech is tried to be spread among the public. We want freedom in Iran, Turkey, everywhere!"
Women also held a protest in the capital Ankara, but the police did not allow them to hold a press statement. Several women were injured and detained by the police.
Women also held protests in Adana, Balıkesir, Diyarbakır, Bartın, Bursa, Mersin, Samsun and Sinop provinces.
The 22-year-old Amini died in September after being arrested by Iran's morality police for allegedly wearing a headscarf in an "improper" way. Since then, Iranian women have been organizing protests across the country.
(English version by Alperen Şen)