Boğaziçi protests heat up on 100th day as police presence intensifies on campus
The Boğaziçi University community's protests against the president's appointment of a party member as rector re-intensified on May 31 with police officers putting up a barricade at the school's gates once more. The protests heated up in reaction to the school's failure to approve a beloved faculty member's course for the following semester.
Duvar English
Protests at Istanbul's prestigious Boğaziçi University heated up on May 31 as police increased their presence to discourage students who staged a peaceful watch on campus to protest the president-appointed administration's failure to approve a beloved faculty member's course for the upcoming semesters.
The heightened tensions came a day before the 100th demonstration staged by the school's community to condemn President Recep Tayyip Erdoğan's appointment of a party member as a rector to the university, viewed unanimously as a breach of academic independence.
Students showed up in large numbers to join academics in their routine protest in front of the rectoral office on May 31, which also happened to be the first day of the Eighth Boğaziçi University Pride Week.
Although academics have been standing with their backs to the rectoral office for dozens of demonstrations since the president's Jan. 1 rector appointment, the protest on May 31 was marked by the appointed administration's recent failure to approve beloved faculty member Feyzi Erçin's course for the upcoming semester.
Aside from his identity as a musician and academic, Erçin was known for his legal support to students who got detained during the protests against Erdoğan's rectoral appointment.
Best known for telling a video where he was heard telling detained students "You'll never be alone, we're right here," in the halls of a courtroom, Erçin was supported by students who showed up on May 31, facing the rectoral office with signs reading "Hands off my professor!"
Erçin's course was rejected on the grounds that there had been errors detected in his grading, while students reciprocated his support for them by making the phrase "Professor Feyzi isn't alone!" a trending topic on Twitter.
"I'm not surprised that an 'assistant rector' appointed by an appointed rector found my grading to be unfair: This is a reflection of the gap in values between us," Erçin wrote.
The professor noted that appointed rector Melih Bulu had staged a "friendly" gesture by speaking to protesting students outside his office while other Boğaziçi students remained in police detention.
"The gap between our values was lamented when Bulu failed to answer a student who asked him 'Aren't you ashamed?' while other students sat in jail."
"We swear to you that we won't leave you alone for even a single moment," wrote one student with a video of another student running up to give Erçin a hug while he spoke to students on campus on May 31.
Police presence mounts overnight
Students who showed up to support the academics announced after the faculty completed their vigil that they would tent out on campus on May 31 to not just protest the appointed administration and their practices, but also to commemorate the anniversary of the 2013 Gezi Protests.
"We decided to stay here with our tents tonight, it's especially important to us that it's the Gezi anniversary. Professor Feyzi isn't alone, academia won't bow down!" students were heard saying in a video released by the Boğaziçi Resistance.
Private security tried to prevent the students from setting up their tents unsuccessfully, and the students managed to remain on campus until after dark, but police presence outside the school increased.
"Police is waiting at our school's gate. We are on South Square in our tents. We are together, we are okay," the students tweeted at around 10 p.m. on May 31.
Police waited until around 1 a.m. on June 1 to attack the students' camp, when they entered the campus with police vehicles, private security and police officers alike.
Students were eventually forced to leave campus by police officers, although no detentions were made, the Boğaziçi Resistance social media account reported.
Political turmoil surrounding Boğaziçi
Much like it has been since the president's rectoral appointment, Boğaziçi University remains a politically controversial topic in the public sphere, most recently focused on a cartoon shared by one of the Erdoğan's rector's counsels.
Melih Bulu's Counsel Volkan Gazioğlu shared a caricature depicting Boğaziçi University academics putting up an American flag on the university's iconic lawn in their robes, the implication being that the protests were foreign-funded.
Police presence and brutality continued on the Boğaziçi campus on June 1, as Boğaziçi Resistance shared a video depicting police officers violently detaining students at the school gates shortly after noon.
Police at the entrance of the main Boğaziçi campus locked the gates up to block students' entry on in the afternoon on June 1, prompting a call by the students to their community to show up and support them.
"We can't enter our own campus," the students tweeted.
Meanwhile, academics held their 100th peaceful protest in front of the rectoral office on June 1, noting that they were addressing the public from a campus under police barricade.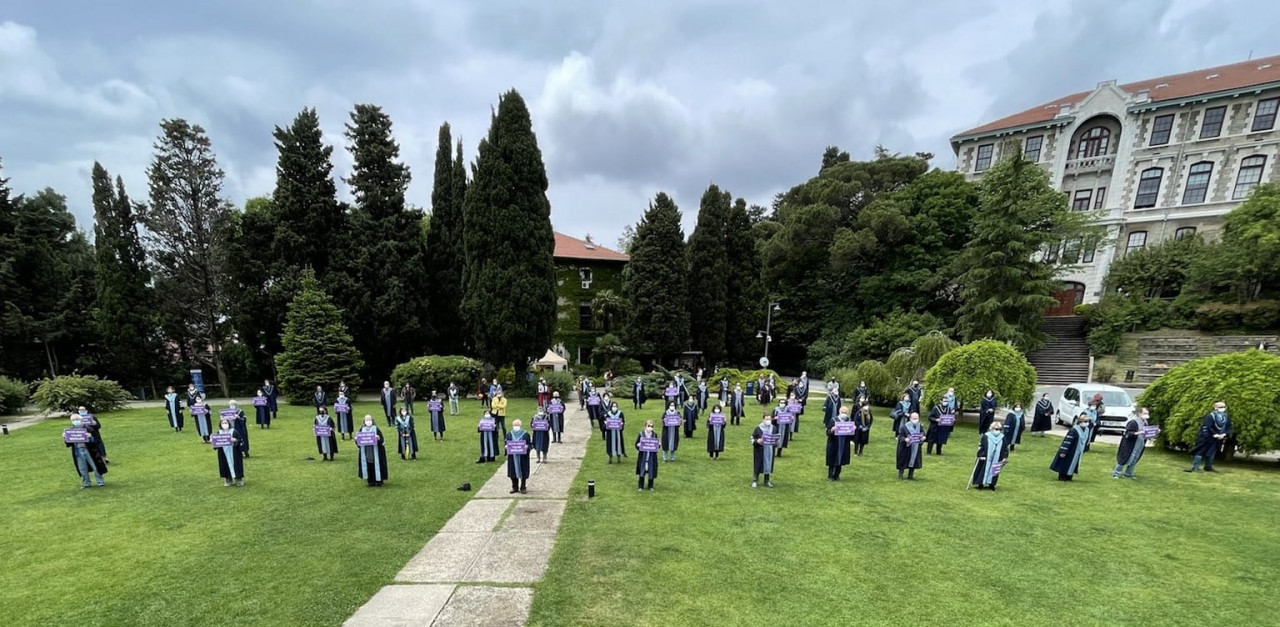 "Do you think you'll be able to block off the school's most beloved courses and professors with arbitrary regulations?" the academics asked the appointed rector.