Diplomacy as improvised stand-up comedy
International relations look more and more like a marketing and sales activity. And yes, diplomacy, by default, looks at least to me, more and more like stand-up comedy.
Mr.İsmail Dümbüllü (1897-1973) was a most beloved comedian in his time in around the mid-twentieth century's İstanbul of merely one million inhabitants: A lyrical landscape that was dotted with (especially on the Anatolian side) elegant white wood houses in well-trimmed evergreen gardens. Himself too a through and through istanbulite, my late father (1930-2000) even in his fifties (now I myself am over fifty) was still able to relay his mostly single line jokes out of memory.
While mostly repeated a thousand times in almost all of his appearances before the public and generally void of meaning, these had each and every time the same mesmerizing effect on the crowd. A typical example of this well-oiled technique is for example the answer to the question "-how dare you?", "-fava beans for 35 (piastres)." The rhyme (in Turkish: "-ne hakla? -otuzbeşe bakla!") and the absurdity, and most of all, the timing of the punchline added all up together. Exclaiming it sometimes right after the question, sometimes after a pause for a few split seconds while the crowd held its breath before exploding into laughter, assured the reliability of the effect.
Improvisation too, as in coming up with an unexpected line at a most unexpected moment, played into Mr.Dümbüllü's success of holding his gentlemanly and loyal public in the cusp of his hand. His out of the ordinary physiognomy (with thick eyebrows not un-reminding of yours neandertal truly) probably had a strong hand in the play as well. In short, the magic of the art of theatre was there in his each and every single appearance as depicted here-above.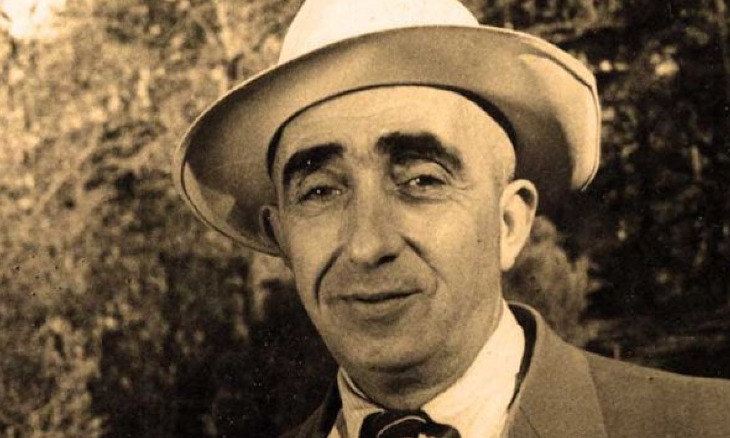 High Representative of the EU for Foreign affairs and Security Policy Mr.Josep Borell visited Turkey following a long pause on July 6-7 and was duly hosted by his Turkish counterpart, Foreign Minister Mr.Mevlüt Çavuşoğlu. When the duo appeared in front of the cameras for the customary press conference, their combined performance was quite akin to Mr.Dümbüllü's I reminisced with a silent prayer to my father. If he was alive and cared at all to watch the event on the telly, I believe he would have been either disgusted or bemused depending on whether he had his first drink of the evening.
When Mr.Borrell mentioned EU sanctions to Turkey, one would have sort of half-hear canned laughter noise in the background. Then at the end of the show, Mr.Çavuşoğlu offered his guest a miniature plastic bottle of made in Turkey hand sanitizer brand named "borel" as it is produced of boron warning Mr.Borell that he cannot sue the company for patent rights as it is written with a single "L." Mr.Çavuşoğlu also did not miss the opportunity to rip Greece, "Cyprus" and France into pieces "-en passant."
Another comedian of yore unlike Mr.Dümbüllü not of local but of global fame Mr.Groucho Marx has once said that he wouldn't join any club which would accept him as a member. By the same logic, Mr.Çavuşoğlu stole a page from Groucho Marx' playbook, by ignoring the fact that Turkey had signed a (let's call it that way) membership roadmap contract with the EU. It is also true that EU has committed an act of utmost strategic blindness when admitting the Greek Administration as a full member pretending to represent the entirety of the island in 2004 and sending Turkey to take a walk.
Facts being facts though, it was only natural now that the EU would stand behind the so-called "Republic of Cyprus" as it is a member country –no surprises there. The meat was elsewhere though: Few days prior to Mr.Borell's visit, President Erdoğan and Prime Minister Mitsotakis had held a phone convresation on the 27th of June –a first since late January. During which, we are not sure whether pleasantries were exchanged as well but, the two leaders agreed that Greece would magnanimously open its borders to visitors from Turkey defying the EU stance of excluding it.
I, for one, am not against, not the least bit to Mr.Mitsotakis' both smart and friendly gesture towards my country. I also think that it does not simply make any scientific sense that while Moroccan and Algerian travellers et al are considered "healthy" and "safe" enough to be allowed to the EU countries, Turkish ones will be not and that, that decision will not be seen as political. Furthermore, although critical most often than not to Mr.Erdoğan's ham-fisted foreign policy approach, I also applaud and register his convincing of Mr.Mitsotakis to do the right thing as a rare win on the diplomatic scorecard.
Yet, at the same time, I cannot stop myself but wonder why and how on earth then, just a few days later, when Mr.Çavuşoğlu took the podium with Mr.Borell again almost singled out Greece as his favourite punching bag and again why and how on earth bellicose statements from various actors on both sides of the Aegean were exchanged as cannon fire on a battle field? Then, to top it all off as the metaphorical cherry on the cake, the monumental Hagia Sophia cathedral built in 537 which serves as the most visited museum in Turkey, is reverted back to its mosque status of after 1453 by a presidential decree signed by none other than the same Mr.Erdoğan.
#AyasofyaCamii pic.twitter.com/4tbuY6AjPZ

— T.C. Kültür ve Turizm Bakanlığı (@TCKulturTurizm) July 10, 2020
It was the founder of our republic Kemal Atatürk who had put his signature under the Council of Ministers decision turning the status of Hagia Sophia into a museum in 1934. Should I add that Atatürk, who had spent a lifetime in the battle fields from Cyrenaica to Mesopotamia and most memorably to Dardanelles, finally had fought and won as the commander-in-chief the decisive victory against the invading Greek Army in 1922. It was the same Atatürk who had paved the way of a lasting peace of sorts between the two countries working with the then Greek PM Mr.Elefterios Venizelos -who in turn, after having visited Turkey in 1930, had nominated him for the Nobel Peace Prize in 1934. It was also the same Atatürk who wrote in his famous letter to Anzacs that "there is no difference between the Johnnies and the Mehmets to us where they lie side by side in this country of ours."
Have I missed something here? Have I turned ugly and sour in time, as most of the wines turn into vinegar instead of aging and gaining multiple layers of taste with the passing of time? Or was it always this way but perhaps was I used to blow things out of their proportions high on the opium of Le Carré novels that had led me at the tender age of 22 to the door steps of the foreign ministry? In our time, sadly EU more and more looks like an accountants' association (Mr.Varoufakis could have smiled here if he had unexpectedly cared to read this humble column). International relations look more and more like a marketing and sales activity. And yes, diplomacy, by default, looks at least to me, more and more like stand-up comedy.
*As of today Greece keeps its borders with Turkey still closed.