Turkish unions criticize gov't for neglecting workers' rights on May Day overshadowed by COVID-19
Filiz Gazi reports: Turkey's labor union representatives agree that Ankara dropped the ball on protecting worker's rights during the COVID-19 outbreak. On a grim May 1, International Workers' Day, union representatives realize they need a new way of resistance in the post-coronavirus world.
Filiz Gazi / DUVAR
Turkey's labor union representatives agree that the COVID-19 pandemic has put the country's workers' rights at risk as government policies have failed to protect them. As a result, low-wage workers are the ones being harmed the most.
Engin Kulu, an official from the United Steel Workers Union (Birlesik Metal-Is), noted that the COVID-19 pandemic has made May Day this year the worst one since the massacre of 1977 when 34 people were killed by anonymous gunfire.
"Workers have been hit the worst. There have been deaths, millions are unemployed or unsecured. It's obvious that the system runs on the backs of workers. They say 'we're all in the same boat' but the financial aid packages caters to capital, and not to the workers."
Kulu noted that workers no longer feel comfortable relying on the government to take care of them if they were to be unemployed.
Moreover, workers have lost faith in their employers as they have been unable to accommodate workers' needs during the COVID-19 pandemic.
"Unionized workers are more or less able to fight against rights violations. Millions of people are unorganized, trying to survive this under the fist of their bosses and the government."
Co-Chair of Health and Social Work Laborers' Union Gönül Erden agrees that the COVID-19 pandemic has revealed that "capitalism no longer offers humanity and benefits," leading to a re-evaluation of the status quo.
"The system itself is up for debate. Health policies, in particular, have collapsed in public opinion."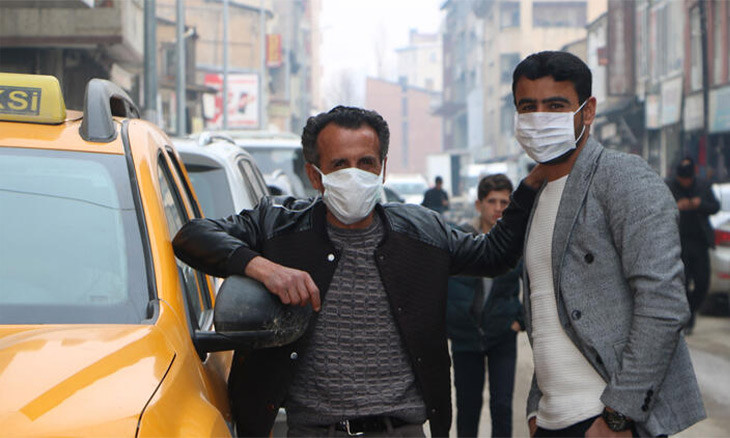 Non-unionized workers in Istanbul at higher risk during COVID-19 outbreak
Co-Chair Erden said that the Health Ministry failed in protecting its own workers while Turkey's Interior Ministry had been implementing curfews on seniors, chronically ill persons and persons with disabilities.
"Two of our 30 health worker friends who died were chronically ill and disabled. We won't forget that," Erden said. "Exporting personal protective equipment while our coworkers get one mask with a filter per day is tragicomical."
Experiencing May 1 in such a dire climate is likely to spark protests, Erden said.
"2020 was some kind of year. May 1 will be a day to fight with even more conviction."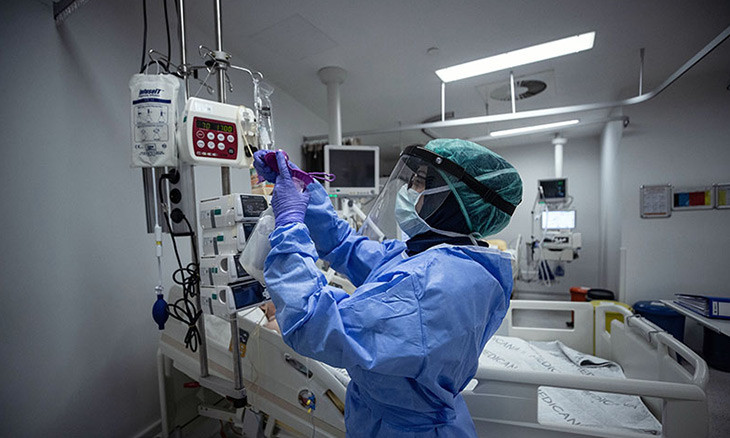 Turkey hasn't tested 39 pct of health workers, union claims
Turkish Petroleum, Chemistry and Plastic Workers Union (Petrol-Is) official Şiwan Kırmızıçiçek said that workers' unions have also struggled to manage the COVID-19 epidemic, as it's an unprecedented situation.
"How can we help? We need to change our classical methods of resistance. Right now, we comply with the rules of the government and that of capital. We're not putting up a real fight unfortunately."
Kırmızıçiçek noted that the Turkish government didn't take the necessary precautions to protect workers because "they don't care about the lives of workers."
"Yes there's a pandemic, but workers are on the streets, in factories, everywhere… May 1 is everywhere. Anywhere a worker's heart beats, our chants must rise."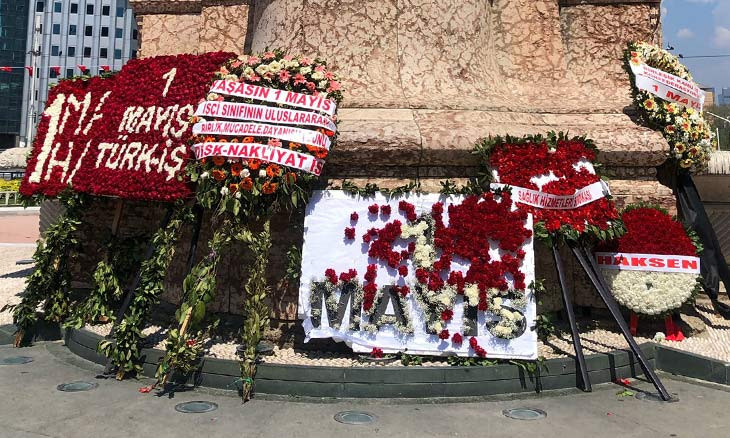 Istanbul's May Day under COVID-19 measures ends up with detentions, police confrontation, a destroyed wreath
Progressive Mining and Mine Management Workers Union (Dev Maden-Sen) Chair Tayfun Görgün said that the Turkish government made May 1 celebrations a tool for their own agenda, pointing to the governor's offices that limit gatherings while production is ongoing across the country.
"There are no limitations when it comes to filling their pockets but when it comes to May 1 we have all these barriers. That's just double standards. It wouldn't have been right to insist on celebrating in such a climate, but it's okay, we'll have a bigger May 1 next year."
"Even if we can't stand shoulder to shoulder now, we will show from our homes, our balconies that we stand together."