Soma miners' march to Ankara in demand of severance pay faces harsh police resistance once again
Survivors of the 2014 Soma mining disaster on Nov. 4 resumed their march to Ankara to demand back wages and other benefits owed for years, only to be blocked and attacked by police and gendarmerie forces – once again.
Duvar English
Several miners from Soma district of the Aegean province of Manisa in early October attempted a march to the capital Ankara to demand their detained wages, compensations and other benefits owed for years. Their march however faced a harsh police resistance upon the orders of the Manisa governor's office, which pushed the miners to initiate a days-long protest in Soma.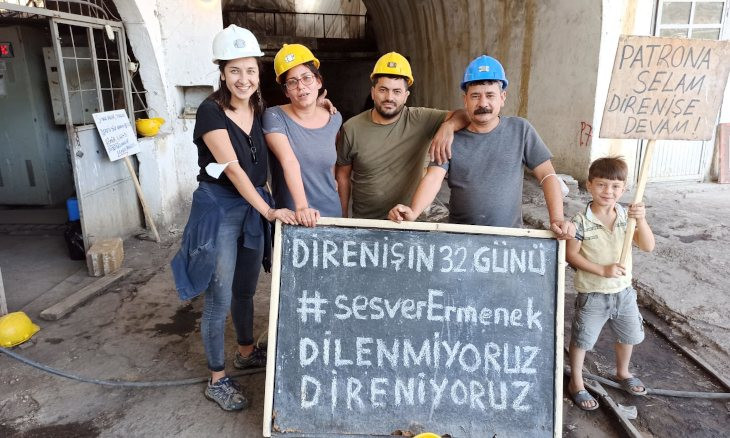 Turkish miners to march to Ankara in demand to get unpaid wages, severance pay
An explosion at the Soma mine in Manisa resulted in the deaths of 301 miners in 2014, making it the worst work-related accident in the history of the Turkish Republic. The explosion resulted in the workers becoming trapped in the mine, and most of them died from carbon monoxide poisoning.
Following the disaster, 3,500 miners were left without jobs and were unable to receive severance or retirement benefits. Despite winning a court case granting them these payments, they say they have still not received them from the company.
Following a meeting with the ruling Justice and Development Party (AKP) officials on Oct. 21, the miners were promised a solution within 10 days, which led to the suspension of their protest. In the meantime, following the powerful earthquake that struck the Aegean province of İzmir on Oct. 30, the miners mobilized in solidarity with the earthquake victims and travelled to İzmir to participate in search and rescue works.
On Nov. 4, miners announced they resumed their march to Ankara as all search and rescue efforts in İzmir were declared complete, with the government not still having found a solution to their unpaid severance payments. The miners' march however was blocked and attacked by police and gendarmerie forces – once again.
During the gendarmerie intervention, one miner has received a blow to his rib. "We have waited for years; we trusted in the law. There is no door that we have not knocked on. We have believed in every promise," one miner said during the protest.
HAKKIMIZI VERİN!

Kırkağaç Çamı'nda direnen Soma Uyar Maden İşçileri Ankara Yürüyüşü'ne devam ederken jandarma saldırısına uğradı. Bir madenci arkadaşımız yaralandı.#MadenciyleYürü#HakkınıVerMadencinin pic.twitter.com/gmYeFZVt5g

— Bağımsız Maden İş (@bagimsizmadenis) November 4, 2020
Standing in front of the barricade set up by the gendarmerie, an expert from the Independent Mine Workers Union (Bağımsız Maden-İş) Organization said that the ban imposed on the march is "arbitrary and illegal." "The governor's office is making up decrees out of nowhere; it is protecting the mining bosses and usurping the rights of the miners," said expert Başaran Aksu.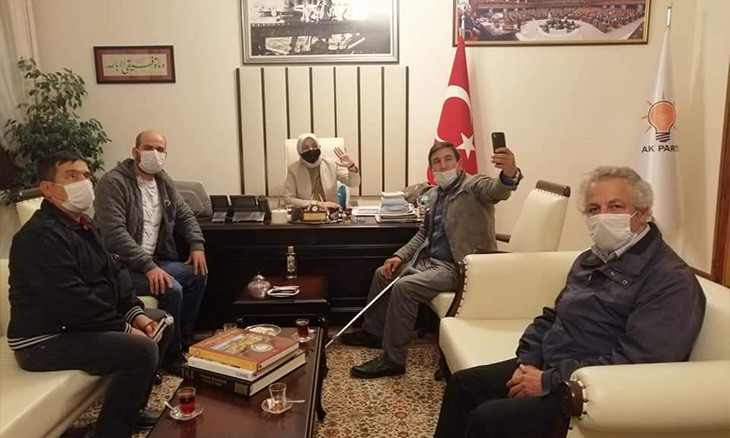 Turkish gov't promises to solve protesting miners' problems within 10 days
"Over 30 of our colleagues have lost their lives without getting their benefits [during the years-long legal saga]. There are our friends who are cancer patients and receiving treatment at hope. We want them to get their legal rights without at least dying," said Aksu.
Following their statements, Aksu and another expert of the Independent Mine Workers Union Organization, named Kamil Kartal, were detained.
The organization released a statement along with a video footage showing the detention of Aksu and Kartal. "We will win by resisting," the miners are heard shouting during the video.
Örgütlenme uzmanlarımız Kamil Kartal ve Başaran Aksu gözaltına alındı.
Baskılarınız, gözaltılarınız bizi yıldıramaz!
DİRENE DİRENE KAZANACAĞIZ!#HakkınıVerMadencinin#MadenciyleYürü pic.twitter.com/54faUDe65F

— Bağımsız Maden İş (@bagimsizmadenis) November 4, 2020