Istanbul rings drought 'alarm,' İmamoğlu assures adequate water supply for 2023
Istanbul Mayor Ekrem İmamoğlu said that there is an "alarm" situation in the megacity due to drought, but there will not be a problem with water supply for 2023. The occupancy rate of Istanbul's dams dropped below 25 percent as of mid-September.
Duvar English
Answering journalists' questions about drought after the opening ceremony he attended on Sept. 21, Istanbul Metropolitan Mayor İmamoğlu said, "Seasonally, the time for precipitation is coming. Of course there is an alarm about water. But we are not facing a problem of water supply for this year."
The occupancy rate in the dams supplying water to Istanbul dropped below 25 percent as of Sept. 19. The dams received the lowest annual rainfall rate received by dams in the last decade, according to Istanbul Water and Sewerage Administration (İSKİ).
İmamoğlu attended the barley and oat seed support program in Büyükçekmece district and opened an "Agricultural Market."
Speaking about the occupancy level in Büyükçekmece Dam dropping to nearly four percent and the risk of bacteria proliferation in the water, İmamoğlu said, "We take our precautions every day. The İSKİ is the most experienced institution in the world. It is not possible for us to pump water from a place with such a risk. Büyükçekmece has experienced such drying out before. Unfortunately, we are experiencing such process again."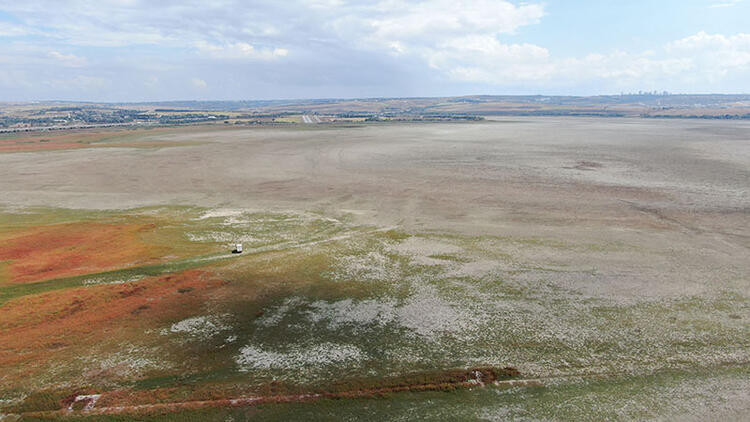 The mayor emphasized that Istanbul has not seen rain for months and added, "We trust that the İSKİ will not experience any water supply problems. Nonetheless, Every individual should pay attention to saving water, even a drop of water is very important."
The İSKİ head Şafak Başa on August called on Istanbulites to save water amid scorching heat and "catastrophic drought" while the total occupancy rate was just below 35 percent.