Proposals to lift immunity of 28 opposition lawmakers submitted to Turkish Parliament
The Turkish Parliament has received 55 new summaries of proceedings against 28 opposition lawmakers from the CHP, HDP and DBP. If the Parliament votes to strip the deputies of their immunity from prosecution, they will be tried by Turkish courts.
Duvar English
Turkey's Justice Ministry has submitted to the Parliament a total of 55 summary of proceedings seeking to have legislative immunity lifted for 28 opposition lawmakers from the Republican People's Party (CHP), the pro-Kurdish Peoples' Democratic Party (HDP) and and HDP's sister party Democratic Regions Party (DBP).
Eight of the summary of proceedings prepared by the prosecutors target five CHP deputies, including Engin Özkoç, whose criticism of President Recep Tayyip Erdoğan prompted a fistfight in the Parliament on March 4. The other four CHP deputies are Seyit Torun, Abdullatif Şener, Ulaş Karasu and Özgür Özel.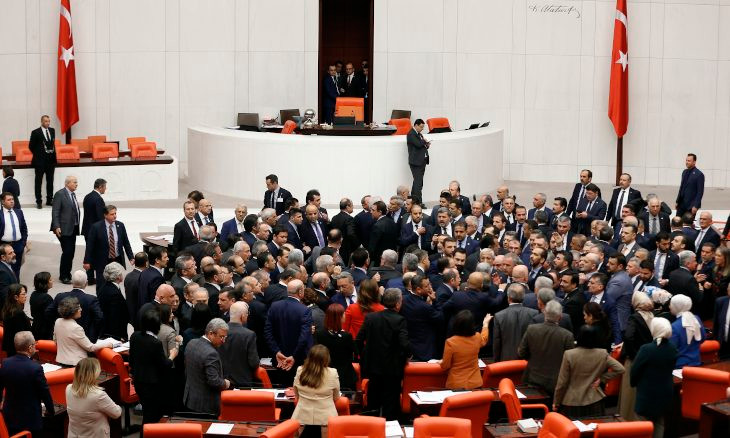 Turkish gov't seeks to strip main opposition MP of parliamentary immunity after criticizing Erdoğan
Forty-two of the summary of proceedings prepared by the prosecutors target 22 HDP deputies, including the former co-chair Sezai Temelli and the current co-chair Pervin Buldan. The other 20 HDP deputies are Leyla Güven, Berdan Öztürk, Remziye Tosun, Gülüstan Kılıç Koçyiğit, İmam Taşçıer, Semra Güzel, Ayşe Acar Başaran, Musa Farisoğulları, Züleha Gülüm, Hüda Kaya, Alican Önlü, Ömer Öcalan, Murat Sarısaç, Ayşe Sürücü, Mensur Işık, Şevin Coşkun, Necdet İpekyüz, Muazzez Orhan, Ebrü Günay and Hakkı Saruhan Oluç.
Erdoğan signals more investigations on way against pro-Kurdish HDP
Erdoğan had in February commented on an investigation launched into the annual congress of the HDP, signaling that more investigations could be on the way for the party officials.
"Their [HDP's] judiciary process will [as of now] function very intensively; new [investigation] files might come anytime. Do not then say 'Why didn't the President say so before?' Everything they do is crime," Erdoğan had said on Feb. 25.
The prosecutors have also prepared six summary of proceedings against the only DBP deputy in the Parliament, Salihe Aydeniz – who resigned from the HDP and joined the DBP in December of 2019.
In November 2016, Turkish Parliament approved stripping its members of immunity from prosecution, a move that paved the way for the trials of opposition legislators.