Istanbul Convention divides ruling AKP as lawmaker asks why it's being challenged after many years
The Istanbul Convention, an international initiative that aims to combat domestic violence against women, has led to fractures within the ruling AKP as one of the party's lawmakers has said that she is puzzled why the convention has come under attack after so many years. AKP MP Canan Kalsın asked why the convention turned into a "scapegoat" nine years after it was signed in Istanbul.
Duvar English
Canan Kalsın, a lawmaker from Turkey's ruling Justice and Development Party (AKP), has said that she cannot understand why a debate surrounding Istanbul Convention, which aims to combat domestic violence against women, has resurfaced after so many years.
Will Erdogan bow to the demands of an Islamist congregation?
"Why did it [Istanbul Convention] turn into a scapegoat after nine years [since its adoption in 2011]? In a place where there are so many crimes and criminals, despite the existence of so many laws, how can a convention be perceived and made to be perceived as if it is to be blamed for everything?" Kalsın asked on Twitter on July 9.
Kalsın is also the chairperson of the Committee on Equality of Opportunity for Women and Men (EOC) in Turkey's parliament.
Kalsın's remarks soon after the İsmailağa Congregation -- a religious group that is known to have a big influence on the AKP -- said that it wants Turkey out of the Istanbul Convention.
The statement published on the congregation's official website on July 6 also claimed that the contract President Recep Tayyip Erdoğan signed in 2011 — then-prime minister — was a "license to declare war" against Islamic values.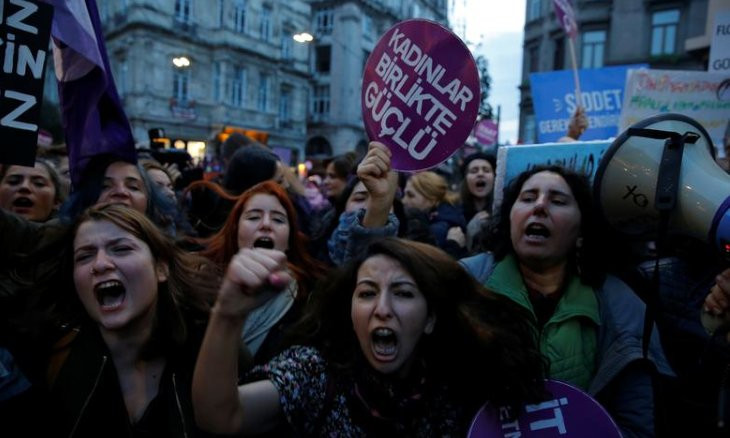 AKP gov't does not rule out possibility of withdrawing from Istanbul Convention
Last week, AKP deputy chairman Numan Kurtulmuş said that it was "wrong" of Turkey to ratify the Istanbul Convention and signaled that the government might withdraw from the convention.
Asked if Turkey's withdrawal from the convention is possible, Kurtulmuş said: "When our people has such an expectation, we cannot stay indifferent to this. As we have duly signed it, then it would be possible to duly withdraw from it."
Istanbul Convention is an international convention aimed at preventing violent attacks, protecting victims ending the impunity of perpetrators. Ankara was the first to ratify the convention, as it was also backed by the AKP and its women's groups.
But, Turkey's conservative and Islamist circles have been criticizing it because they believe that it is damaging family values and challenging conservative understanding of gender identities.
These groups press on the AKP government to withdraw from the convention. Women's rights groups, on the other hand, urge the government to effectively implement the convention, drawing attention to the growing number of domestic violence cases in the country.