Erdoğan targets opposition-run municipalities, signals reform for local authorities on way
President Erdoğan has accused opposition-run municipalities of failing to offer sufficient service for residents, singling out Istanbul Metropolitan Municipality run by Mayor Ekrem İmamoğlu. İmamoğlu responded to Erdoğan's claims by a video that questioned the necessity of Kanal Istanbul project as such a huge investment could be allocated for the use of real issues of the city.
Duvar English
President Recep Tayyip Erdoğan, who is also the chairman of the ruling Justice and Development Party (AKP), has signaled that he is preparing to limit the municipalities' authorities as he targeted opposition-run municipalities across Turkey, especially Istanbul Metropolitan Municipality run by Mayor Ekrem İmamoğlu.
"You see what they turned Golden Horn into right, where once dolphins could swim? It was us [municipality of AKP] who had it cleaned, but now look at its situation. We took over Istanbul with mountains of rubbish, but now Istanbul is a disgrace with mountains of rubbish again. It keeps coming to the agenda with uncollected garbage, water that is not running and buses which do not come the stops," Erdoğan said on Aug. 20, while addressing AKP mayors in the capital Ankara.
"We would pay the price of the smallest problem that is experienced at the local-management level at the nationwide-level...We are planning to bring local-managements reform to the agenda. We aim to have our local authorities' chronic problems straightened out," Erdoğan said.
Erdoğan also claimed that employees of municipalities run by the main opposition Republican People's Party (CHP) have been facing discrimination due to their political stance. "Ideological municipalism has again risen from the grave. [Municipality] employees have started to be discriminated based on their physical appearance and political choices," Erdoğan said.
Shortly after Erdoğan's remarks, Istanbul Mayor İmamoğlu shared a video on Twitter featuring a machinist who points out to the high cost of living in Turkey. The machinist asks if Istanbul really needs Kanal Istanbul project as such a huge investment could be allocated for the use of real issues of the city. He says industrial zones should be moved away from Istanbul, the city needs many more green spaces and it needs earthquake-prone buildings.
"Kanal Istanbul would not meet any of my needs," the machinist is heard saying. The video ends with the phrase, "Who needs Kanal Istanbul?"
Haliç'te yunuslar yüzüyor, çocuklar ücretsiz süt içip kreşe başlıyor. Öğrenciler burs alıyor, durmuş metrolar harekete geçiyor. İstihdam ofisleri iş buluyor, yeşil alanlar halka açılıyor. Ama bu hayat pahalılığında milletin parası nedense Kanal İstanbul'a harcanmak isteniyor. pic.twitter.com/fTVpDzweb1

— Ekrem İmamoğlu (@ekrem_imamoglu) August 20, 2020
İmamoğlu shared the video by referring to the "dolphins" which Erdoğan made a mention of in his speech.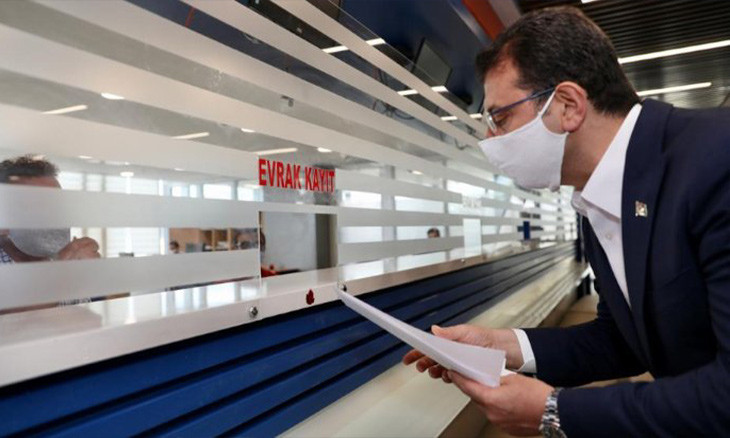 Istanbul Mayor İmamoğlu submits official complaint against Erdoğan's 'crazy project'
"Dolphins are swimming in the Golden Horn, children are drinking milk free of charge and starting to attend kindergarten. Students are receiving scholarship, subway services which had halted are starting to work again. Employment offices [of the municipality] are finding jobs, green spaces are being opened to the public," İmamoğlu wrote along the video, referring to his actions since he assumed office last year.
"But, amid this high cost of living, for some reason, people's money wants to be spent for Kanal Istanbul," İmamoğlu further wrote.
Erdoğan and his AKP say the 45-km Kanal Istanbul, which will link the Black Sea and the Marmara Sea, aims to ease traffic along the nearby Bosphorus Strait, one of the world's busiest waterways, and prevent accidents there.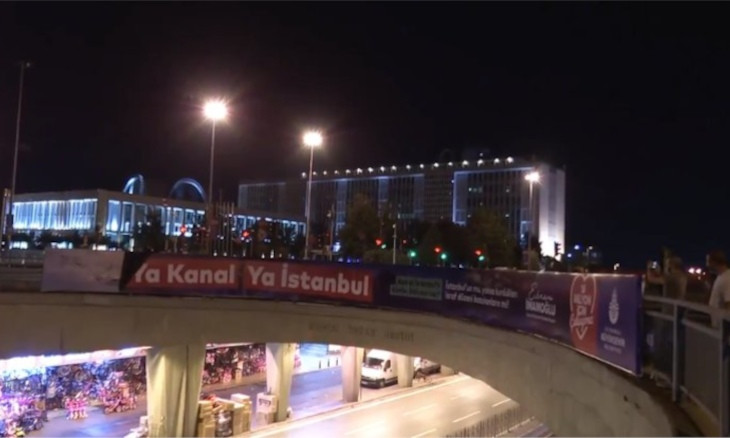 Police take down Istanbul municipality's posters against Kanal Istanbul project
Environmentalists and urban planners say the canal fringing Istanbul, a vast city of 15 million people and limited green space, will destroy ecosystems vital for marine animals and migratory birds.
The current financial crisis has raised further doubts about the plans and İmamoğlu has opposed the project, even calling for a referendum to determine if it should go ahead.
Erdoğan, who has dubbed it his "crazy project," has been dismissing the concerns, saying Kanal Istanbul would protect the city from disaster.
İmamoğlu inflicted the worst electoral defeat of Erdoğan's political career when he trounced the AKP candidate in the Istanbul mayoral elections last year, and is now seen by some as a potential contender for president.