Turkey's COVID-19 cases continue increasing at worrying levels
COVID-19 cases in Turkey have been continuing to increase, surpassing 25,000 thousand on Aug. 7.
Duvar English
COVID-19 cases in Turkey have been on the rise once again, with the country reporting 25,100 cases and 112 deaths on Aug. 7.
The worrying increase in the numbers came after the country entered a normalization period, as it also ramped up vaccination efforts.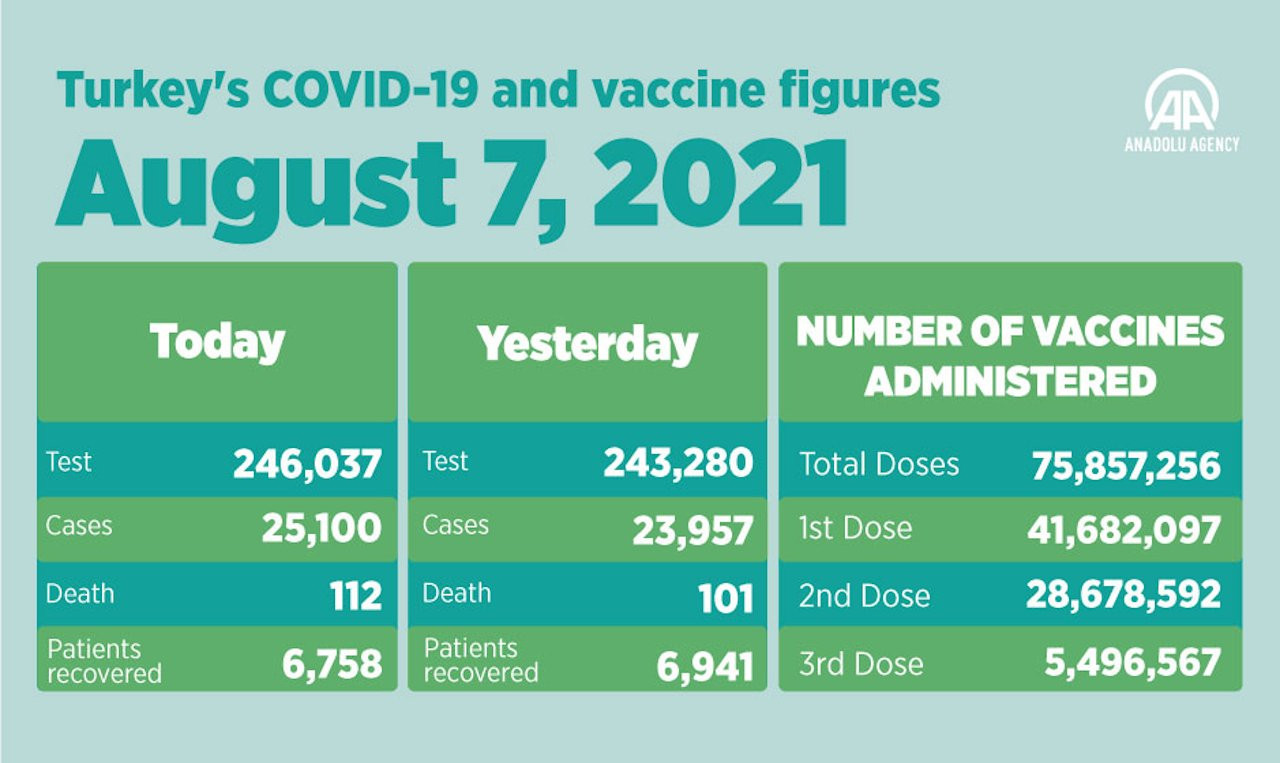 Turkish Health Minister Fahrettin Koca on Aug. 7 urged Turks to get vaccinated, as he shared data based on provinces.
"The fact that the numbers are high despite it's the weekend can pose a problem. We need to get vaccinated and abide by measures until immunity is secured," the minister said on Twitter.
Two-thirds of Turkish adults have received at least one COVID-19 vaccine, while slightly less than half have received two or more doses. The provinces with low number of vaccinations are seen to be leading in COVID-19 cases.
A day earlier, Koca said that the number of people who received two doses of the vaccine is not sufficient.
"We have administered 75 million doses. Our vaccination pace and performance are high. However, the number of people who received two doses is not sufficient in tackling the pandemic. More importantly, 20,570,000 individuals postponed getting the first shot," he said.
The increasing number of cases worry the country's already damaged tourism sector.
British Transport Secretary Grant Shapps on Aug. 5 commented on the decision to not remove Turkey from its COVID-19 red list, saying that Ankara needs to enter its coronavirus data in the international format.
Speaking to ITV, Shapps said that the government's decisions are based on science and that authorities look at the number of people vaccinated and variants in a particular country, as well as how it uploads data.
"They also look at the data and whether it's simply uploaded in an internationally recognized format. There's something called GISAID, which is the place where countries should upload their data," Shapps said.
"When countries do that, it makes it easier to bring them onto the amber list," he said, adding that the combination of the factors that he listed prevented Turkey from appearing on the amber list.
"I hope it won't be too long, but I don't know. We'll have to wait for the joint biosecurity center to advise us," the minister noted.