Turkish embassy in Kabul continues operations: FM
Turkish Foreign Minister Mevlüt Çavuşoğlu said on Aug. 15 that the Turkish embassy in the Afghan capital Kabul would continue its operations. "We have made necessary preparations for the Turkish citizens who want to leave Afghanistan ... Our embassy in Kabul continues its operations," he said.
Duvar English
The Turkish embassy in Kabul continues operations, Turkish Foreign Minister Mevlüt Çavuşoğlu said on Aug. 15.
"We have made necessary preparations for the Turkish citizens who want to leave Afghanistan ... Our embassy in Kabul continues its operations," the minister said.
Çavuşoğlu said all consular operations are continuing at Turkey's diplomatic missions.
"I would like to assure you that we have done our preparations against all odds," he added.
While some Turkish citizens are leaving Afghanistan amid the Taliban's grip, Çavuşoğlu said there are Turkish citizens who wished to remain in the country.
He noted that Turkish authorities' communication with relevant authorities in Afghanistan is ongoing to ensure the safety and peace of those Turkish citizens choosing to remain in the country.
Turkey has offered to deploy troops at Kabul airport after NATO withdraws and has held talks with the United States for weeks. President Recep Tayyip Erdoğan has asked it to meet financial, logistical and diplomatic conditions.
Turkish Airlines, meanwhile, said that it will start evacuation flights from Kabul on Aug. 16 and canceled all its scheduled flights to and from Afghanistan.
Situation in Kabul
Taliban officials declared the war over a day after seizing the capital, while Western nations scrambled to evacuate their citizens from an increasingly chaotic Kabul airport.
President Ashraf Ghani fled from the country on Aug. 15 as the Islamists entered Kabul virtually unopposed, saying he wanted to avoid bloodshed.
"Today is a great day for the Afghan people and the mujahideen. They have witnessed the fruits of their efforts and their sacrifices for 20 years," Mohammad Naeem, the spokesman for the Taliban's political office, told Al Jazeera TV.
"Thanks to God, the war is over in the country."
It took the Taliban just over a week to seize control of the country after a lightning sweep that ended in Kabul as government forces, trained for years and equipped by the United States and others at a cost of billions of dollars, melted away.
Al Jazeera broadcast footage of what it said were Taliban commanders in the presidential palace with dozens of armed fighters.
Naeem said the form of the new regime in Afghanistan would be made clear soon, adding the Taliban did not want to live in isolation and calling for peaceful international relations.
"We have reached what we were seeking, which is the freedom of our country and the independence of our people," he said. "We will not allow anyone to use our lands to target anyone, and we do not want to harm others."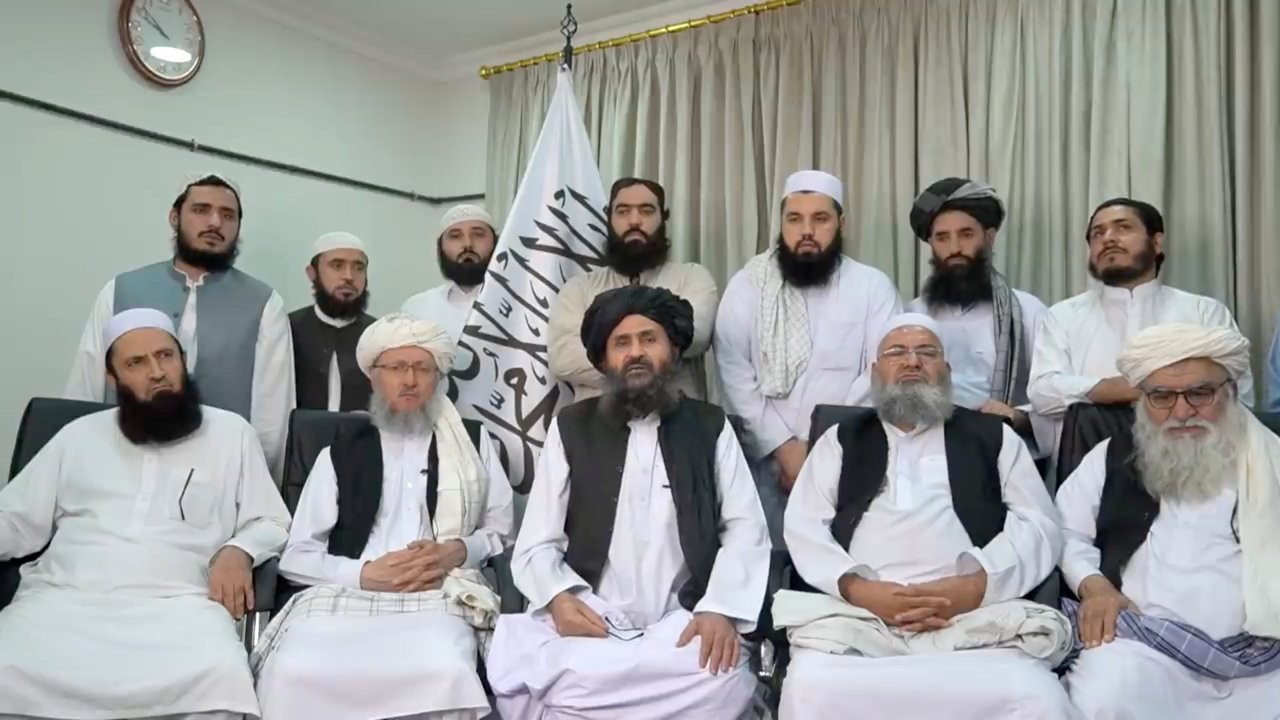 Many Afghans fear the Taliban will return to past harsh practices in their imposition of sharia religious law. During their 1996-2001 rule, women could not work and punishments such as stoning, whipping and hanging were administered.
Both the United Nations and the United States said last week they had received reports that Taliban fighters were executing surrendering government soldiers.
A Taliban leader told Reuters the insurgents were regrouping from different provinces, and would wait until foreign forces had left before creating a new governance structure.
The leader, who requested anonymity, said Taliban fighters had been "ordered to allow Afghans to resume daily activities and do nothing to scare civilians."
Taliban officials said they had received no reports of any clashes anywhere in the country: "The situation is peaceful," one official said.
The Taliban controlled 90% of state buildings and fighters had been told to prevent any damage, the official said.
Central Kabul streets were largely deserted early on a sunny Aug. 16 as waking residents pondered their future.
"I'm in a complete state of shock," said Sherzad Karim Stanekzai, who spent the night in his carpet shop to guard it. "I know there will be no foreigners, no international people who will now come to Kabul."
The militants sought to project a more moderate face, promising to respect women's rights and protect both foreigners and Afghans.
New Zealand Prime Minister Jacinda Ardern called for the Taliban to uphold human rights and said the world was watching: "It's going to be all about the actions, not the words."