Mafia boss Peker's press advisor detained and brought to Istanbul
Emre Olur, who is known as the press advisor of Turkish mafia boss Sedat Peker, has been brought to Istanbul from Albanian capital Tirana where he was detained.
Duvar English
Emre Olur, who is known as the press advisor of Turkish mafia leader Sedat Peker, on Sept. 18 was brought to Istanbul after being detained in Albanian capital Tirana.
Emre Olur went to the United Arab Emirates, where Sedat Peker is currently located, from Albania on Sept. 14. Olur, who was summoned to the government office, was deported and sent to Albania on Sept. 17.
Olur, who was put on the plane to be returned to Turkey on the same day, was taken off the plane and taken to the airport police station when it was revealed that he had Albanian citizenship. His lawyers had said that sending Olur to Turkey was against the rules of the European Court of Human Rights (ECHR).
Interpol teams on Sept. 18 brought Olur to Istanbul Airport with the scheduled flight of Air Albania.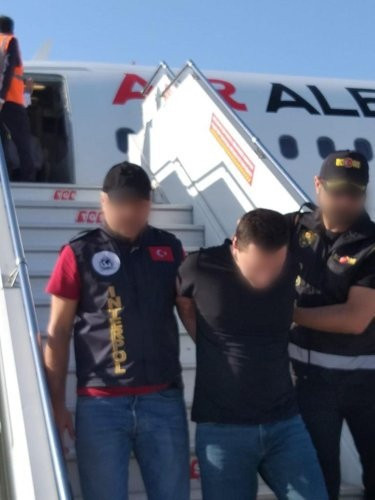 Turkey's General Directorate of Security (EGM) made a statement regarding the detention of Olur.
"Ahmet Emre Olur, who was a member of 'Sedet Peker armed terror organization' was wanted with the charges of 'threat', 'praising the crime and the criminal', 'insulting', 'membership of an organization established to commit crime', 'simple injury', 'insulting via voice, written or video message'.
On 16 September, after Turkey's Intelligence Organization (MİT) and Abu-Dhabi Embassy informed our Police Department that he would be deported from the UAE, it was determined that the person in question was going to Serbia. However, Serbian authorities could not give a positive response to our deportation request, as he was an international passenger.
The person, who was determined to be going from Serbia to Albania Tirana, was taken into custody by the Albanian police on Sept. 17 at Tirana Airport," the statement said.
"Congratulations to our Police Department for bringing another rascal to our country with close monitoring," Turkey's Interior Minister Süleyman Soylu on Sept. 18 said.
Peker, who fled Turkey in early 2020, currently lives in the United Arab Emirates. Last year, the 51-year-old mobster began posting videos and tweets making a series of scandalous claims against political figures, including allegations of murder, rape, corruption and drug trafficking.
In June 2021, the mafia boss said that UAE officials warned him not to share videos due to high-security risks. Afterwards, Peker continued to make his sensational claims via Twitter instead.
Peker sometimes wrote in Emre Olur's Twitter account to spread allegations.
Lastly, Peker claimed on Aug. 27 that former Capital Markets Board (SPK) head Ali Fuat Taşkesenlioğlu, who was previously a manager at the Gülenist-run Bank Asya; AKP lawmaker Zehra Taşkesenlioğlu; President Recep Tayyip Erdoğan Erdoğan's advisors Serkan Taranoğlu and Korkmaz Karaca; the Union of Chambers, Commodity Exchanges of Turkey (TOBB) member Salih Orakcı; and columnist Burak Taşçı from the daily Hürriyet took bribes in an organized network.
Peker's allegations resulted in the resignation of Erdoğan's two advisors, namely Serkan Taranoğlu and Korkmaz Karaca.
There has been yet no indication of any official investigation to determine if the allegations are true or not.